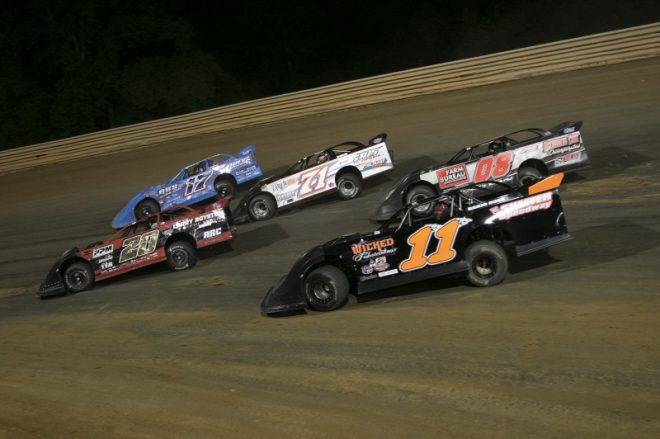 Virginia Motor Speedway to host the $3000 to win Prelude to the World Championship Saturday, July 20th
Story By: Dave Seay/Virginia Motor Speedway
Jamaica, VA – The stars and cars of the FASTRAK Pro Late Model Touring Series will invade Virginia Motor Speedway for the $3000 to win Prelude to the World Championship. Many of the Mid-Atlantic's top Pro Late Model drivers will be on hand to not only try to take home the $3000 top prize but also get some valuable track time for the $50,000 to win FASTRAK World Championship set for September 13-14, 2019.
With the King of the Commonwealth rained out in April speedway officials worked with officials from the FASTRAK series to re-schedule the Pro Late Model portion of the event knowing that drivers up and down the East Coast would be looking for a chance to get some track time in before the big event in September.
"With that rainout in April, we thought it was important to have another chance for the FASTRAK drivers to get some track time against some of the best Pro Late Model competitors on the East coast," commented track owner and President Bill Sawyer.
Sawyer added, "the FASTRAK Pro Late Model races are some of the best races we host here at Virginia Motor Speedway; no matter where you look there is always three and four wide action throughout the field."
Expected to compete are Touring Series regulars point leader Carson Ferguson, Matt Long, Nick Schlager, Michael Brown and a host of our regulars that will be tough to beat, Corey Almond, Justin Ferguson, Matt Glanden, Davis Lipscombe, Matt Quade, Chuck Bowie, Jared Powell, Brad Rigdon, Ray Love Jr., Nick Love and host of other very competitive drivers.
Also see the tracks Budweiser Modified, Truckin Thunder Sportsman and Collision One Limited Stocks in action.
Competitor gates for Saturday, July 20th, will open at 3 pm with spectator gates opening at 4 pm. On track activities will begin at 6:00 pm with hot laps.
Adult tickets are just $15; seniors (60+) $12; military $8; students 13 – 17 years old $6; and children 12 and under free. Pit passes, regardless of age, will be $25. All tickets will be sold the day of the event.
16" coolers are welcomed, but no glass is allowed. There is plenty of free lit parking, and camping (no hookups) is allowed at no charge on a first come, first served basis.
Bill Sawyer's Virginia Motor Speedway is a ½ mile dirt oval track located on U.S. Route 17, eight miles north of Saluda, VA and 25 miles south of Tappahannock, VA in Jamaica, VA. The speedway is just a short drive from Richmond, Fredericksburg, Southern Maryland, and the Hampton Roads area.
Race fans can go to www.vamotorspeedway.com to view the complete schedule Virginia Motor Speedway's 2019 season, find detailed event information, get the latest news, and get complete ticket and camping information. Also, fans can get social with Virginia Motor Speedway by following @vamotorspeedway on Twitter, clicking "Like" at www.facebook.com/VaMotorSpeedway and on www.youtube.com/VaMotorSpeedway.