Boehler Cashes In on Friesen's Misfortune; Holds Off Tim Fuller in Closing Laps for First-Ever Modified Win at Fonda Speedway
Story By: MATT NOLES / RACERSGUIDE.COM
Photos By: MATT NOLES / RACERSGUIDE.COM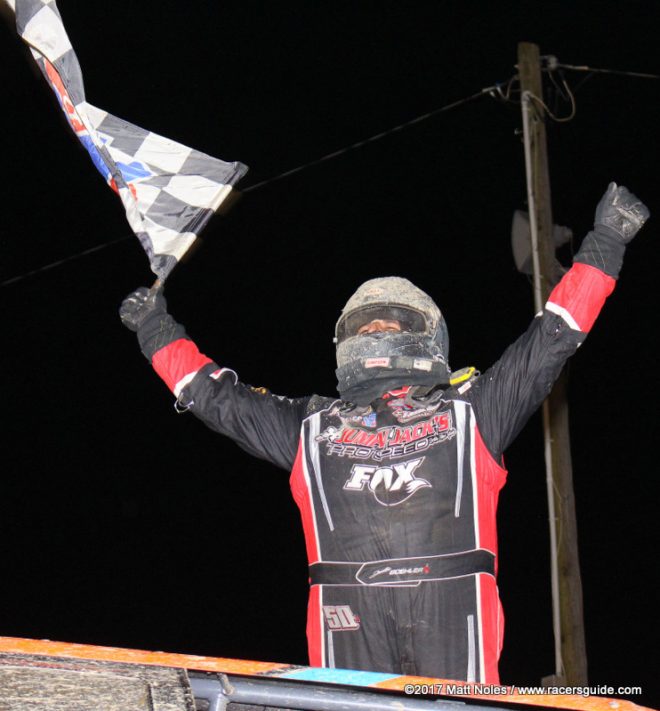 FONDA, NY- April 23, 2017- As the incomparable Yogi Berra once stated; it ain't over 'til it's over.
At the drop of the green flag for the season-opening modified feature at the Fonda Speedway on Saturday night, it seemed as if nothing had changed. Stewart Friesen, a four-time modified track champion at the historic Montgomery County venue, shot to the lead and was racing in another zip code – until lap 45.
When the Halmar sponsored entry came off of turn four, an integral piece of Friesen's modified failed to come with him; his right rear tire. With only five circuits remaining, the lead was handed off to Amsterdam, New York native Justin Boehler.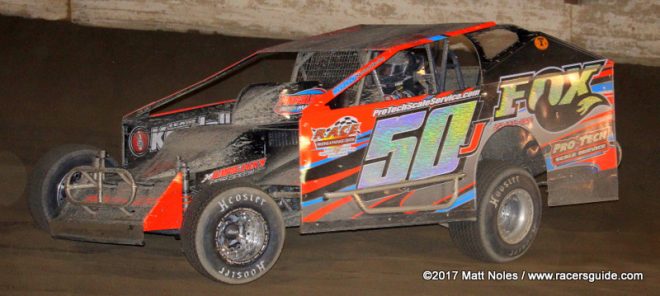 Though it would seem that Boehler was merely in the right place at the right time, he certainly didn't end up as such by sheer circumstance. The driver of the No. 50J had to pass both Tim Fuller and Billy Decker twice over the course of the event and he had to hold off the former over the final five circuits to collect his first-ever modified triumph at the 'Track of Champions.'
For Boehler – who drove the race of his career up to this point – standing in victory lane was the most surreal and gratifying experience to date behind the wheel. "I'm so overwhelmed after winning tonight," He stated. "Obviously we want consistency throughout the whole year but to do this after the amount of work that my father and mother and Ronnie [Johnson] and Jumpin' Jack's Pro Speed put in this year, I don't know if I would have had the confidence I needed to hold off some of the best dirt drivers in the country."
There's nothing easy about winning a modified feature at Fonda Speedway; especially when early-season track conditions are taken into account. "The draw was pretty important for the heat race because the track was only one lane early on," Boehler continued. "It was difficult to pass so you definitely needed a good draw and you needed to start in the top-ten tonight to have a chance to win."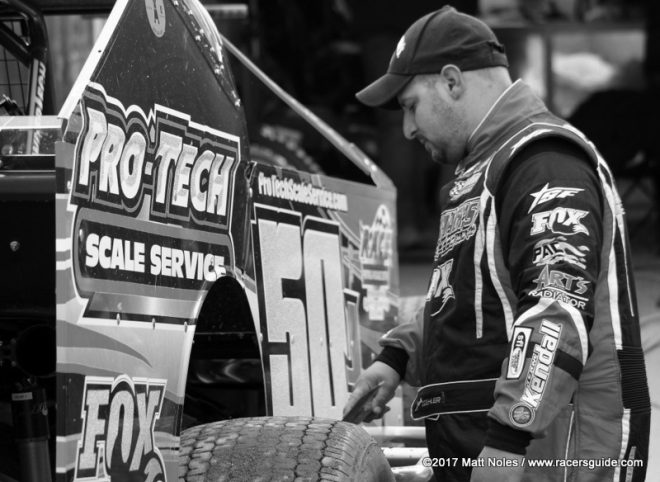 As the night continued on, the groove opened up around the speedway surface allowing more than one lane to compete in. This worked much to Boehler's advantage as the feature ran through the latter stages.
"For being early in the season the track was really good tonight," stated Boehler. "I was a little too tight early on so it took me a few laps to get in a rhythm and once I got comfortable, I could really focus on my line."
It didn't take long for Boehler to work his way into the top-five and it took even less time for the young modified pilot to drive to the runner-up spot behind Friesen. It never really dawned on him the position he was in until the caution came out. At that point, it's safe to say that his head was on a swivel.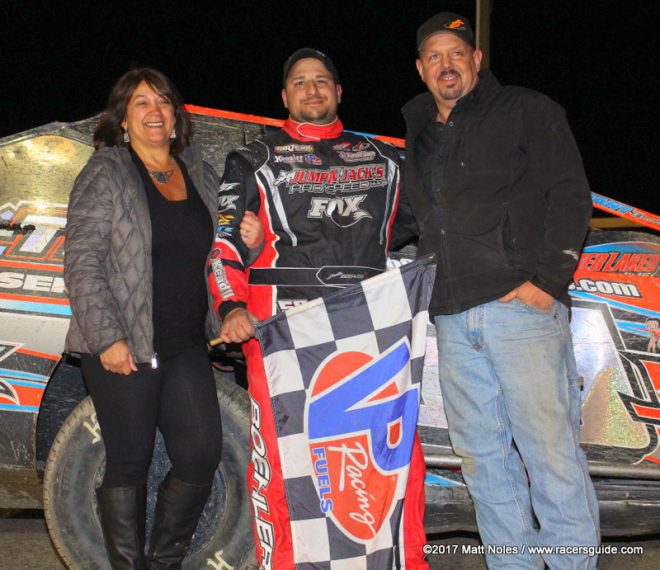 "You don't really realize who you're racing against until you have a caution," He said with a smile. "Then you realize that you're literally racing against some of the best drivers that have ever run a modified and I passed them; until they passed me back."
On the restart, Boehler drove into turn one a little harder than he would have liked and by the time he was able to recover, both Fuller and Decker drove back underneath him in hot pursuit of Friesen. Unfortunately for them, they weren't destined to stay in front of the Pro-Tech Scale Service sponsored entry for long.
"I made a mistake on that restart," He admitted. "I don't have 30-years of experience like those guys do. When we had another restart, I could get a really good line going into turn one and throttle under those guys because they were pushing a little bit. After that and after Stewie [Friesen] blew his tire, I was just really focused on keeping my line and being smooth."
Even though there were only five-laps remaining once Boehler assumed the lead, they were anything but easy as two more cautions would put Fuller back on his rear bumper on each restart waiting for the young driver to slip up and make a mistake.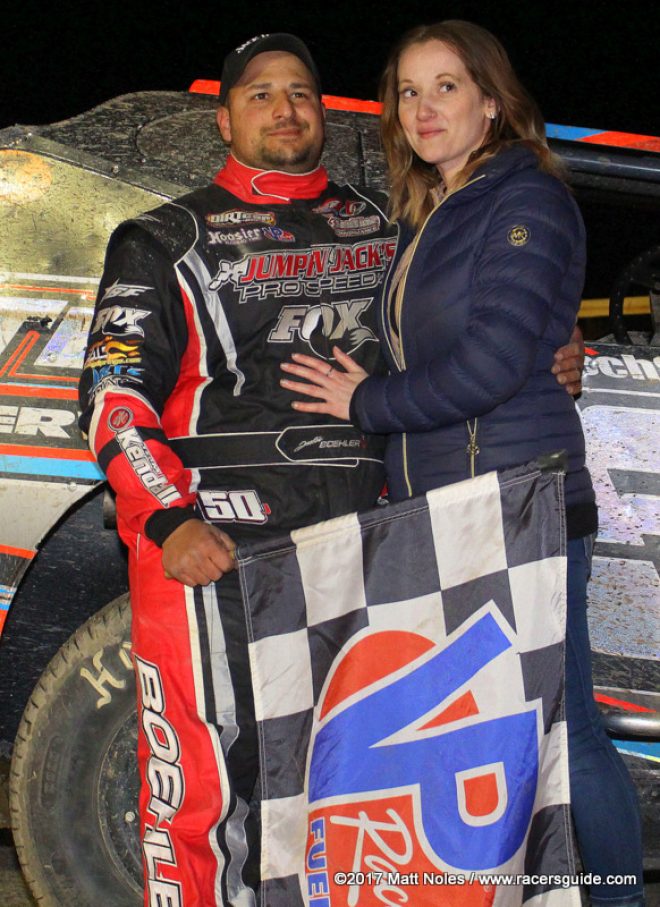 "Those last couple of restarts were a little nerve-racking," continued Boehler. "We had three laps-to-go and the guys behind me know how to take every advantage they can on a restart. It just worked out that I could keep my car straight and keep it at full throttle. I can't thank Finger Lakes enough for the work they did on my engine this winter; the thing is an absolute animal."
They say that you never forget your first modified win; if the joy and elation in victory lane was any indication for Justin Boehler, he won't be forgetting anything about this night for quite some time. "I'm just so overwhelmed and proud right now," He concluded. "This trophy is going to sleep in bed right between me and the wife tonight."
Matt Noles is a contributing writer for Racer's Guide and Dirt Track Digest. He currently resides in Sprakers, New York and can be reached via e-mail at matt_noles@yahoo.com.