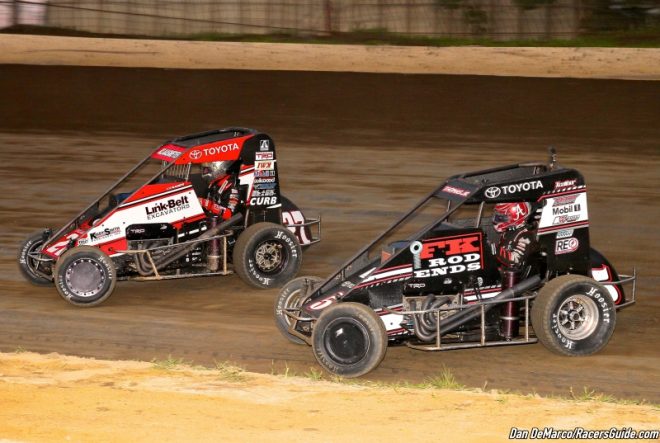 TURKEY NIGHT GRAND PRIX-VIEW 2019
Story By: Richie Murray – USAC Media
Photos By: Dan DeMarco/RacersGuide.com
Ventura, California (November 25, 2019)………It's been nearly three decades since the Turkey Night Grand Prix has reached the levels of enormity in car count and buzz than it has entering this Thursday's 79th edition of the prestigious event, but that's certainly the case in 2019.
More than 70 cars are expected to compete in the event at California's seaside oval of Ventura Raceway on Thanksgiving night, November 28, which would be the most USAC NOS Energy Drink National and Western States Midgets in attendance for the race since 1992.
A little more than half of the expected lineup owns a previous Turkey Night Grand Prix midget feature start. Kyle Larson arrives as the lone past winner of Turkey Night, having won in both 2012 and 2016. He's finished 2nd in each of the last two years and, in fact, has never finished worse than 4th in seven starts. Christopher Bell, the 2017-18 winner of TNGP, is not expected to compete this year.
Larson, of Elk Grove, Calif., has finished within the top-two in each of the last four years, and was also 3rd in 2014 and 4th in his Rookie year of 2011. He recently picked up a big payday with the series last Wednesday at Placerville, Calif., taking home $32,000 following his victory in the inaugural Elk Grove Ford Hangtown 100.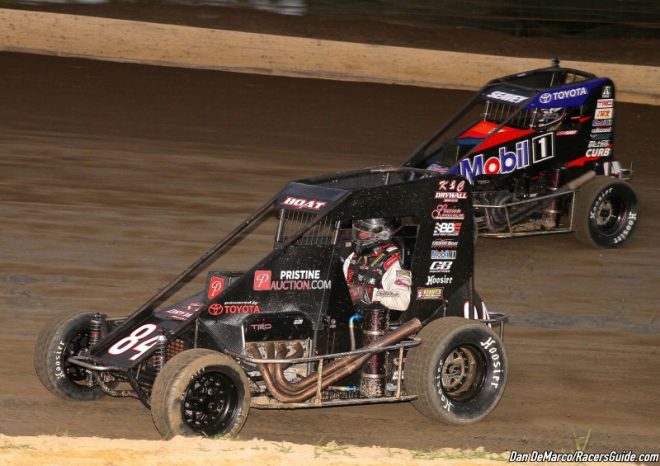 Following last Saturday's victory at Bakersfield, at Turkey Night, Larson aims to become the first driver since Billy Boat to win three consecutive USAC NOS Energy Drink National Midget features in the state of California. Boat won four-in-a-row in the Golden State spanning the 1995-96 seasons.
Tyler Courtney (Indianapolis, Ind.) enters TNGP as having already clinched the 2019 USAC NOS Energy Drink National Midget championship following eight series wins this season. In two previous starts in the event, he earned a career-best 5th in 2018 after claiming 22nd in his Rookie campaign of 2017.
Two-time USAC National Midget champion (2007-08), Jerry Coons, Jr., is the most experienced Turkey Night Grand Prix driver in the field with nine previous starts dating back to the final edition held at Ascot Park in 1990 where he finished 8th. The Tucson, Ariz. native was a DNQ in his first Turkey Night appearance in 1989 but has secured six top-ten finishes since that point with a runner-up finish in 2012 and a 3rd in 1998 as his best.
Brady Bacon (Broken Arrow, Okla.) is one of 10 drivers in this year's lineup to have started TNGP midget feature events on both pavement and dirt, along with Larson, Coons, Chris Windom, Thomas Meseraull, Shane Golobic, Dillon Welch, Robby Josett, David Prickett and Michael Faccinto. Bacon's 2nd in 2016 was his best in seven starts and was 7th a year ago.
Courtney's Clauson/Marshall Racing teammate Chris Windom's most recent TNGP appearance came six years ago in 2013. USAC's 2016 Silver Crown and 2017 AMSOIL National Sprint Car champion has made four feature starts in the event dating to 2007. His 7th place run in 2011 has been his best thus far.
Likewise, San Jose, California native Thomas Meseraull's last TNGP start came in 2013. The Kokomo Sprint Car Smackdown opening night winner this past August and 2004 BCRA Midget champion has five career TNGP starts with an 11th as his top finish thus far.
Racing commentator and part-time racer Dillon Welch definitely doesn't look the part of an occasional midget racer with two new track records established with the USAC NOS Energy Drink National Midgets in 2019 at both Kokomo, Ind. and Placerville, Calif. It's been quite awhile since he's made a TNGP start, in 2012. His best TNGP performance thus far was an 8th in 2011.
Reigning USAC Western States Midget champion Michael Faccinto's four starts have resulted in a best of 10th in 2017 and an 18th in 2018 for the Hanford, Calif. driver. 2012 Western States Dirt Midget and 2009 BCRA champion David Prickett (Fresno, Calif.) has finished 17th place in all three of his TNGP starts in 2011-12-17. Santa Clarita, California's Robby Josett won his fourth career Western States feature at Ventura this past June, and has five career TNGP starts with a top of 15th in 2011.
Rico Abreu is one of the best to have never captured a TNGP crown in six starts, finishing a best of 4th in 2016 and 5th in 2014. The St. Helena, Calif. and 16-time USAC National Midget feature winner was 22nd in the 2018 TNGP and enters the event after a 3rd place finish last Saturday at Bakersfield.
Kevin Thomas, Jr., a two-time USAC NOS Energy Drink National Midget feature winner earlier in the season at Kokomo and just less than two weeks ago on the opening night of the Western World Championships, is back for his sixth TNGP start. He did not compete in last year's event, but did have a 5th place run in 2015, which serves as the Cullman, Ala. driver's best.
Five-time USAC Western States Midget champion Ronnie Gardner has won six times in USAC Western States Midget competition at Ventura between 2013 and 2018. The Riverside, Calif. native has six previous TNGP starts with a best of 5th in 2013. Fellow west coaster and 2018 Ventura Western States Midget winner Jake Swanson of Anaheim, Calif. possesses five TNGP starts, topping thus far with a 7th in 2013.
Multi-time World of Outlaws winner and 2017 Indiana Midget Week champ Shane Golobic has made five previous TNGP Midget starts, finishing 19th last year, and a best of 3rd in 2017 to go along with two other top-ten finishes, a 5th in 2012 and a 7th in 2016.
Eight-time AMSOIL USAC/CRA Sprint Car champion Damion Gardner nearly won the 2013 Turkey Night Grand Prix, losing a left rear wheel while leading with five laps remaining. Outside of the heartbreak, the Concord, Calif. driver has been solid with results of 5th in his most recent start in 2016 and a best of 3rd in 2015.
Randi Pankratz (Atascadero, Calif.) has made four starts at TNGP over the years, with a 19th place result in 2015 serving as her best. She's one of five female drivers in the field, joining Karsyn Elledge (Mooresville, N.C.), Audra Sasselli (Selma, Calif.), Holley Hollan (Broken Arrow, Okla.) and Maria Cofer (Macdoel, Calif.). While Elledge and Sasselli are Rookies, Hollan and Cofer have each made one TNGP start. Hollan was 30th in 2018 while Cofer, a Western States Midget winner and 2017 BCRA champ, was 19th in 2016.
The TNGP three start club includes an eclectic mix of veterans. Tucker Klaasmeyer (Paola, Kans.) had a career-best 4th in 2018; USAC Western States Midget point leader and September Ventura Western States Midget victor Robert Dalby (Anaheim, Calif.) ran 14th in both 2015 and 2018; 2017 USAC National Midget champion Spencer Bayston (Lebanon, Ind.) took 9th in 2016; New Zealand Midget champ and last Saturday's runner-up at Bakersfield, Michael Pickens (Auckland), notched a top result of 16th in the 2012 TNGP; Hollister, California's Ryan Bernal, a two-time USAC Western Classic Sprint champion and recent 4th place finisher at the Hangtown 100, was 3rd in his Rookie run of 2012.
Tanner Carrick (Lincoln, Calif.), the 2017 series USAC National Midget Rookie of the Year and July winner at Sweet Springs, Mo., has been solid in a pair of TNGP starts with a best of 6th in the 2018 race. Fellow two-time TNGP starter and 2007 BCRA champ Justin Grant (Ione, Calif.) has finished in the top-ten in each of his two TNGP starts, a 7th in 2017 and 10th in 2018.
Logan Seavey (Sutter, Calif.), the 2018 USAC National Midget champ, finished a best of 15th in his first TNGP and first career series start in 2017. 2016 series Rookie of the Year and 2019 World of Outlaws top Rookie Carson Macedo (Lemoore, Calif.) was 3rd in 2016 and 6th in 2017 and won a Ventura Western States race in 2017. Western States Midget standout Cory Elliott (Bakersfield, Calif.) finished 10th in the first of his two TNGP starts in 2016. Three-time Ventura Western States Midget winner Johnathon Henry (Stockton, Calif.) finished a best of 9th in 2014, his second and most recent TNGP start. Zeb Wise (Angola, Ind.) won the Don Basile Rookie of the Race award in 2017, finishing 5th, in the first of his two TNGP starts.
One-time TNGP starters expected to gun for a second start this year are Greenfield, Indiana's 2019 USAC AMSOIL National Sprint Car champion, Roseland, California's Colby Copeland (13th in 2018), Mooresville, North Carolina's Nick Drake (16th in 2013), Tracy, California's Austin Liggett (27th in 2018), Littleton, Colorado's Carson Garrett (28th in 2018) and Ojai, California's Troy Rutherford (21st in 2012), a 2007 Western States Midget winner at Ventura. Red Bluff, California's Jesse Colwell (12th in 2018), made his first career USAC National Midget start at the TNGP a year ago.
Chatsworth, California's Ron Hazelton (11th in 1993) is the driver in the lineup whose Turkey Night Grand Prix experience dates back the furthest, having made his debut in the race in 1987 at Ascot Park. In fact, the most recent year that didn't include a 2019 expected entrant in its feature lineup was 2002.
Broken Arrow, Oklahoma's Jason McDougal (8th in 2018) was awarded last year's Don Basile Rookie of the Race, which has a number of contenders this year ready to become the next to capture the top first year driver honors, including Fresno, California's Gio Scelzi, a recent winner at the opening night of the Hangtown 100 in Placerville, Calif., his Tucker/Boat Motorsports teammate Aaron Reutzel of Clute, Texas, who has claimed each of the last two Ollie's Bargain Outlet All Star Circuit of Champions titles.
Collegeville, Pennsylvania's Andrew Layser is the top Rookie in USAC's National Midget series who's making his first TNGP run along with Cannon McIntosh of Bixby, Okla. who, like Scelzi, is one of the five first-time winners with the USAC NOS Energy Drink National Midgets this season. Chase Johnson (Penngrove, Calif.) won the most recent USAC Western States Midget round at Ventura in October, his first career win with the series. Ben Worth of Coalinga, Calif., likewise, joined Johnson as a first-time winner with the Western series in the opener at California's Bakersfield Speedway.
Johnson's Penngrove, Calif. neighbor, Buddy Kofoid, attempted to make the Turkey Night field a year ago, but didn't quite make the cut. He's back again this year as one of eight cars out of the Keith Kunz Motorsports/Curb-Agajanian stable along with fellow Turkey Night Rookie, 2017 USAC Micro Sprint champion Daison Pursley of Locust Grove, Okla.
Sydney, Australia's Kaidon Brown is the 2018 Australian Speedcar Champion and won the New South Wales title in 2019. The 18-year-old recent high school graduate is one of two international drivers in the field along with Pickens.
Twelve states are represented with Alabama, Arizona, California, Colorado, Illinois, Indiana, Kansas, North Carolina, Oklahoma, Pennsylvania, Texas and Wyoming presenting drivers. Three different countries are represented with Pickens (New Zealand) and Brown (Australia) making the trip to the states for the event.
USAC Midget practice and USAC West Coast/VRA Sprint Cars will kick off the Turkey Night festivities on Wednesday, November 27 and conclude Thursday night, November 28 with the finales for the West Coast/VRA Sprints and the 98-lap main event for the midgets.
On Thursday, pits open at 11am Pacific, drivers meeting at 2:45pm, grandstands open at 3pm, hot laps at 3:15pm, immediately followed by qualifying and racing events. All tickets that are not reserved are $35. Reserved seats are $45 for ages 13 and older and $20 for ages 12 and under. Pit passes are $50 each.
Wednesday's timetable is the same except for pits opening at 11:45am. The slate features West Coast/VRA Sprint Car practice, qualifying, heat races and a fast dash along with USAC Midget practice. General admission tickets are $20 for adults on Wednesday, $15 for seniors/military/students and free for ages 12 and under with an accompanying adult. Pit passes are $40 apiece.
However, Ventura Raceway and USAC officials have announced contingency plans in the event that Mother Nature interferes with this week's 79th running of the Turkey Night Grand Prix at California's Ventura Raceway.
Officials will evaluate the weather situation on Tuesday. If weather appears to be strongly imminent on each of the race days, the event will move to a Friday/Saturday schedule to be held on November 29-30.
On five occasions during the USAC era, 1956-present, the Turkey Night Grand Prix has not been run on Thanksgiving night. It's been 36 years since the last time it occurred back in 1983, when it was run on Friday. Other similar occurrences came in 1965 when it was run on Saturday of the same weekend, in 1973 when it was contested on Friday, in 1975 on Sunday and in 1981 when it was held nine days later on Saturday of the following weekend, the only time the race has been held in December during the USAC era.
Advance tickets for the 79th Running of the Turkey Night Grand Prix are available online through www.venturaraceway.com or by calling 805.648.7223. Ventura Raceway is located on the Ventura County Fairgrounds at 10 West Harbor Blvd. in Ventura, California.
Both nights of racing action at Ventura can be watched live and on-demand on FloRacing and listened to live via the USAC app. Follow along with live timing and scoring on both the USAC app and the Race-Monitor app.
TURKEY NIGHT GRAND PRIX USAC MIDGET ENTRY LIST:
(Updated November 25, 2019)
01 Carson Sousa/Red Bluff, CA (Ken Dalby)
07x Troy Morris III/Bakersfield, CA (Trinity Motorsports)
08 Cannon McIntosh/Bixby, OK (Dave Mac Motorsports)
08m Ethan Mitchell/Mooresville, NC (Dave Mac Motorsports)
1 Karsyn Elledge/Mooresville, NC (Tucker-Boat Motorsports)
1K Kyle Larson/Elk Grove, CA (Kyle Larson Open Wheel)
1NP Terry Nichols/Delano, CA (NP Motorsports)
1NZ Michael Pickens/Auckland, NZ (RMS LLC)
1p Audra Sasselli/Selma, CA (NP Motorsports)
1x Johnathon Henry/Stockton, CA (LKK Racing)
3F Jessie Finkenbinder/Napa, CA (Ted Finkenbinder)
4 Damion Gardner/Concord, CA (Klatt Enterprises)
4A Justin Grant/Ione, CA (RAMS Racing)
4D Robert Dalby/Anaheim, CA (Ken Dalby)
4F Chad Frewaldt/Kansas City, KS (Chad Frewaldt)
5 Kevin Thomas, Jr./Cullman, AL (Petry Motorsports)
F5 Troy Rutherford/Ojai, CA (Wayne Simmons)
5G Ben Worth/Coalinga, CA (Dean Alexander)
5H Casey Hicks/Platt City, MO (Casey Hicks)
7BC Tyler Courtney/Indianapolis, IN (Clauson-Marshall Racing)
7R Nick Drake/Mooresville, NC (CR Motorsports)
7x Thomas Meseraull/San Jose, CA (RMS LLC)
8 Randi Pankratz/Atascadero, CA (Wally Pankratz)
9 Daison Pursley/Locust Grove, OK (Keith Kunz-Curb-Agajanian)
9H Emilio Hoover/Broken Arrow, OK (James Hoover)
11E Cory Elliott/Bakersfield, CA (Mitch Elliott)
11F Michael Faccinto/Hanford, CA (Mitch Elliott)
13 C.J. Leary/Greenfield, IN (Gene Gile)
15 Ron Hazelton/Chatsworth, CA (Ron Hazelton)
15DJ David Prickett/Fresno, CA (Neverlift Motorsports)
15x Carson Garrett/Littleton, CO (Broc Garrett)
17BC Chris Windom/Canton, IL (Clauson-Marshall Racing)
17w Shane Golobic/Fremont, CA (Matt Wood Racing)
19 Spencer Bayston/Lebanon, IN (Brodie Hayward)
19w Jake Morgan/Fair Oaks, CA (Mike Sala)
20 C.J. Sarna/Palm Desert, CA (C.J. Sarna)
20AZ Shon Deskins/Waddell, AZ (Shon Deskins Racing)
21 Carson Macedo/Lemoore, CA (Tarlton Motorsports)
25 Jerry Coons, Jr./Tucson, AZ (Petry Motorsports)
25x Chase Johnson/Penngrove, CA (Tom Malloy)
27 Tucker Klaasmeyer/Paola, KS (Keith Kunz-Curb-Agajanian)
27B Jake Bubak/Arvada, CO (Patrick Bourke)
c27 Clint Wilson/Paradise, CA (Mounce Motorsports)
27w Colby Copeland/Roseville, CA (Matt Wood Racing)
31B Kyle Beilman/Mar Vista, CA (Beilman Motorsports)
33p Mike Leach, Jr./Orange, CA (Mike Leach, Sr.)
39BC Zeb Wise/Angola, IN (Clauson-Marshall Racing)
47BC Andrew Layser/Collegeville, PA (Clauson-Marshall Racing)
55 Tony Everhart/El Cajon, CA (Tony Everhart)
56x Mark Chisholm/Cheyenne, WY (Mark Chisholm)
57D Daniel Robinson/Ewing, IL (McCreery Motorsports)
63 Frankie Guerrini/San Rafael, CA (Frank Guerrini)
67 Logan Seavey/Sutter, CA (Keith Kunz-Curb-Agajanian)
67K Holley Hollan/Broken Arrow, OK (Keith Kunz-Curb-Agajanian)
67x Britton Bock/Fresno, CA (Mike Bock)
68 Ronnie Gardner/Riverside, CA (Six8 Motorsports)
71 Jesse Colwell/Red Bluff, CA (Keith Kunz-Curb-Agajanian)
71D Bryan Drollinger/San Pedro, CA (Drollinger Bros. Racing)
71K Tanner Carrick/Lincoln, CA (Keith Kunz-Curb-Agajanian)
71s Maria Cofer/Macdoel, CA (Marcie Campbell)
73 Dylan Ito/Ventura, CA (Keith Ford)
73K Jake Swanson/Anaheim, CA (Keith Ford)
73T Brady Bacon/Broken Arrow, OK (Keith Ford)
73x Robby Josett/Santa Clarita, CA (Keith Ford)
76m Jason McDougal/Broken Arrow, OK (FMR Racing)
77w Ryan Bernal/Hollister, CA (Matt Wood Racing)
78 Marvin Mitchell/Madera, CA (Marvin Mitchell)
81 Dillon Welch/Carmel, IN (Tucker-Boat Motorsports)
83 Austin Liggett/Tracy, CA (Mona Liggett)
84 Gio Scelzi/Fresno, CA (Tucker-Boat Motorsports)
87 Aaron Reutzel/Clute, TX (Tucker-Boat Motorsports)
91 Chris Sheil/Aurora, CO (Cappy Mason)
97 Rico Abreu/St. Helena, CA (Keith Kunz-Curb-Agajanian)
97w Kaidon Brown/Sydney, AU (Matt Wood Racing)
98 Buddy Kofoid/Penngrove, CA (Keith Kunz-Curb-Agajanian)