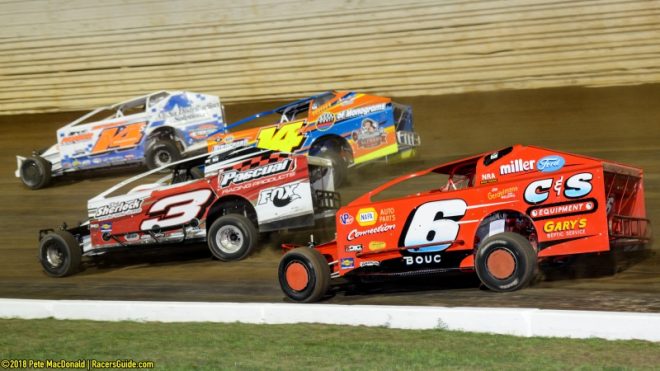 The Anticipation Ends Sunday: Short Track Super Series Modifieds Are Back at Port Royal Speedway
Story By: Brett Deyo/SSTS
Photos By: Pete MacDonald/RacersGuide.com
PORT ROYAL, PA – The anticipation has risen since the checkered flag fell last October at Port Royal Speedway.
Modifieds are back at the 'Speed Palace' this Sunday, March 24.
The Bob Hilbert Sportswear Short Track Super Series (STSS) Fueled By Sunoco brings its brand of big-block/small-block Modified racing to Port Royal for the 'Speed Showcase' with a 40-lap main offering $5,000 to the winner. The event serves as Round No. 2 of the STSS Velocita-USA South Region presented by Sunglass Central and Design for Vision.
Last October, an absence of 30 years for the Modifieds ended at the Juniata County Fairgrounds when the STSS invaded for the first time. Eventual STSS South Region champion Ryan Watt of Boyertown, Pa., was the winner of a thrilling race from start to finish.
With an early spring date in place for '19, a diverse and strong field of Modifieds are expected on Sunday.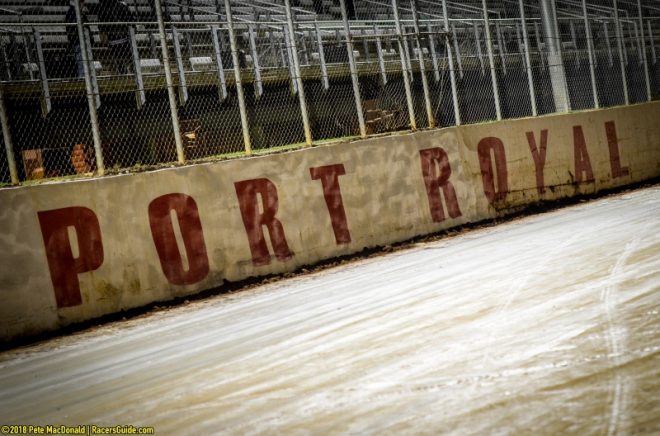 Last weekend, the STSS opened its season at Georgetown (Del.) Speedway with an unorthodox Melvin L. Joseph Memorial. An unusually warm and sunny day, coupled with a daytime start led to tire wear issues in the 49-lap event. Ultimately, Stewart Friesen of Sprakers, N.Y., edged Matt Sheppard to pick up the victory worth more than $7,000.
Neither Friesen nor Sheppard competed last year at Port Royal due to separate scheduling conflicts. Both will be in attendance on Sunday.
With $10,000 on the line for the STSS Velocita-USA South Region title at year-end, all of the regional stars will be on hand to compete at the event.
After the opener, the current top-10 in the standings are as follows: Friesen, Sheppard, Ryan Watt, Billy Pauch Jr., Jordan Watson, Jeff Strunk, Duane Howard, Craig Von Dohren, David Van Horn and Alex Yankowski.
All of those drivers are expected to compete on Sunday.
The STSS Modifieds are featured in a doubleheader with the ULMS Super Late Models competing for a $3,000 top prize.
Gates open for both the grandstands and pit area at 11 a.m. Hot laps are set at 1 p.m. Racing begins at 2 p.m.
Grandstand admission is $25 for Adults, $15 for Students (ages 12-18) and Children 11 and under are FREE. Pit admission is $35 with no license required.
The event will be available for purchase via Pay-Per-View at DirtTrackDigest.tv.
Port Royal Speedway is located at 308 West 8th Street Port Royal, PA 17082. To learn more, visit www.portroyalspeedway.com or portspeedway@gmail.com.
To learn more about the 2019 Short Track Super Series Fueled By Sunoco, visit www.shorttracksuperseries.com, e-mail bdmotorsportsmedia@gmail.com, check out 'Short Track Super Series' on Facebook or @ShortTrackSS on Twitter or Instagram.
The Short Track Super Series is presented by American Racer/Lias Tire, Sunoco Race Fuel, Insinger Performance, Bob Hilbert Sportswear, Halmar International, Velocita-USA, Design for Vision/Sunglass Central, Rob Sherlock Roofing, ATL Racing Fuel Cells, Behrent's Performance Warehouse, Beyea Custom Headers, Bicknell Racing Products, Dirt Track Digest, EIBACH Springs, Fast Axle, Fox Racing Shocks, Henry's Exhaust, Hig Fab, HyperCo, Kirkey Racing Fabrication, Land Hoe Maintenance, K&N, MJK Home Maintenance, Precision Hydraulic & Oil, QA1, Racing Optics, Superior Remodeling, Teo-Pro Car, VAHLCO, Velocita, WELD Racing & Wilwood.
Bob Hilbert Sportswear Short Track Super Series Fueled By Sunoco
Velocita-USA South Region Presented By
Design for Vision/Sunglass Central 2019 Schedule
Friday-Saturday March 15-16 – Georgetown Speedway/Georgetown, Del. – Melvin L. Joseph Memorial – $6,949 to win – WINNER: STEWART FRIESEN
Sunday, March 24 – Port Royal Speedway/Port Royal, Pa. – Speed Showcase
Tuesday, April 30 – Delaware International Speedway/Delmar, Del. – Diamond State 50
Thursday, May 23 – New Egypt Speedway/New Egypt, N.J. – Dirty Jersey 6 – $6,000 to win!
Tuesday, June 4 – Big Diamond Speedway/Minersville, Pa. – Anthracite Assault – COMBO
Sunday, July 14 – BAPS Motor Speedway/Newberrytown, Pa. – $10,000 York County Nationals
Tuesday, August 27 – Georgetown Speedway/Georgetown, Del. – Blast at the Beach – $6,000 to win!
Friday-Saturday November 1-2 – Georgetown Speedway/Georgetown, Del. – Mid-Atlantic Championship – CHAMPIONSHIP POINTS