SWANSON, LEARY AND COURTNEY SHARE SPOTLIGHT AT 2019 NIGHT OF CHAMPIONS
Story By: Richie Murray/USAC
Photo By: Jeremy Rhoades
Indianapolis, Indiana (December 13, 2019)………USAC National driving champions Kody Swanson, C.J. Leary and Tyler Courtney shared the spotlight along with other 2019 USAC champions and special award recipients at Friday night's 64th USAC Night of Champions celebration at the Indiana Roof Ballroom in downtown Indianapolis, Ind.
NATIONAL CHAMPIONS:
The record books were rewritten once again by Kingsburg, California's Kody Swanson who, it seems, is able to withstand and thrive in every challenging situation thrown at him. After joining a new team and fighting through mechanical woes at certain points throughout the season, he won five times and led a staggering 404 laps, just under half of all laps run in the series this year, en route to an unprecedented fifth Silver Crown driving title.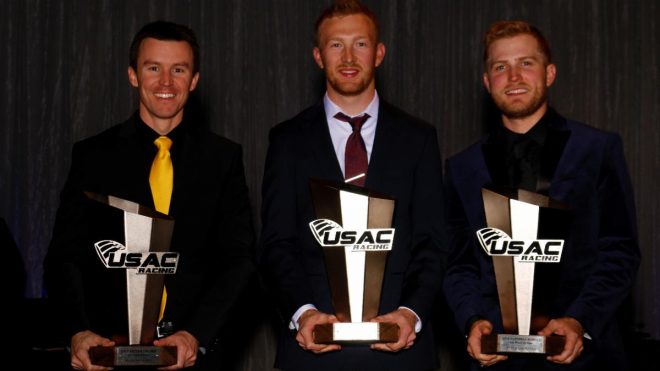 With a combo of pavement specialist Kyle Hamilton and dirt guru Brady Bacon, the white No. 6 of Klatt Enterprises out of Hastings, Neb. was a mainstay at the front of the field on both surfaces with both drivers, each of whom collected their first Silver Crown victories for the team in 2019, with Bacon adding one more in the finale at Eldora to clinch the Silver Crown owner title for longtime entrant Terry Klatt.
After teaming up during last year's offseason, C.J. Leary and Reinbold/Underwood Motorsports immediately found a winning groove during their USAC AMSOIL National Sprint Car season 2019 on their journey to a USAC AMSOIL National Sprint Car driver and owner title. They won their third race out of the box in Ocala, Fla. and took the lead for good in May and held it for the remainder of the season. The team's first finish outside the top-ten didn't come until August, leading to an extreme knack for consistency that saw them finish in the top-ten 32 times in 34 starts. Along the way, they captured both the Eastern Storm and Indiana Sprint Week title and the Oval National in Perris, Calif. Their 11 fast qualifying times rank as the third most ever in a single USAC National Sprint Car season.
Becoming a National Sprint Car entrant champion is an incredible achievement that is the ultimate reward for a car owner at the conclusion of a hard-fought year. This year's award carried an extra special meaning after Richard Hoffman's passing this past April. Hoffman was the most prolific car owner in USAC National Sprint Car history whose teams have earned more victories and more championships than any other team in the history of the series. This year, and forever more, the National Sprint Car entrant champion trophy will be named in honor of Richard Hoffman, and its first recipient was Reinbold/Underwood Motorsports.
A banner year in USAC NOS Energy Drink National Midget competition for Tyler Courtney and Clauson/Marshall Racing saw the combo claim their second USAC National title in as many years following a 2018 USAC AMSOIL National Sprint Car title. Their eight feature wins in 30 starts were the most victories by any team/driver combo in a single USAC National Midget season since Jeff Gordon and Rollie Helmling in 1990. In addition, they led the series in all major categories with 175 laps led, 20 top-fives, 26 top-tens, 8 fast qualifying times and 9 heat race wins to win the title by 179 points.
REGIONAL SERIES:
USAC's Regional Sprint Car and Midget series hit dirt tracks from coast-to-coast throughout 2019, leading to a total of 103 races being contested and producing six different champions across the six series.
With domination over the series for much of the past decade, Damion Gardner, of Concord, Calif., earned his seventh consecutive AMSOIL USAC/CRA Sprint Car title and eighth overall, grabbing three wins at Bakersfield, Perris and Santa Maria along with 11 top-fives, 18 top-tens and a remarkable 10 fast times in 23 starts.
A nearly perfect campaign in the Rapid Tire Service East Coast Sprints saw Reading, Pennsylvania's Steven Drevicki driver earn a series-leading 5 victories and 11 top-five finishes in all 11 starts, please welcome to the stage for a second straight year.
Another driver reaching the big stage again with his second Wingless Sprints Oklahoma driving title in as many years was Brett Wilson of Coweta, Okla., who accumulated a series best in every statistical category with three wins and 11 top-fives in 12 starts.
Knocking out three wins in 2019 at California's Ventura, Tulare and Santa Maria Raceways, Tristan Guardino, of Fremont, Calif., took an early season point lead in March that he never relinquished, picking up 3 feature scores, 9 top-fives and 11 top-tens and a pair of fast times in 13 starts.
Garden Grove, California's utilized three different teams en route to the 2019 Sands Chevrolet Southwest Sprint Car title. Despite that, he managed wins in two of those rides at Canyon Speedway in April and September, and connected on 10 top-fives, 13 top-tens and one quick time in 18 starts for his third career USAC championship in three different divisions (2009 Western Focus Midget & 2017 West Coast Sprint).
In a championship battle that came down to the final event, Robert Dalby of Anaheim, Calif. emerged with his first career USAC Western States Midget title after clicking off a trio of consecutive victories at Merced, Santa Maria and Ventura during a summer stretch which also saw him garner 6 top-fives, 8 top-tens and a single fast qualifying time among his 13 starts.
DEVELOPMENTAL SERIES:
The four Speed2 Midget series, plus the Midwest Mini Sprint Association took part in a total of 76 events spanning 11 different states in 2019 from the Northeast to the East Coast to the Midwest, producing five champions.
On the strength of 3 wins, 11 top-fives and a top-ten finish in all 12 of his starts throughout the season, Springfield, Ohio's Aaron Leffel won his third consecutive Midwest Thunder Speed2 Midget championship by a 22-point margin over Stratton Briggs.
No driver has won more often and won as many titles in Engler Machine IMRA Midget competition under the USAC banner as Mason City, Illinois driver Andy Baugh who notched his second consecutive series crown 8 wins, 13 top-fives and 14 top-tens in 16 series starts.
Five victories and 11 top-three finishes in 13 starts were more than enough to secure a first career USAC DMA Speed2 Midget title for Will Hull of Plainfield, Vermont.
No female driver has ever won three USAC championships, let alone three-in-a-row, which Jessica Bean did this year with the USAC Eastern Speed2 Midget series, closing out strong with victories in the final three races of the year to win the title by a comfortable 185-point margin.
Continuing a theme, the Midwest Mini Sprint Association crowned a back-to-back champ after Cody Trammell of Bloomington, Ind. secured a series-high six victories during his 2019 campaign.
ACTION TRACK USA CHAMPIONS:
Action Track USA in Kutztown, Pennsylvania served as host to a myriad of events throughout the summer events, culminating with its 2019 champions, Billy Pauch, Jr., Kenny Miller and Dylan Hoch.
SpeedSTR champion Billy Pauch, Jr. of Milford, N.J. is the all-time leader in victories at Action Track USA with 18, and this year, he earned his fourth career SpeedSTR championship and second in a row following three wins and an 85-point margin.
Kenny Miller, of Morgantown, Pa., a Millersville University sophomore, captured his first Action Track USA championship on the strength of one victory and consistent top-ten finishes throughout the year to capture the title in the final race of the year by 81 markers to capture the Hyper Racing EVO Injection 600 Sprint championship.
Mertztown, Pennsylvania's Dylan Hoch recorded his third All Star Slingshots title on the basis of four feature wins in six races and dominated the division in 2019, defeating his nearest competitor by a whopping 195 points at season's end.
The state of Oklahoma has been a hotbed of USAC racing talent over the past several seasons, and a track where many of them cut their teeth – Port City Raceway – celebrated their first season under the USAC banner in 2019 with seven different division championships being crowned.
PORT CITY RACEWAY CHAMPIONS:
Brody McClelland, of Broken Arrow, Okla., scoring a pair of wins, 18 top-fives and 23 top-tens in 28 feature starts to claim the Port City Junior Sprint title.
Shawn Mahaffey, of Tulsa, Okla., doubled up as both the A-Class and Non-Wing division champion at Port City, picking up just one victory, but was the mark of consistency with 41 top-ten finishes in 50 combined starts.
In the restricted class, there was nothing holding back Rees Moran, of Tulsa, Okla., with three wins, 17 top-fives and 22 top-tens in 26 starts to edge out the title by 19 points.
Domination is the one word to describe Broken Arrow, Oklahoma native Ryan Cody's season in the Port City Sportsman division, with a series-high 13 wins, 24 top-fives and 26 top-tens in 28 starts.
Prevailing in a close battle throughout the 2019 season, Joel Smith, of Tulsa, Okla., scrapped his way back into title contention and ultimately triumphed by a mere 13 points to capture the Port City Outlaw championship.
A series-leading 4 wins, 17 top-fives and a top-ten finish in all 23 starts netted Matt Cash of Sperry, Okla. the Port City Masters driver championship for 2019.
.25 NATIONAL MIDGETS
Honored as USAC .25 Midget National Champions as a result of their accomplishments were multiple series titlists Gavin Miller (Sr. Honda Dirt, Sr. Animal Dirt, Light World Formula Dirt & Sr. Honda Pavement), Hunter Wise (Unrestricted Animal Dirt, Heavy World Formula Dirt & Heavy 160 Pavement), Jacob Denney (Unrestricted Animal Pavement & Heavy World Formula Pavement) and Collin Mitchell (Light World Formula Pavement & Light Formula Mod Pavement).
USAC .25 Dirt Midget champions for 2019 included Paul Hartwig III (Jr. Honda Dirt), Carson Dillion (Heavy Honda Dirt), Gunnar Pio (Light 160 Dirt), Thomas Prychka (Heavy 160 Dirt), Chase Schott (Jr. Animal Dirt) and Alex Ruppert (Light Formula Mod Dirt).
Pavement USAC .25 Midget champions included Case James (Jr. Honda Pavement), Holly Clark (Heavy Honda Pavement), Jackson White (Light 160 Pavement), Emory Johnson (Jr. Animal Pavement), Gavan Boschele (Sr. Animal Pavement) and Chase Spicola (Heavy Formula Mod Pavement).
SPECIAL RECOGNITION AWARDS:
Levi Jones earned a trio of major honors during the night, being named winner of the Roger McCluskey award as well as the inaugural Bryan Clauson Heart of a Hero Award presented by Driven2SaveLives. During USAC president Kevin Miller's presentation of the McCluskey Award, he named Jones as USAC's Executive Vice President beginning with the 2020 season. Following Taylor McClean's Heart of a Hero Award presentation, Jones announced he would award the $1,000 prize to the first driver during the 2020 USAC National season to record fast time and win the feature on the same night.
This year, USAC presented a new award, the Dick Jordan Lifetime Achievement Award, in recognition of an individual who's displayed tireless dedication and commitment to the betterment of USAC, photographer, USAC official, race promoter and car owner, John Mahoney. He's one who has had a profound positive impact within the USAC family and has earned the ultimate respect of his or her peers within the sport and whose legacy will persist for generations to follow. One who's set the standard for a lifetime of devotion to USAC as Dick Jordan did throughout his 50-year career and who was so integral to this Night of Champions. Mahoney is a man who's spent decades by D.J.'s side, traveling to races together and experiencing probably more D.J. adventures than all others combined. Like D.J., Mahoney's passion for racing is infectious and his dedication is solely based on his love for the sport, and in particular, USAC racing.
The Jason Leffler award exudes intense appreciation of the sport's history reflected in his professionalism and outstanding representation as an ambassador of the United States Auto Club, exhibiting the same standard of ideals upheld by the late Jason Leffler during his USAC racing career. Chase Stockon, of Fort Branch, Ind., is one who's stood among those giants and whose dedication to the sport and conduct has been exemplary and has set a high standard for other drivers to follow. We're talking about a man who, for eight straight year, and nearly 300 consecutive USAC AMSOIL National Sprint Car races, has rolled the car into the trailer, headed out onto the highway and qualified for the feature, setting a new standard among his peers and in the history books.
Dedicated to the memory of three-time USAC National Drivers Champion Bryan Clauson, the Mike Curb Super License went to Tyler Courtney by virtue of amassing the most total points between USAC's three National divisions throughout the year: Silver Crown, National Sprint and National Midget. This year, for the second year in a row, the $5,000 award was awarded to Courtney following an 18-win season on the USAC National trail in 2019 to equal A.J. Foyt and Parnelli Jones, who both had 18 in 1964, as the third most prolific season in the club's 64-year history
Along with the driver and car owner, there is a crew chief who works long hours in the trenches. These individuals don't usually get the limelight or the glory that drivers experience, but they're a key component to what it takes to make a racecar go fast, get to the front, win races, and ultimately a championship. For Davey Jones, a USAC National championship had eluded him until this season. You can call him a champion, but now you can also call him the USAC Chief Mechanic of the Year for 2019.
For their overall support of USAC racing and the contributions made to the series, teams, drivers, tracks and fans throughout the 2019 season, USAC recognized NOS Energy Drink as the winner of the Corporate Special Appreciation Award after going above and beyond to help elevate USAC racing to greater levels, providing an extra boost of energy to USAC and in establishing the BC39 event as well as activation of the series across all platforms, which has made NOS Energy Drink an outstanding addition to the USAC family.
Throughout the 2019 USAC National season, there've been drivers who've made an impact with their respective series that stood above their peers in their first season while one driver, in particular, has made impressive strides in becoming a regular contender at the front of the pack.
A pavement specialist by trade, Derek Bischak of Angola, Ind. was certainly special in his Rookie campaign on the Silver Crown in 2019, earning 4 top-tens in 6 starts, with a best of 7th at Wisconsin's Madison International Speedway and a 14th place finish in the standings to collect Silver Crown Rookie of the Year honors. Bischak will also be presented with a custom ear mold courtesy of Racing Electronics.
After a regular stint in the midgets out east the past couple of seasons, Collegeville, Pennsylvania's Andrew Layser made the leap the National trail in 2019 for Clauson/Marshall Racing, recording 8 top-ten finishes in 24 starts, including leading his first laps in July at Sweet Springs, Mo. Finishing 11th in points and collecting the Bob Stroud National Midget Rookie of the Year.
A true Rookie of sprint car racing in 2019, Dustin Clark, of Washington, Ind., made his first career sprint car start of any kind during the USAC season opener in Ocala, Fla. in February of this year. Ten months later, he's standing on the stage after collecting four heat race wins, 18 feature starts and an 14th place finish in the standings.
In his third full year on the USAC NOS Energy Drink National Midget trail, Tanner Carrick upped his game to a career-best 6th place finish in the standings and was one of only three drivers to start all 31 feature events during the 2019 season. The Lincoln, California native's six top-five finishes were highlighted by his first career series victory in July at Sweet Springs, Missouri.
In 2019, the legendary Knoxville Raceway brought to life what has already become one of the marquee events on the USAC AMSOIL National Sprint Car calendar with the inaugural Corn Belt Nationals. The individuals at Knoxville have an unwavering support of sprint car racing, its teams and its drivers and have dedicated themselves to preserving history and, at the same time, creating new history. USAC is grateful to be a part of history in the making at Knoxville, and proudly presented this year's Race Organizer of the Year to Knoxville Raceway, who was represented by track promoter John McCoy.
Stacie Girard is an individual who's gone the extra yard in all aspects for the benefit of racers, teams, the events and the USAC community. She's sacrificed her time behind the scenes, in addition to working a full-time job, and is willing to step in to take on any task big or small without hesitation at the racetrack. With unmatched energy and enthusiasm, few have been as integral to the success of USAC and its events than her, the 2019 USAC Individual Special Appreciation award recipient.
Wilwood showed their continual support throughout the 2019 season and, they in turn have shown their support for USAC National drivers Tanner Carrick, Dustin Clark and Kyle Robbins with racing supplies heading into the 2020 season.
IRACING USAC WORLD CHAMPIONSHIP:
Meanwhile, USAC's newest series made its debut in a virtual way in 2019. With a three-race win streak in September and October, David Heileman locked up the iRacing USAC World Championship presented by FloRacing championship a week early to claim a two-day Cory Kruseman Driving School experience and a nice payday.