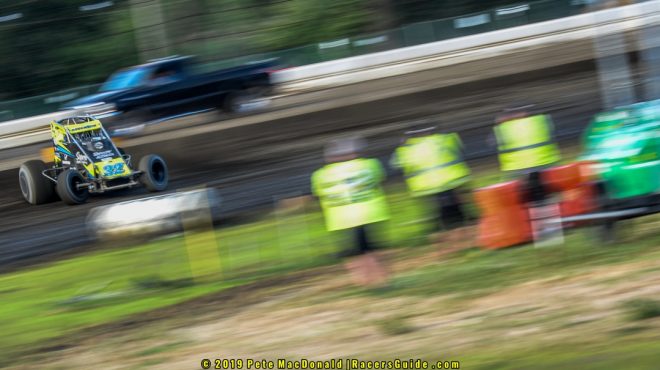 STOCKON IN LINE TO EQUAL CONSECUTIVE USAC SPRINT START RECORD AT KOKOMO
Story By: Richie Murray – USAC Media
Photos By: Pete MacDonald/RacersGuide.com
Kokomo, Indiana (August 20, 2019)………One of the ultimate ironman streaks is on the line for Chase Stockon as he prepares to equal the series' most consecutive starts streaks this week during Sprint Car Smackdown VIII at Aug. 22-24 at Kokomo Speedway.
Stockon (Fort Branch, Ind.) has made 281 consecutive USAC AMSOIL National Sprint Car feature starts since 2012. If all were to go in accordance with his plans and he qualifies for the feature on all three nights of Smackdown, he would tie the mark on Saturday of 284-straight starts in the series, set by five-time series champ Levi Jones between 2004 and 2012.
Stockon would then be in line to set the new standard of 285-straight feature starts with the series on Friday, Aug. 30, in the River Town Showdown at Tri-City Speedway in Granite City, Ill.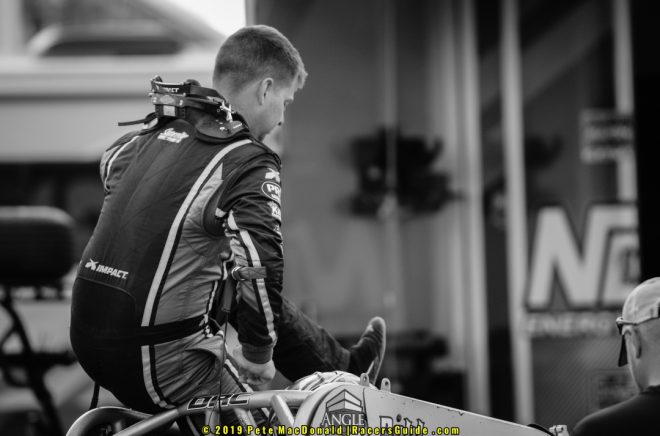 During Stockon's streak, he's accumulated 12 feature victories, which are tied with Eric Gordon for 45th all-time. Stockon's 27 fast qualifying times during the streak rank 12th all-time, tied with Dave Steele.
To put Stockon's consecutive starts streak into perspective, only eight times in the 64-year history of USAC has a driver put together 100 or more starts in a row. Jones, of course, right now is tops with 284, followed by Stockon at 281. Dave Darland has done it twice, putting together 204 consecutive starts between 2012-17 and 106 between 2004-2008. Brady Bacon had 147 from 2013-17. Damion Gardner had 126 between 2008 and 2012. Tracy Hines made feature starts in 123-straight between 2009 and 2012.
Chris Windom is one of those eight occasions as well, accumulating 132-straight starts since the 2016 season to hold the second longest active streak of starts. Justin Grant and Tyler Courtney stand at 98 starts in-a-row since the beginning of the 2017 season and would become the newest members of the exclusive 100-club if they compete in both Thursday and Friday night's feature events at Kokomo. Kevin Thomas, Jr. stands at 96 and could hit the 100-straight start mark in Granite City at the end of August.
The racing festivities at Kokomo first get underway on Wednesday, August 21, with #GYATK Night, a USAC AMSOIL Sprint Car non-points Special Event in honor of the late, great Bryan Clauson, winner of the first Smackdown in 2012. Admission is FREE for all racefans. Driver pit passes are also all FREE courtesy of AllStar Performance. All gates open at 3pm Eastern, draw closes at USAC trailer at 6:10pm, drivers meeting in front grandstands at 6:15pm and cars on track at 6:30pm.
For the first two nights of Smackdown on Thursday, August 22 and Friday, August 23, all gates open at 3pm Eastern with cars on track at 6:45pm. Adult general admission tickets are $25 and children age 12 and under free. Pit passes are $35 apiece. 3-day advance reserved: $80.00, call 815-468-8690 for tickets. Advanced tickets sales will end on 8/19, after 8/19 3-day tickets can be purchased at the ticket window on race night for $85.00.
On the final night of Smackdown on Saturday, August 24, all gates open at 3pm Easter with cars on track at 6pm. Adult general admission tickets are $35 and children age 12 and under free. Pit passes are $45 apiece. The Buckeye Outlaw Sprint Series will also be on the event card.
All three nights of Smackdown, in addition to #GYATK Night, will be shown live and on-demand on FloRacing. You can listen to live audio of each night on the USAC app and follow along with live timing and scoring on the Race-Monitor app as well as the USAC app.
ALL-TIME CONSECUTIVE USAC NATIONAL SPRINT CAR FEATURE STARTS:
(Drivers with 100 or more)
(284) Levi Jones / 2004-2012
(281) Chase Stockon / 2012-Present
(204) Dave Darland / 2012-2017
(147) Brady Bacon / 2013-2017
(132) Chris Windom / 2016-Present
(126) Damion Gardner / 2008-2012
(123) Tracy Hines / 2009-2012
(106) Dave Darland / 2004-2008
TOP CURRENT CONSECUTIVE USAC NATIONAL SPRINT CAR STARTS:
(Drivers with 50 or more)
(281) Chase Stockon / 2012-Present
(132) Chris Windom / 2016-Present
(98) Tyler Courtney / 2017-Present
(98) Justin Grant / 2017-Present
(96) Kevin Thomas, Jr. / 2017-Present
(68) Brady Bacon / 2017-Present
(64) C.J. Leary / 2017-Present