Spencer, Liedl, Palmer, Liedtka & Garey Score Wins; 2019 Track Champions Crowned
Story By: Pete MacDonald/New Egypt Speedway
Photos By: Doug Miller/RacersGuide.com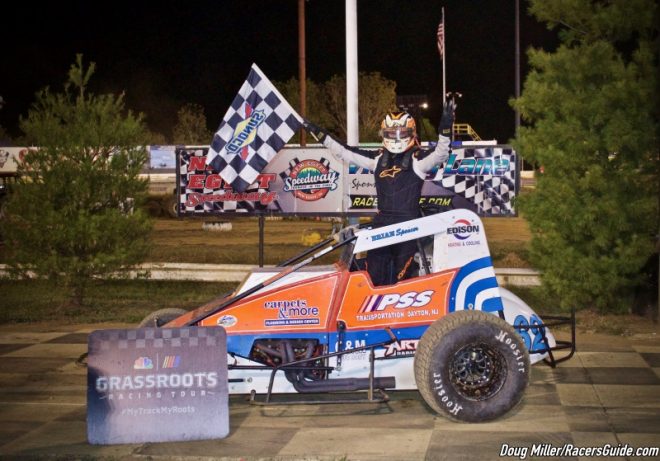 New Egypt, NJ – 2019 Track Champions in all weekly support divisions were crowned on Saturday night at New Egypt Speedway during Hammer Electric Championship Night.
Brian Spencer (Larry's Hot Rods & Harley's Northeast Wingless Sprint Cars), Art Liedl (Hammer Sportsman), Eric Palmer (Crate Modifieds), Bill Liedtka (Street Stocks) and Joe Garey Sr. (Mike's Performance Center 4-Cylinders) were winners on the evening. Rich Mellor (Larry's Hot Rods & Harley's Northeast Wingless Sprint Cars), Steve Davis (Hammer Sportsman), Joe Toth (Crate Modified), Bill Liedtka (Street Stocks) and Joe Garey Sr. (Mike's Performance Center 4-Cylinders) all earned season-long point championships.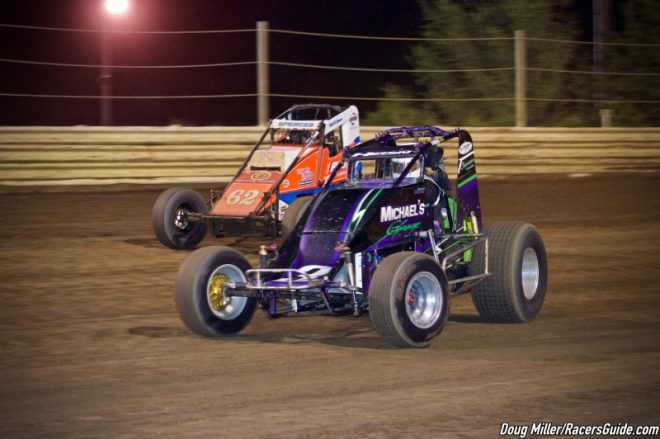 Brad Schaale led the early going in the 20-Lap Larry's Hot Rods & Harley's Northeast Wingless Sprint Car feature with Larry Drake in tow. Schaale would continue to lead past the halfway point where the caution would fly for a spinning Drake. Brian Spencer who was in search of his third straight win in the division would line up third and steal the lead from Schaale on the restart. Spencer would flat out dominate the last 1/3 of the event scoring his third consecutive win in the class. Heidi Hedin would come home second, Duane Nixon third with Drake rebounding to finish fourth and Brad Schaale completing the top-5. After clinching the title in the previous race, 2019 track champion Rich Mellor would suffer a blown motor in his heat race and would be unable to start the main event.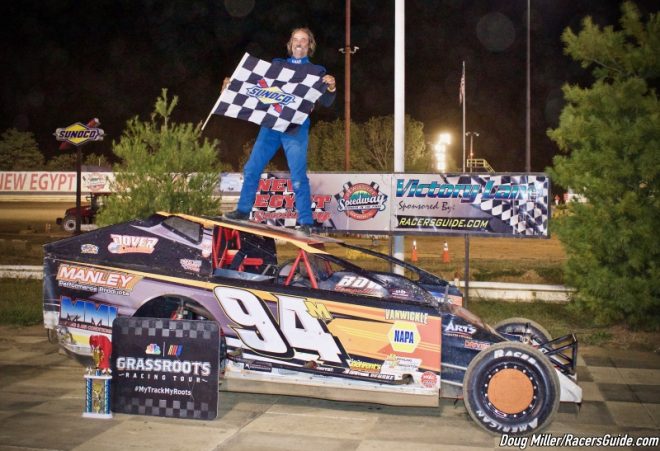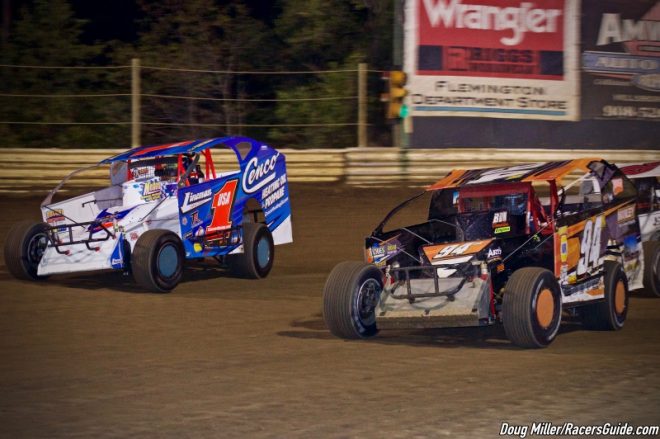 Art Liedl picked up his first New Egypt Speedway win of the season aboard the Mongiello No. 94m which saw the 2019 track championship decided on the last lap. Virtue of his rough past couple races Bob Lineman Jr. started the Hammer Sportsman feature from the pole position. Lineman would lead the event until the halfway point where Art Liedl would pass him on inside lane coming off of two on a lap 10 restart. Jim Housworth who was in control of the points race most of the event came home 2nd with Steve Davis finishing third quintessentially scoring the 2019 Hammer Sportsman championship when Bob Lineman Jr. slipped up coming off of turn two on the last lap. Ryan Heim completed the top five.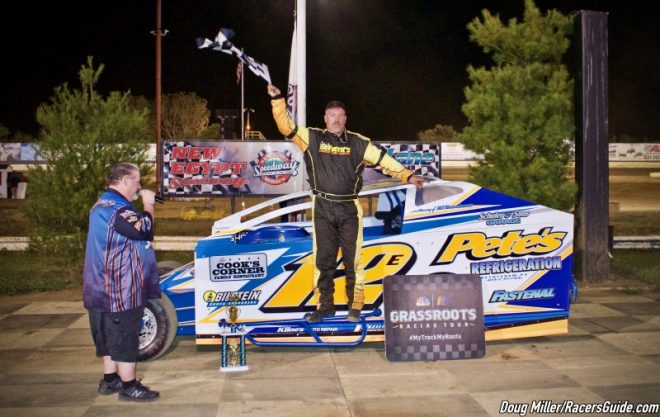 The Crate Modifieds had the closest point battle heading into Championship Night. Eric Palmer led wire-to-wire in the Crate Modified event but it didn't come easy. Palmer jumped out to the early lead with 2019 rookie graduate Nick VanWickle in tow. The pair would run side by side virtually the entire distance of the 20 lap event with VanWickle rim riding around the top with Palmer using a variety of grooves to keep VanWickle at bay. At one point Palmer even clipped the inside guardrail coming off of turn four late in the going. Palmer would pick up his second win of the 2019 season at NES with VanWickle coming home second, a hard-charging Ryan Simmons came home third, coming up just shy of the Crate Modified points championship with Jeremy Martino and Joe Toth completing the top five and picking up his first career NES track championship. For Toth he wins the 2019 Crate Modified crown without winning a points paying race.
Following clinching the 2019 Street Stock title a few weeks back, Bill Liedtka picked up his eighth Street Stock win of 2019 over Mick Search, Todd Dige, Brian Spencer and Joe Reid.
Following an exciting last lap in where Dom Antonelli took the white flag as the leader in the Mike's Performance Center 4-Cylinders. Antonelli and Joe King Jr. headed down the backstretch on the final circuit with King to his inside. King then made contact with Antonelli putting him backwards in turn four and taking the checkered flag first but due to his contact with Antonellli, New Egypt Speedway officials deemed that King was over-aggressive with his move handing the win to Joe Garey Sr. Garey who was the 2018 NES 4-Cylinder champion would win the 2019 championship by just two markers over Mike Fox.
New Egypt Speedway will be dark on Saturday September 28th but will be back in action in a big way on Saturday October 5th with the 3rd Annual Legends of the Fall 75 for the Big Block vs. Small Block Modified event that will pay $7,500 to the winner and $500 just to start the main event. A plethora of invaders are planning on coming into try and steal the money on October 5th. The Crate vs. Sportsman will also be on the docket in a 25-lap feature paying $1,000 to win. Pits and Grandstands will open at 3pm on the 5th, Hot Laps are scheduled for 5pm with the first green flag of the evening flying at 6pm! Adult admission (16+) is $28, Seniors (65+) are $25, Teens (12-15) & Military w/ID are $18 with Kids 11 & Under being FREE! Pit admission will be $40.
New Egypt Speedway, which is New Jersey's premier dirt racing facility, is located on Route 539 just minutes from Six Flags Great Adventure and the New Jersey Turnpike. A racy 7/16-mile D-shaped dirt oval, New Egypt Speedway serves Garden State race fans with some of the best competition in the country. New Egypt's state-of-the-art facilities feature daylight-quality lighting and excellent sightlines from any seat in the house. The grandstands are fully wheelchair accessible with wide, clear, and well-groomed walkways. Concession facilities serve up everything from Jersey Burgers to ice cream treats at family-friendly prices.
For more information, visit online: www.newegyptspeedway.net, "Like" us on Facebook at www.facebook.com/newegyptspeedwayofficial, or follow us on Twitter @nesspeedway.
Larry's Hot Rods & Harley's Northeast Wingless Sprint Car Feature (20 Laps): 1.) BRIAN SPENCER 2.) Heidi Hedin 3.) Duane Nixon 4.) Larry Drake 5.) Brad Schaale 6.) Ken Nealis 7.) Eric Degler 8.) Chace Leahy 9.) Gary Huston DNS: Rich Mellor, Greg Shepsis
2019 Larry's Hot Rods & Harley's Northeast Wingless Sprint Car Track Champion: RICH MELLOR
Hammer Sportsman's Feature Results (20 Laps):
1.) ART LIEDL 2.) Jim Housworth 3.) Steve Davis 4.) Bob Lineman Jr. 5.) Ryan Heim 6.) Will Dupree 7.) David Burns 8.) Joe Nappi 9.) JT Trstensky 10.) Matt Luzi 11.) John Criscione 12.) David Burns 13.) Jim Hawkes 14.) Jimmy Amato 15.) Drew Reinhold
2019 Hammer Sportsman Track Champion: STEVE DAVIS
Crate Modified Feature Results (20 Laps): 1.) ERIC PALMER 2.) Nick Van Wickle 3.) Ryan Simmons 4.) Jeremy Martino 5.) Joe Toth 6.) Dan Fleming 7.) Kevin Borden 8.) Steve Hicks 9.) Johnny Bangs 10.) Anthony Tramontana 11.) Andy Walko 12.) Ryan Heim 13.) Tom Princiotta 14.) Bobby Holzwarth 15.) Ryan Krushinski 16.) Matt Miller 17.) Zach Merola 18.) Jake Roveda 19.) Will Protnick 20.) Rob Mancini 21.) Aaron Weaver 22.) Howie Finch Jr 23.) Glenn McIntyre 24.) Jarrod Burdge 25.) Jon Meyer
2019 Crate Modified Track Champion: JOE TOTH
Mike's Performance Center 4-Cylinder Feature Finish (15 Laps): 1.) JOE GAREY SR 2.) Rob Longo 3.) Joe King 4.) Mike Fox 5.) Joe Garey Jr 6.) Jimmy Avery 7.) Scott Dunn 8.) Penny Horner 9.) John Cialella 10.) Dom Antonelli 11.) Shawn Teel 12.) Ashley Wroble 13.) Rob Lane 14.) Paul Hartwig
2019 4-Cylinder Track Champion: JOE GAREY SR.
Street Stock Feature Results (15 Laps): 1.) BILL LIEDTKA 2.) Mick Search 3.) Todd Dige 4.) Brian Spencer 5.) Joe Reid 6.) Darren Cox 7.) Billy Wroble 8.) Lee Allen 9.) Marty Derr 10.) Dennis Seeley 11.) Chris Felber 12.) John Bromme 13.) Sean Wall
2019 Street Stock Track Champion: BILL LIEDTKA