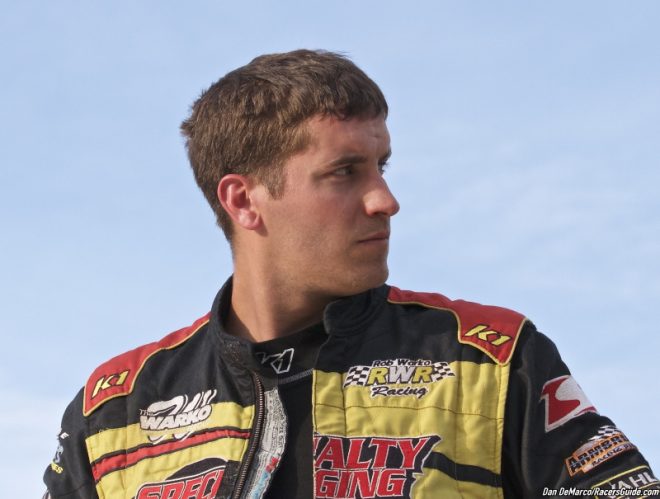 Smith Battles All Stars and Mother Nature
Story By: Mandee Pauch/MPR
Photo By: Dan DeMarco/RacersGuide.com
Mandee Pauch Relations – April 17, 2019 –What was set to be a four-race weekend with the All Star Circuit of Champions turned into a two-race weekend due to mother nature.
The No.72 team made the four-hour trek Thursday to kick off the weekend at Virginia Motor Speedway with the All Stars.
Smith started the evening with a second-place time in his group, lining him up third in the heat race.
"We were way too tight and backed up in the heat," Smith said.
Smith crossed the line in fifth.
"We found out what the issue was and fixed it after the heat," he noted. "We got the car freed up some more which made it a lot better come feature time."
Smith rolled off on the inside of the eighth row for the main event.
"We backed up a little in the beginning," he said. "Once I figured out how to run the track properly, we went forward. We were better than a 12th-place car, but you had to be up on the wheel with four wheels over the cushion there. Until I figured it out half the race was over."
Smith moved forward and clocked off a 12th-place finish.
"It seemed like we were playing catch up all night," added Smith. "It's a cool place though. We learned a little and made the four-hour ride home with no issues so we can't complain."
Friday evening was scheduled for Williams Grove Speedway but rained out.
Saturday afternoon saw the No.72 team back at Port Royal Speedway with the All Stars.
Smith and the team were fast right off the trailer.
"We were really fast in warm-ups," he said. "Everyone's fast laps were where I ran, so I only changed a little bit. I was in the first group, so I didn't get to watch anything and of course my groove ended up being gone by the time I got out there. Nobody told me. I went out and rolled around where I ran in warm ups and lost a couple tenths."
Smith timed 11thoverall and fifth in his group, missing the invert for the heat race.
"We started fifth but needed second to get to the dash," noted Smith. "We ran third, so we went the right way."
Smith's third-place finish lined him up on the outside of the sixth-row for the main event.
"We were pretty good," he said. "We weren't great but good enough to pass cars and come home in seventh."
Sunday was scheduled for Bedford Speedway but unfortunately mother nature won once again.
RYAN SMITH QUICK RESULTS –
April 11 – Virginia Motor Speedway; Heat: 3 (5); Feature: 12 (15)
April 13 – Port Royal Speedway; Heat 3 (5); Feature 7 (12)
RYAN SMITH SEASON STATS –
10races– 5 top five's, 8 top 10s
MEDIA LINKS –
Heffner Racing
Website: www.heffnerracing.com
Facebook:www.facebook.com/HeffnerRacing
Twitter:www.twitter.com/HeffnerRacing
Ryan Smith
Website:www.ryansmithracing.com
Facebook:www.facebook.com/RyanSmithKunkletownKid
Twitter:www.twitter.com/RyanSmithRacing
Instagram:www.instagram.com/ryansmith410