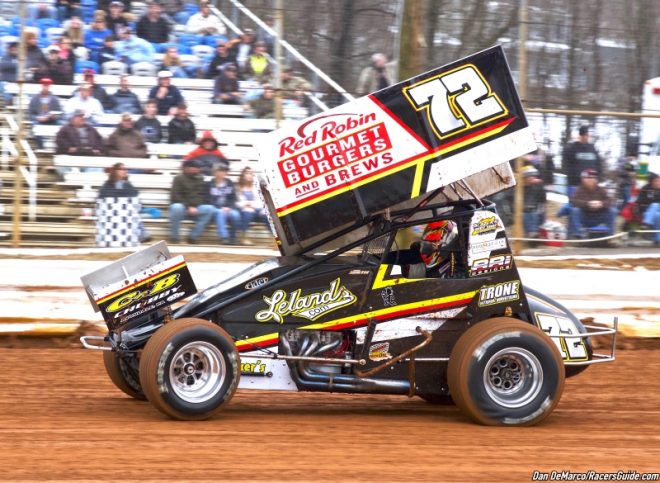 Smith and Heffner Racing Post First Podium of The Season
Story By: Mandee Pauch/MPR
Photo By: Dan DeMarco/RacersGuide.com
Mandee Pauch Relations – May 12, 2018 – The annual Ice Breaker was a cold and wet one at Lincoln Speedway Sunday afternoon, however, it didn't stop the new Heffner Racing team from making their big debut at the fast 3/8 mile.
Ryan Smith, the pilot of the all new Red Robin Gourmet Burgers and Brews No.72, started the day off with what many would believe was a sign from above.
"I drew 27," Smith said. "What are the odds of that. Right then I knew someone was looking down on us."
With some guidance from the man himself, Smith strapped in and rolled off on the outside of the second row of his heat race. Smith was able to get a strong start at the drop of the green and lock himself into the redraw with a second-place finish.
With luck of the draw, Smith started on the outside of the front row for the 30-lap main event.
"At one point I was on Lucas Wolfe in lapped traffic," noted Smith. "I had a couple shots but wasn't there to capitalize. The more and more people I talked to had the same problem I was having. It was so muddy that we were all running through tear offs. My shield kept fogging up, so I had to rip one off each lap. There was a red during the race and I actually switched helmets. It was still tough to see so I made sure to play a little defense there at the end."
Despite visibility conditions, Smith was able to hold off the field and finish runner-up to Wolfe for his first race behind the wheel of the No.72.
"All-in-all we had a good night being our first time out with the new team," he said. "We were fast right off the trailer, the crew worked great together, everything went pretty well. Then we capped the night off at Red Robbin for dinner with the crew."
Next on tap for the Heffner Racing team will be a two-day weekend with Port Royal Speedway and Williams Grove Speedway's openers this coming Saturday and Sunday.