Sheppard sets Quick Time Thursday at Oswego, Claims the Top Spot for Second-Straight Year; Laubach, Decker, Flach, Buffalino and McCreadie Round Out the Top-Six
Story By: MATT NOLES / RACERSGUIDE.COM
Photos By: RACERSGUIDE.COM PHOTO STAFF
OSWEGO, NY- October 5, 2017- Matt Sheppard has been on a tear for the past month as the 2017 Super DIRTcar Series for the big-block modifieds continues into the latter stages of the season. Thursday afternoon at the Oswego Speedway in Oswego, N.Y., was no different.
The driver of the infamous No. 9s Dendis Companies sponsored modified soared to the top of the speed charts with a time of 21.210 and locked himself into the Billy Whittaker Cars 200 this Sunday at the famed 'Steel Palace.'
"About halfway through the big-block time trials, the track started locking down in turn three and four," stated Sheppard. "I just kind of drove in there and tip-toed until I could feel the car get bite and then I could really feed the throttle to it. That's why you saw the times start getting faster and faster towards the end."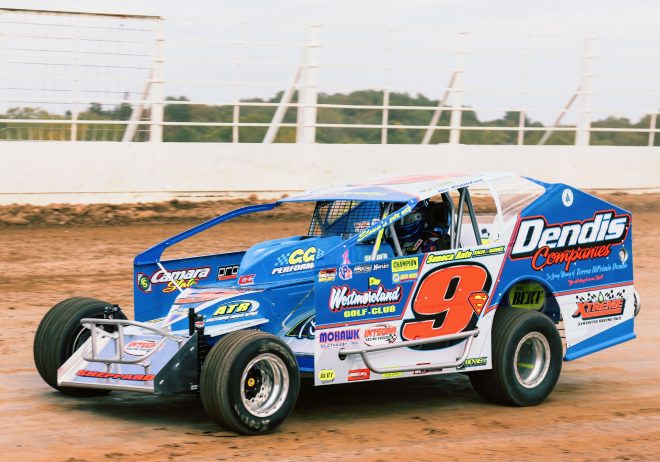 Sheppard's small-block efforts may have come as a slight surprise to the Watertown, N.Y., native but his big-block efforts certainly did not. From the onset of practice yesterday and today, Sheppard has been on the short list of drivers to watch. After a few short laps Thursday, he proved why.
"This car has been super fast," He continued. "We only had two practice sessions; one yesterday and one this morning, and then we had some trouble with our motor earlier and I didn't know what to think to be honest. We knew we had a fast car but I didn't know if going out later was going to help us or hurt us and it was probably fortunate that it helped us."
Though he set fast-time early on in time-trials, there was one driver that still had the defending Super DIRTcar Series champion nervous; the No. 39 of Tim McCreadie.
"I was a little nervous with Timmy [McCreadie] going at the end," Sheppard explained. "I thought he was going to potentially knock us out of the top spot but our car was really good today and we were able to hold on; we'll take it."
The former Super DIRT Week big-block modified champion is now – officially – the only driver ever to win the pole for Sunday's 200-lap affair in the history of the Oswego Speedway. Though the stats obviously don't support the fanfare for this accomplishment, it still speaks the talent and preparation that Sheppard indelibly possesses.
"Hopefully we can have a little better luck the rest of the week," Sheppard concluded. "The big thing is that this place is super slick and that's one of my strong points. There's a lot of momentum here and fortunately I have good race cars, great engines, a great crew, and a great package. We had a little bit of luck today as well."
Laubach Strong in Qualifying; Times Second-Fastest
Rick Laubach seemed a little surprised when he climbed from his modified after qualifying on Thursday afternoon; pleasantly surprised but surprised nonetheless.
The driver of the No. 8a went out in the same time-trial group as eventual pole winner Matt Sheppard and set a respectable time of 21.344; a difference of 0.134 seconds from fast time.
"The car has been decent for us," stated Laubach. "Conditions went our way and we were able to go back and take out a bunch of stagger to be honest and make some spring changes and change some pressures on our shocks; we did a lot in that short session and it paid off."
Though the surface has remained smooth thus far during Super DIRT Week, it did make a sudden change that may – or may not – have affected qualifying for most of the field if not for Laubach himself.
"The track started to lock down a bit in three and four," He explained. "That definitely helped us, but I could tell that I was good to get to that compared to what I was before. I would have completely missed that line if we had kept the car the same. All in all, it was good."
Racing is just as much mental as it is physical and now that Rick Laubach finds himself locked into Sunday's 200, he can breathe a much-needed sigh of relief.
"Qualifying and locking in today definitely makes this easier," He concluded. "The track is probably going to change significantly tomorrow night and that may hurt us a bit but I don't mind. I'm just going to use tomorrow night as a learning experience and prepare for Sunday."
Decker Goes from Panic to Relief
Billy Decker has been nearly immortal during Super DIRT Week in years past; so far this week he has been anything but.
The driver of the Page Trucking No. 91 has been lacking speed through both practice sessions between Wednesday and Thursday at Oswego; so much so that onlookers began to wonder if that really was Mr. Decker himself behind the wheel.
During time trials, the real Billy Decker returned as he rocketed up the speed charts to qualify third-fastest with a time of 21.434 seconds.
"We had nothing to lose really," Decker said after his qualifying run. "We made a bunch of changes and they worked out. Between the track getting faster and the changes we made, I don't know which one made the bigger difference honestly. Looking at where we are after today, we're in the ballpark so we'll go from there."
So how bad was everything going for Decker before time trials? Put it this way; he was close to being physically ill over it. "Before time trials, I was ready to throw up," He stated. "Honestly, now I feel a whole lot better about things."
At this stage in his career, to be this successful and this competitive – especially during Super DIRT Week – means everything to the veteran modified driver. After all time, there are bigger implications to this weekend than just picking up another Super DIRT Week trophy.
"It's big to be running this well," concluded Decker. "We're competing for a championship and we're going to have to race to win obviously. We've picked up the pace a little bit a couple of weeks ago but now we have to dig our heels in and pick up even more speed. I didn't like the way we unloaded; that scares me a little bit and I don't really know what to think going forward but one thing you can count on is everybody working hard and making sure we're where we need to be."
Matt Noles is a contributing writer for Racer's Guide and Dirt Track Digest. He currently resides in Sprakers, New York and can be reached via e-mail at matt_noles@yahoo.com.