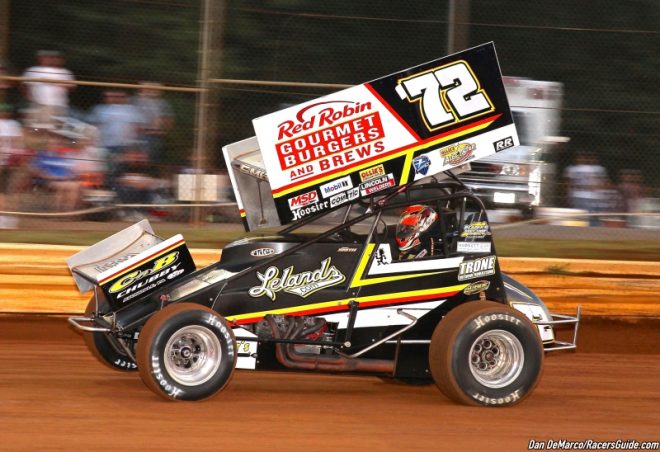 Ryan Smith Clinches First Win at Lincoln Speedway
Story By: Mandee Pauch/MPR
Photos By: Dan DeMarco/RacersGuide.com
Mandee Pauch Relations – October 2, 2019 – Ryan Smith and the Heffner Racing team had yet to find victory lane in their no.72 410 sprint car this season, but all of that changed Saturday night in Abbottstown, PA.
After Friday night's race at Williams Grove, the team swapped motors and did some Saturday morning maintenance for the evenings event at Lincoln Speedway.
"It all started when someone drew nine for us," Ryan Smith said. "We started on the outside pole of the heat and ran second in the heat. We just had to run in the top three to make the redraw."
Smith's second-place finish placed him into the redraw for the 25-lap main event.
"We were the fourth or fifth guy to draw and we pulled out number one," noted Smith. "I think it's the first time all year I've started on the pole."
Feeling eager and confident, Smith rolled off on the inside of the front row.
"We got away from Dietrich in traffic," he said. "We had a good two second lead until some yellows flew. We had one yellow with seven to go and I knew the 48 was second, and he's been good. The top in one and two was getting really narrow so we had to use the fence. I couldn't tip toe it on the restart, so I peeled off. I slid myself so he couldn't bonzai me. It worked okay besides the fact that he got a good run on me and slid me into three, then I got him back and got on defense mode. He did get back to me coming for the white then I just protected the whole slider situation to make sure that wouldn't happen."
In a thrilling last lap action, Smith was able to hold off a hard charging Dietrich by a mere .952 seconds to pick up his first 410 win of the season and first career win at Lincoln Speedway.
"The car was good," noted Smith. "I was able to get away in traffic. I lost a race there in traffic, so I wasn't going to lose another one."
After Smith crossed the scales and turned onto the track towards victory lane, he was greeted with a standing ovation.
"It was a pretty emotional situation," Smith said. "We've been trying all year but hadn't really had the opportunity. We've been a top five car so to finally get the first one out of the way was a big relief."
After an incident in late June forcing Smith to park the No.72 for five weeks, when Smith strapped back into the wheel in August, he said it was like starting over again.
"Time behind the wheel is key in this field," he stated. "Especially in Central PA. The more you race, the better you get. I lost the last weekend in June. I missed PA Speedweek, Kings Royal, the heart of the season. It was a very depressing time, however, it was an eye opening experience. I'm grateful for being able to jump back in the car."
Smith's concussion may have put the team behind the eight ball, but they were able to rebound and gain back some momentum as they head into the big end of year shows.
"It's a good momentum builder for the end of the year and the National Open this weekend," he said. "We all want to win but it's been avoiding us all year, so it was a good booster for us."
Smith and the No.72 team are feeling confident as they head into the prestigious National Open weekend at Williams Grove Speedway.
"We've been timing really well at the Grove lately," he added. "Our finishes have been good too. It's a whole different mindset now that we've won. It opens it up for everyone as far as the ease of the mind. So now we can just focus on doing what we have to do. Two nights… it's all about those two laps. So we just have to keep doing what we've been doing."
RYAN SMITH QUICK RESULTS –
September 28 – Lincoln Speedway; Heat: 2 (2); Feature: 1 (1)
RYAN SMITH SEASON STATS –
55 races – 3 wins, 26 top five's, 36 top 10s