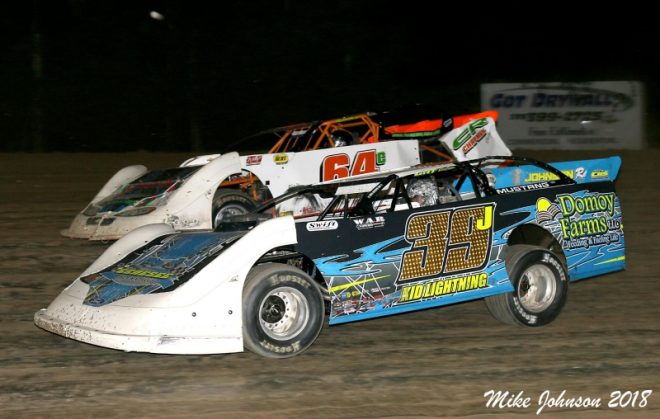 Rush Late Models With Open Draw Coming To Brewerton Speedway This Friday, August 9
Story By: Dave Medler/Brewerton Speedway
Photos By: Mike Johnson/RacersGuide.com

BREWERTON, NY – This Friday, August 9 NAPA Auto Parts will present a five-star racing program at the Brewerton Speedway with only four regular season events left before season ending big events.
On the race card will be the Tracey Road Equipment DIRTcar Modifieds, DOT Foods DIRTcar Sportsman, U.S Air Force Mod Lites, Fleet Repairs Truck & Trailer Repair 4-Cylinders.
The RUSH Late Models will do battle on the 'D-Shaped Dirt Demon' this Friday. The fast and full fender class known for their tight side-by-side racing will be an open draw when they pull through the pit gate.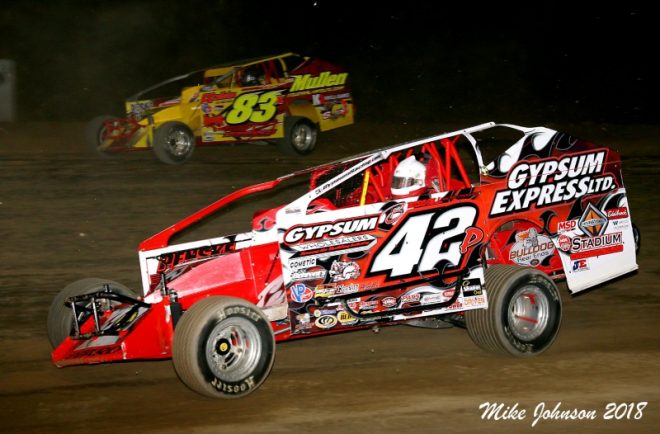 Adult grandstand admission is $15 with everyone 18 years old and younger admitted free. Pit admission is $27 Participant, $30 Non-Participant. Grandstands open at 5:30 pm with racing at 7:30 pm.
Competition has been especially tough this season at the speedway. The Modifieds have seen 9 different feature winners. Tom Sears Jr. is the only driver getting more than one win, with two trips to victory lane. Sportsman have seen 13 different drivers go to victory lane.
Top-Five Division Point Standings:
(Modifieds) – 83x – Tim Sears Jr. (506) 99L – Larry Wight (496) 62s – Tom Sears Jr. (480) 91 – Billy Decker (474) 98H – Jimmy Phelps (444).
(Sportsman) – 8 – Alan Fink (522) 34R – Kevin Root – (499) 3 – Chris Mackey (492) 38 – Zach Sobotka (482) 1 – Mark Yorker (455).
(Mod Lites) – 16x – Casey Sykes (476) 10w – Justin Williams (448) 50 – Doug Williams (412) 06 – Mike Mullen (380) 11x – Brian Meyers (360) .
(4-Cylinders) – 17 – Chuck Powelczyk (488) 113B – Chris Bonoffski (474) 21w – Quinn Wallis (450) 41 – Evan Wright (434) 67 – Clayton Koch (394).
Brewerton Speedway would like to welcome longtime major marketing partner NAPA Auto Parts.
Think of your Syracuse area NAPA Auto Parts for all your track, highway, industrial or off-road needs.
Since 1936, NAPA continues to serve auto service professionals, do-it-yourselfers and everyday drivers with quality parts and supplies to keep cars, trucks and equipment performing safely and efficiently.
In the U.S., NAPA now includes over 60 distribution centers, 15,000 NAPA Auto Care Centers and more than 6,000 independently-owned and company-owned stores. NAPA carries an extensive inventory of more than 400,000 parts for automotive and industrial applications.
To find a NAPA near you please visit www.napaonline.com and also like the Syracuse area NAPA Facebook page at www.facebook.com/NAPA.NewYork.Pennsylvania . Remember to support those who support racing.
Just a reminder that Friday, August 16 the Modifieds will have the night off. The winged warriors of the Lucas Oil Empire Super Sprints will do battle on the 'D-Shaped Dirt Demon' joining the DIRTcar Sportsman, STARS Mod Lites and 4-Cylinders.
Adult grandstand admission on the 16th will be $16 with everyone 18 years old and younger admitted free.
Any questions you might have and for marketing opportunities please contact Cory Reed at (315) 668-6906 or cory@brewertonspeedway.com
For all the latest news visit www.brewertonspeedway.com and like the speedway Facebook & Twitter pages.