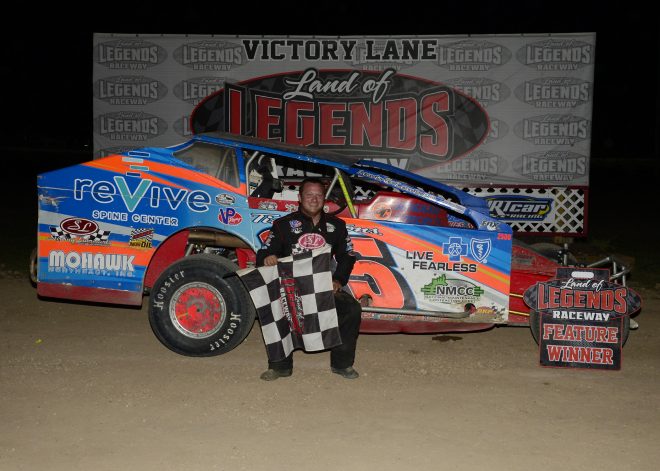 Rudolph & Root Triumph With Last Lap Land Of Legends Heroics
Colagiovanni repeats in ESS Classic Series as Ruggles and DePuy return to winning ways
Story By: Tom Skibinski, Land of Legends Raceway PR
Photo By: Don Romeo

Canandaigua, NY – August 3, 2019 – Racing resumed with the first 'Saturday Spectacular' of the month at Land Of Legends Raceway and it was reigning points king Erick Rudolph overtaking current leader Matt Sheppard on the white flag lap to post his fourth feature win in the headline Pepsi Big-Block Modified division.
Open-wheel all-star Kevin Root waited even longer than Rudolph, ducking under A.J. Lloyd entering turn one on the final circuit to register his third win of 2019 in Canandaigua Chrysler-Dodge-Jeep-Ram Sportsman Modified competition.
Tradition Automotive Group presented the fast five-star card during Watkins Glen NASCAR Cup Weekend and it was Paulie Colagiovanni returning to victory lane to enjoy A-Main accolades in the annual August invasion by the Lucas Oil Empire Super Sprints.
Taking his second checkered flag of the season in the Mike Emhof Motorsports 305 Sprint Car finale was open-wheel veteran Darryl Ruggles while Adam DePuy returned to form claiming his seventh Smith Bros. Drywall Street Stock event.
"Things are really falling our way now," understated Rudolph, 27, after the Ransomville rocket surprized the Northeast's winningest driver with less than a mile to go then held on for his 16th victory of the season overall. "You always want to lead and be the rabbit out there but tonight we got him. Its just the way the lapped traffic worked out. Fortunate for us, but nevertheless here we are in victory lane."
Outside pole-sitter Adam Roberts led off the 35-lap Modified main for the first time this season and with a clear track ahead opened up a comfortable advantage over early chasers Gil Tegg Jr. and James Sweeting. Yet as the caution-free feature rolled on, the cream methodically rose to the top; Sheppard reaching the front-five by lap 10 and Rudolph following suit five laps later.
'Super Matt' knocked off the front-runners one by one, disposing of 4th-place pilot Kyle Coffey on lap 13, passing Tegg on lap 15 and tracking down Sweeting for second on lap 21 before forging what seemed to be the final lead change ahead of Roberts the next time around.
Meanwhile, 'Erick the Great' managed to mirror most of the leaders moves, grabbing fourth from Tegg on lap 17, overtaking Sweeting for third on lap 22 then swapping spots with runner-up Roberts less than a half-mile later.
As the laps dwindled so did Sheppard's lead as traffic became paramount in Rudolph's bid to nab another $2,000 payday. Quickly closing in on Jeff Daugherty's mount down the back straightaway, Sheppard chose the high side in turn three attempting to go around. Taking advantage of a narrow lane opening up down low, Rudolph immediately filled the gap with his #25 reVive Spine Center-Blue Cross Blue Shield/Bicknell entry, securing the lead for good out of turn four as chief starter Scott Hixson unfurled the white flag signalling just one lap to go.
And unlike the 'Liberty 100' Super DIRTcar Series showdown on July 4 when leader Rudolph was side-swiped by Max McLaughlin on the final lap, this time Rudolph didn't have the win taken away, he took it away instead and survived for career win #8 at the Ontario County Fairgrounds oval.
"Thought Matt was a little faster than us tonight but I think we were able to work lapped traffic just a little bit better," figured Rudolph, after just one car-length separated the leaders under the checkers. LOLR all-time winner Alan Johnson rallied to finish third ahead of Roberts and Sweeting. "I think on a clean run he had it a little bit better but our car was just super maneuverable out there."
"We're both trying as hard as we can making it a really great race. The car was just really hooked up tonight and we were able to follow Matt all the way through. I knew we had a chance, just took one little mistake (by Matt) in traffic and we were able to pounce on him. He's a great competitor and I look forward to racing with him many times over."
"Without everybody's help we couldn't do what we're doing out here and we're having a ton of fun doing it. Look forward to the rest of the year with a lot of big races coming up, can't wait for them," added Rudolph, who closed to within 39 markers, 629-590, of Sheppard in the current track standings with just three point shows remaining for the Big-Blocks.
Before Rudolph sent the Canandaigua crowd home buzzing, Root forced the grandstand throng to the edge of its seat after charging from deep in the 28-car Sportsman starting field to snatch the lead with less than a half-mile to go and nail down a commanding five car-length victory.
"No, absolutely not," exclaimed a jubilant Root in victory lane when PA announcer Steve Ovens asked if he thought he could win from his start nine rows back. "(Lloyd) was good up top … but man, you can never give up on this track."
"But before we go any further, I really wanted to win that (Fair) race last week. We lost an absolutely amazing man in Gerald Haers. He's touched my life so many times so this one's for you, Jerry. I'm also hoping for a speedy recovery for my father in-law Steve Pesarek (recently enshrined in the LOLR's Wall of Fame) who is in the hospital (cancer surgery), we miss you at home," Root said.
With smooth surface conditions prevailing, rookie driver Eric Years looped high in turn three to incur the lone caution period and make Root's drive to the front that much more remarkable. Secondary school standout Alex Payne outlasted veteran Loren Lincoln the first half of the race before Year's lap 15 spin tightened up the hungry pack that included hard-charging Root who had reached sixth.
Lloyd blasted from third to first on the ensuing lap 16 restart while Root improved to fourth behind Mike Stanton Jr. Finding the high side to his liking, the Geneva wheelman moved his no. 34 F.X. Caprara Car Co-Slack Karts-Scott Jeffery Performance Plus/Bicknell machine into third on lap 19 then drove around Payne two laps later with only Lloyd now in his way. With one to go the top two crossed the line nearly side-by-side, with Root maintaining his momentum down low to emerge the new leader rounding turn one.
"Was just hoping I didn't screw him up," remarked Root, 40, in reference to his final lap slide job that resulted in his fifth career triumph in wine country. "Honestly, I thought he'd dive back underneath but I hit some brown down there and took off."
"To come from 17th to win this race with just one yellow …its hard, these guys are so good. You gotta have a little bit of patience but at the same time you gotta go. Great racing, great track, have to thank the (grounds) crew for a great job. Doesn't get much better than this right here," Root added.
Lloyd finished a season-best second ahead of Stanton, Payne and Matt Guererri. With four Sportsman point events left on the schedule, Root leads eighth-place finisher Kane Bristol, 515-493, each in search of their first-ever Canandaigua crown.
Round four of the five-race LOLR 360 Sprint Classic Series attracted a solid field of winged ESS entries and for the second time in a month talented teenager Colagiovanni cracked Canandaigua's elusive winner's circle, collecting $5,000 in his last two trips west.
"Doug (Emery) has been getting this car pretty good," stated Colagiovanni, 18, after his tour-high fifth victory of the season extended his points lead in search of a first career ESS season championship. "There's really a lot of great support all around, and that means everything to me."
Fairgrounds favorite Chuck Hebing selected the pole from the group of 12 top heat race qualifiers to pace the 23-car starting grid. A nine-time LOLR sprint winner, including the Patriot Sprint Tour opener back in May, the "Cobra" was poised to reach double figures despite overcoming a leaking fuel cell discovered during preliminaries.
As expected, the Ontario ace took off at the drop of the first green flag yet front row partner Colagiovanni never let the leader of his sight. The Marcellus driver shadowed Hebing as the pair reached traffic a third of the way through the 25-lapper, looking for an opening wherever the experienced leader decided not to go. Exhibiting a sudden burst of speed down the back chute on lap 12, Colagiovanni split high-running Hebing and Sammy Reakes IV, putting his no. 10 Ground Control Landscaping-All Star Performance-Donath Motor Worx/Eagle ahead for good in the non-stop affair that ultimately took just eight minutes to complete.
"Chuck took off in the beginning, I tried the high side a couple times but didn't really like it so I stuck to the middle (groove) the rest of the way," noted Colagiovanni, a division rookie in 2015 before scoring his first ESS win two years later at age 16. "Me and Doug talked about the high line probably going away and it worked out in my favor tonight. Just have to thank everybody that helps get me to the race track, I'm so appreciative of them."
Hebing crossed the stripe a straightaway behind followed by Frenchman Steve Poirier, Matt Tanner and Billy VanInwegen. Heading into the fifth and final episode of LOLR promoter Paul Cole's second annual 360 Sprint Classic Series, the inaugural New York Nationals on Sept. 6-7, Cobra leads Colagiovanni, 235-190, on the points chart, having finished no worse than fourth in the initial four events.
While the ESS A-Main was all but decided by the midway mark, the battle for 305 sprint car supremacy between Ruggles and '17 division points champ Jason Whipple needed nearly all 20 laps to determine the final outcome. A win or wreck slide job by Ruggles with three to go foiled Whipple's bid for his first win in two years while securing the second victory of 2019 for the defending 305 track champion.
"I didn't know (Whipple) was there until he got by," revealed Ruggles, 53, Canandaigua's winningest sprint car driver now with 37 checkered flags at the fairgrounds. "I did a slide job, watch TV all the time and that's what they do. So I did the same thing and that's probably what won the race."
Dan Bennett put his "X" Avenger out front to pace the field early before third-place starter Ruggles charged high out of turns three and four to assume the lead on lap seven. Whipple began the 10-mile main in fourth yet needed half the race to dial in his own black no. 38 Maxim mount and move into second on lap 12.
Whipple used outside groove to grab the top spot on lap 16 yet Ruggles quickly retaliated the next time around, sliding high in his no. 48jr. Danny Willmes Enterprses-VanBortel Trucking/Eagle and riding Whipple up even higher near the turn two outside wall to regain a lead he would not relinquish.
"Have to dedicate this win to my brother Gary, he's not doing so good but he's here tonight trying to enjoy what he likes," added a choked up Ruggles in victory lane. "This one's for you Gary."
Whipple straightened out his car in time to finish three car-lengths behind Ruggles, followed by Bennett and two-time winner Erik Karlsen, who joined Ruggles performing double-duty in both ESS and 305 features Saturday night. Female flash Alysha Bay rounded out the front-five while points leader Johnny Kolosek, ahead of Ruggles 506-496, settled for seventh.
The 15-lap Street Stock feature led off the menu of five main events, although an opening lap pile-up in turn three that included almost half the 20-car field forced a red flag and 30-minute stoppage before racing could resume. First-year full-fender pilot Chris Beyea from neighboring Shortsville demanded the most attention following a reported wrist injury that required a trip to the hospital.
Back under green, Blane Smith moved ahead before Carl Whittaker spun off the back straightaway to slow the action once again. Brad Steinruck was in position to overtake Smith on the lap two restart, yet another restart on lap six was all eighth starting DePuy needed to author the final lead change.
Despite a third yellow flag flying with one lap to go, the Macedon missile cruised home for a five car-length victory over late-race challenger Rick Crego. First-year regulars Jimmy Grant and Quinn Sutherland followed in order while fifth-place finisher Marc Minutolo was disqualified for an illegally drilled axle discovered in the customary post-race inspection.
"Once we got rolling on the top the car was really good," beamed DePuy, 45, who logged his last victory on June 22 after kicking off the '19 campaign with six straight aboard his black no. 99 IFreeze Storage & Distribution Center-A.E.Y. Enterprises-Fox's Auto/Chevrolet Camaro. "I was gonna go to the bottom but just didn't want to give (top line) up so we stayed high and it worked out."
"The sprint cars cleaned (low lane) up pretty good earlier so the bottom was really slippery. If you weren't running over the (uke) tires low you were in trouble, so I just stuck to the top. If somebody had to go around me on the bottom then so be it, we were gonna live or die by the top tonight. The whole crew works so hard every week to get it done, they really do all the work, I just drive it," added DePuy, who leads Grant in the point standings by a count of 664-592 heading down the stretch.
LEGEND LEDGER
The Tradition Automotive Group also backed a unique 'dash for cash' race during intermission with the adult winner running then biking to a cool $250 payoff. TAG followed up with a special bicycle giveway to four lucky children in attendance.
Action during the month of August continues next week when Geneva Club Beverage presents another 'Saturday Spectacular' featuring a full show of Pepsi Big-Block Modfied, Canandaigua Chrysler-Dodge-Jeep-Ram Sportsman, Mike Emhof Motorsports 305 Sprint Car and Smith Bros. Drywall Street Stock racing plus a return visit by the Dirt Modified Nostalgia Tour with Finger Lakes Dialysis and Mark Washburn Memorial Benefit.
Race time is set for 7 p.m. with pit gates unlocking at 4:00, grandstand seating opening at 5 p.m. and hot laps getting underway at 6 o'clock.
As the 56th season continues to rev up, be sure to follow the point standings and breaking news online by visiting www.LandOfLegendsRaceway.com. Advance sale tickets are also available for purchase online throughout the final months. Log into the website (LandOfLegendsRaceway.com), hit the red "Buy Tickets" button on the homepage, then make a selection from the list of dates & events highlighted.
Land of Legends Raceway is located at the Ontario County Fairgrounds, east of the city on Town Line Road (County Road 10), with easy access off either Exit 43 (Manchester, Route 21 South) or Exit 44 (Farmington, Route 332 South) of the New York State Thruway, just ½-hour southeast of Rochester.
Land of Legends Raceway Event Summary – August 3, 2019
Tradition Automotive Group presents Saturday Spectacular
360 Sprint Classic Series Race #4
Lucas Oil Empire Super Sprints
*A-Main (25 laps): 1. 10c-Paulie Colagiovanni ($2,000), 2. 45-Chuck Hebing, 3. 28fm-Steve Poirier, 4. 90-Matt Tanner, 5. 56-Billy VanInwegen, 6. 9-Josh Pieniazek, 7. 87-Jason Barney, 8. 53-Shawn Donath, 9. 121-Steve Glover, 10. 22-Jonathan Preston, 11. 66-Erik Karlsen, 12. 10-Jeff Cook, 13. 48jr.-Darryl Ruggles, 14. 14b-Brett Wright, 15. 10h-Kelly Hebing, 16. 36-Kyle Moffitt, 17. 17-Sammy Reakes IV, 18. 41j-Josh Flint, 19. 28f-Davie Franek, 20. 67-Pete Richardson, 21. 36d-Steve Doell Jr., 22. 16L-Roger Levesque, 23-Tyler Cartier(DNS).
Heats (10 laps)
1: Cook, Glover, Preston, Richardson, Karlsen, Flint, Moffit, Cartier.
2: VanInwegen, C.Hebing, Pieniazek, Reakes, Ruggles, Wright, Levesque, Doell.
3: Poirier, Colagiovanni, Barney, Tanner, Franek, Donath, K.Hebing.
Willmes Enterprises Dash (4 laps): Ruggles, Karlsen, Donath, Flint, Franek, Wright.
Pepsi Big-Block Modified
*Feature (35 laps): 1. 25-Erick Rudolph ($2,000), 2. 9s-Matt Sheppard, 3. 14j-Alan Johnson, 4. 63-Adam Roberts, 5. 11j-James Sweeting, 6. 19w-Justin Wright, 7. 23-Kyle Coffey, 8. 3-Justin Haers, 9. 22g-Gil Tegg Jr., 10. 21x-Eric Williams, 11. 1-Steve Paine, 12. 22-Jeff Daugherty, 13. 28p-Eldon Payne,Jr., 14. 77-Lance Dusett, 15. 12x-Dillon Groover, 16. 31m-Jimmy Maier(DNS).
Heats (8 laps)
1: Wright, Williams, Roberts, Groover, Paine, Johnson, Dusett, Payne.
2: Tegg, Rudolph, Maier(DSQ/light), Coffey, Sheppard, Sweeting, Haers, Daugherty.
Canandaigua Chrysler-Dodge-Jeep-Ram Sportsman Modified
*Feature (25 laps): 1. 34-Kevin Root ($750), 2. 1f-A.J. Lloyd, 3. 3m-Mike Stanton Jr., 4. 70-Alex Payne, 5. 12g-Matt Guererri, 6. 7-Paul Guererri, 7. 2-Loren Lincoln, 8. 31-Kane Bristol, 9. 56-Garrison Krentz, 10. 1-Billy Paine, 11. 25g-Nick Guererri, 12. 9-Tim Baker, 13. 7z-Zach Payne, 14. 1x-Andrew Smith, 15. 11n-Ricky Newton, 16. 113jr.-Frank Guererri Jr., 17. 01-Doug Smith, 18. 29g-Steve Gray, 19. 117jr.-C.J. Castelletti, 20. 2k-Anthony Kimble, 21. c21-Jeff Davoli, 22. 80-Cody Wolfe, 23. 00-Sam Hoxie, 24. 93-Tyler Vinson, 25. 21v-Tony Velez, 26. 23b-Timmy Borden Jr., 27. 04-Eric Years, 28. 92-Wesley Hayes, 77-Benny Karlsen(DNS).
Heats (8 laps)
1: Baker, M.Guererri, Kimble, Vinson, Z.Payne, Hoxie, Borden, Years.
2: Bristol, Stanton, N.Guererri, D.Smith, Hayes, Davoli, Karlsen.
3: A.Payne, A.Smith, Paine, Root, Castelletti, Velez, Wolfe.
4: P.Guererri, Lincoln, Krentz, F.Guererri, Lloyd, Newton, Gray.
Mike Emhof Motorsports 305 Sprint
*Feature (20 laps): 1. 48jr.-Darryl Ruggles, 2. 38-Jason Whipple, 3. X-Dan Bennett, 4. 66-Erik Karlsen, 5. 48a-Alysha Bay, 6. 75-Brandyn Griffin, 7. 26j-Johnny Kolosek, 8. 42-Jesse Pruchnik, 9. 13t-Trevor Years, 10. 18c-Dan Craun, 11. 53-Tom Fletcher, 12. 9-Jordan Noody.
Heats (8 laps)
1: Whipple, Bay, Bennett, Griffin, Years, Noody.
2: Ruggles, Karlsen, Pruchnik, Kolosek, Craun, Fletcher.
Smith Bros. Drywall Street Stock
*Feature (15 laps): 1. 99-Adam DePuy, 2. 5c-Rick Crego, 3. 36-Jimmy Grant, 4. 57j-Quinn Sutherland, 5. 25b-Marc Minutolo(dsq), 6. 02-Brad Steinruck, 7. 00-Mike Welch, 8. 64-Bob Buono , 9. 37x-Carl Johnson, 10. 55b-Blane Smith, 11. 34q-Jason Quigley, 12. 74-Ronald "Bundy" Metcalf, 13. 12s-Dakota Sharp, 14. 4j-Jason Doty, 15. 55p-Parker Smith, 16. 69r-Carl Whittaker, 17. 122-Chris Beyea, 18. 9-Aksel Jensen, 19. 3-Patrick Hobbs, 20. 11j-Jeffrey Lalonde, 33-William Bradley Jr.(DNS).
Heats (6 laps)
1: DePuy, Minutolo, Steinruck, Buono, Metcalf, Jensen, Whittaker.
2: Sutherland, Grant, Quigley, Crego, B.Smith, Sharp, Bradley.
3: Welch, Johnson, P.Smith, Doty, Beyea, Hobbs, Lalonde.
NEXT EVENT: Saturday Spectacular, August 10 @ 7pm; Geneva Club Beverage presents Big-Block Modified/Sportsman/305 Sprint/Street Stock plus Dirt Modified Nostalgia Tour with Finger Lakes Dialysis and Mark Washburn Memorial Benefit.
Track Instant Info
Website: www.LandOfLegendsRaceway.com
E-Mail: info@LandOfLegendsRaceway.com
Twitter: @LandofLegendsNY
Facebook: @LandofLegendsNY
Instagram: @LandofLegendsNY
Along with recognizing its weekly 50/50 raffle fund beneficiaries, Land of Legends Raceway is proud to salute several sponsors and corporate partners that continue to help bring its fans the best Saturday night racing show in the Northeast. Listed alphabetically are current division sponsors Canandaigua Chrysler-Dodge-Jeep-Ram, Mike Emhof Motorsports, Pepsi Geneva Club Beverage, Smith Bros. Drywall; event sponsors Admar Construction Equipment & Supply Company, American Equipment, A-Verdi Storage Containers, Geneva Club Beverage, Honeoye Auto Parts/Auto Value, Pepsi/Mountain Dew/Lipton Lake Beverage, L&L Transmission & Towing, Main Energy, Red Osier Restaurant, Sherwin-Williams Paint, Tradition Automotive Group; promotional partners Champion Power Equipment, Dig Safely New York 811, Dobbers Sports Bar, Elab Smokers Boutique, Hoosier Racing Tire, Hoselton Chevrolet, Ontario County Fairboard, Radio 95.1 Rochester, Star Headlight & Lantern Co., VP Racing Fuels, Weedsport Hall of Fame, Wright Beverage, Young Real Estate Agency.