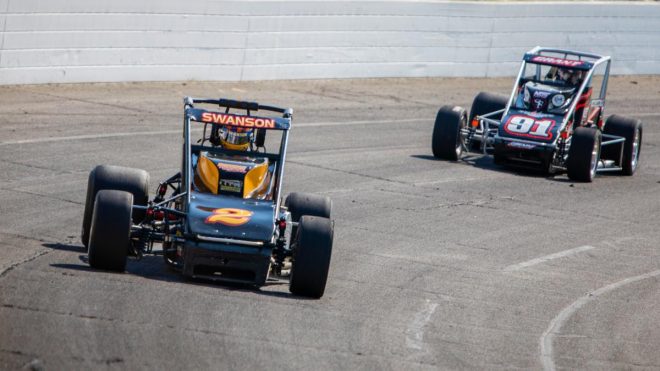 RICH VOGLER CLASSIC ENTRY LIST RELEASED
Story By: Richie Murray – USAC Media
Photo By: Cameron Neveu
Brownsburg, Indiana (September 5, 2019)………Six past USAC Silver Crown winners at Lucas Oil Raceway are entered for this Saturday's Rich Vogler Classic from the .686-mile paved oval west of Indianapolis.
Tanner Swanson (Kingsburg, Calif.) is a five-time Silver Crown winner at LOR and, with one more victory, would surpass Mike Bliss as the winningest Silver Crown driver in the history of the track, which has hosted Silver Crown racing regularly since 1985. He's a two-time victor of the Rich Vogler Classic 2013 and 2015.
Tanner's older brother, Kody Swanson (Kingsburg, Calif.), leads the series points and is a four-time LOR Silver Crown winner with a Vogler Classic triumph back in 2016.
Like Kody, Bobby Santos (Franklin, Mass.) is a four-time winner on the LOR oval with two Vogler Classic scores in 2012 and again in the most recent race back in 2017.
Ryan Newman (South Bend, Ind.) returns to make his first Silver Crown appearance in two seasons as a teammate to Tanner Swanson. Newman won his first career USAC National Midget feature (1997) and Silver Crown feature (1999) at LOR, then called Indianapolis Raceway Park. The 1999 Silver Crown champ is the lone driver in Saturday's field to have to won at the Vogler Classic's former home of Winchester (Ind.) Speedway, sweeping the NAMARS Sprint/Midget doubleheader in 2000.
The last time Silver Crown visited LOR back in May, Kyle Hamilton (Danville, Ind.) raced to his first career Silver Crown victory. He will wheel the Klatt Enterprises No. 6 on Saturday, which took over the Silver Crown owner championship point race following a top-five run with the team's dirt driver, Brady Bacon, last Sunday at Du Quoin.
David Byrne's (Shullsburg, Wisc.) top Silver Crown moment came in the 2014 Rich Vogler Classic at LOR where he raced by Tanner Swanson on the final corner of the final lap to win his first series victory in spectacular fashion.
Eric Gordon (Fortville, Ind.) has won in USAC Sprint Car competition at LOR while Brian Gerster (Fishers, Ind.) tallied a pair of victories with the USAC Midget division at LOR.
Five-time Indianapolis 500 starter James Davison (Melbourne, Australia) aims to make his second Silver Crown series after a 9th place run at Salem (Ind.) Speedway in August.
Pits open for the Rich Vogler Classic at noon eastern on Saturday, Sept. 7. Grandstands open at 3pm, Silver Crown practice at 4:15pm, Silver Crown qualifying at 6:30pm and the green flag for the USAC Silver Crown main event slated for 7:45pm.
Advance general admission tickets are $25 for adults and $10 for children (11 & under). Race day general admission tickets are $30 for adults and $10 for children (11 & under). Pit passes are $30 for USAC members and $35 for non-members.
Speed51 Super Select joins the USAC Silver Crown Champ Cars on the event card.
The Rich Vogler Classic will have live, flag-to-flag coverage on FloRacing. You can listen to live audio of the broadcast for free on the USAC app or follow along with live updates on https://www.facebook.com/usacracing/ and https://twitter.com/USACNation/ with live timing and scoring available on both the USAC and Race-Monitor apps.
RICH VOGLER CLASSIC ENTRY LIST: (24 Drivers)
02 TANNER SWANSON/Kingsburg, CA (Bowman Racing)
1 KYLE O'GARA/Beech Grove, IN (SFH Racing Development)
2 PATRICK LAWSON/Edwardsville, IL (Patrick Lawson)
2V RYAN NEWMAN/South Bend, IN (Bowman/Vance Racing)
6 KYLE HAMILTON/Danville, IN (Klatt Enterprises)
7 KYLE ROBBINS/New Castle, IN (KR Racing)
11 ®JAMES DAVISON/Melbourne, AU (DHR-Byrd Racing)
16 AUSTIN NEMIRE/Sylvania, OH (Nemire-Lesko Racing)
17 CHRIS WINDOM/Canton, IL (Goodnight-Byrd Racing)
20 KODY SWANSON/Kingsburg, CA (Gene Nolen Racing)
22 BOBBY SANTOS/Franklin, MA (DJ Racing)
24 MIKE HAGGENBOTTOM/Levittown, PA (John Haggenbottom)
31 ®DAVE BERKHEIMER/Mechanicsburg, PA (Berkheimer Racing)
32 JOE LIGUORI/Tampa, FL (Williams & Wright Racing)
39 MATT GOODNIGHT/Winchester, IN (Goodnight Racing)
40 DAVID BYRNE/Shullsburg, WI (Byrne Racing)
43 ®JOHN HEYDENREICH/Riverside, CA (A.J. Felker Racing)
78 ERIC GORDON/Fortville, IN (Armstrong-Slinkard Racing)
80 ®ANNIE BREIDINGER/Hillsborough, CA (Breidinger Racing)
81 ®CODY GALLOGLY/Pataskala, OH (Curtis Williams)
91 JUSTIN GRANT/Ione, CA (Hemelgarn Racing)
92 ®JIM ANDERSON/Joliet, IL (Kazmark Motorsports)
94 BRIAN GERSTER 94 Brian Gerster/Fishers, IN (Ram Engineering)
131 ®DEREK BISCHAK Angola, IN (Derek Bischak)
® = USAC Silver Crown Rookie