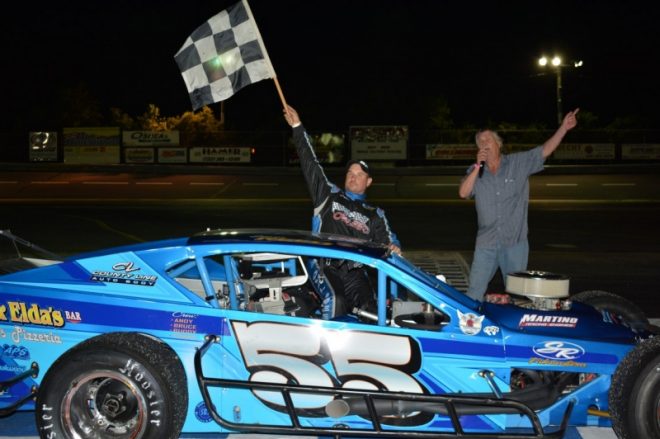 REED WINS THIRD GARDEN STATE CLASSIC AT WALL SATURDAY
Story By: Jeff Gravatt/Wall Stadium
Photos By: John John Lane/RacersGuide.com
WALL TOWNSHIP, N.J. ~ Veteran All American Auto Group Modified stock car driver Steven Reed survived most of the carnage and raced on to victory in the Garden State Classic auto race at Wall Stadium Speedway Saturday night. It was the Jackson speedster's third victory in the 125 lap grind.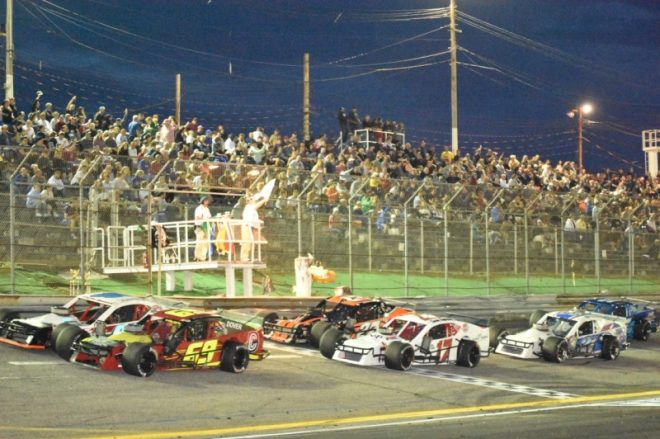 Tyler Truex of Little Egg Harbor was the early leader of this 59th edition of the race as Reed lurked in the top pack for most of the early going. Reed pitted earlier than most for new tires and he felt that may have been the winning move. When Truex and a host of others headed to the pit area for a tire change around lap 80 Reed took over the top spot.
The race was a tough one for most competitors as the 26 car field was forced to endure several caution flags for accidents, an oil down which stopped the race when the track crew was faced with a massive clean-up and a hard hit by Willingboro's Trevor Alspach in the fourth turn guardrail. Fortunately, no injuries were reported.
For the final laps of the race Reed fought off the attacks of Derek Hopkinson of Toms River who battled side-by-side with Reed for many of the closing laps before finishing second. Holmdel's Andrew Krause was in contention most of the way before finishing third while Truex finished fourth. Howell's Eric Mauriello wrestled through many problems before finishing fifth.
"The pit strategy that we used tonight won the race for us," Reed said in the winner's circle. "This is our third win in the race. We never pitted in the first one and short pitted in these last two wins.
"Taking this win on Father's Day weekend is pretty big for me. My father has been with me ever since I started racing so this win is for him."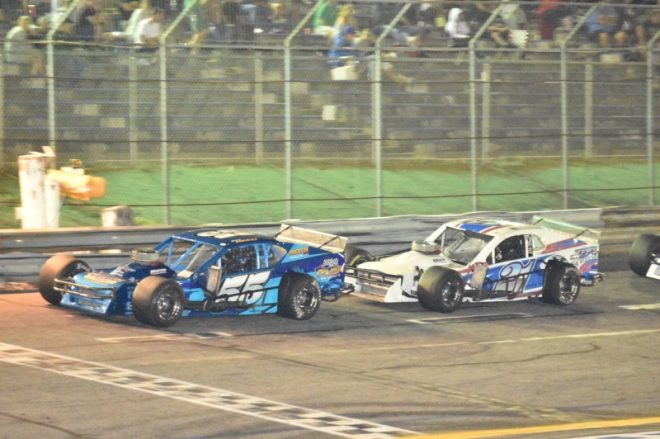 Like the Modifieds, the O'Shea's Auto Repair Factory Stocks also saw plenty of action in their 25-lapper before Neptune City's Brian O'Shea raced to his second straight victory. Union's Joey Helberg was second, with Scott Riggleman of Manchester, Nick Kilmer of Howell and Beachwood's Elliott Wohl wrapping up the top five.
Neil Rutt III of Edison raced through the pack and took the win in the 25-lapper for the Surfside Collision 4 Cylinder Stocks. Brian DeSarno of Wall, Farmingdale's Doug Ashford, Neptune City's Jeffrey Loesch and Alonzo Morales of Mt. Ephraim were second through fifth.
Rob Silver of Howell took the win in the 25-lap Green Flag Driving Experience race after the No. 88 of Sean Verwys, which crossed the finish line first, failed a post-race inspection. Peter Bruno of Little Silver, Brick's Joe McGrath, Kyle Dealaman of Warren and Jim Downey of Cliffwood Beach wrapped up the top five.
Auto racing continues at Wall Stadium Speedway this Saturday (June 22) night. The Modified cars will battle in a 40-lapper and the Factory Stocks are set for three 25-lap main events. The Center State Engineering Sportsman cars, the Mike's Performance Center Limited Late Models and the 4 Cylinder Stocks are all set for 25-lap feature races. Grandstand gates open at 5:00 p.m., qualifying begins at 5:45 p.m. and features start at 7:00 p.m.
Wall Stadium is located on Route 34 in Wall Township, N.J., just one mile north of Garden State Parkway exit 98 and Interstate 195 exit 35B. The speedway hotline number is 732-681-6400 and email address is ckmotorsports@aol.com.
MODIFIED FEATURE – 125 Laps – GARDEN STATE CLASSIC – 1. STEVEN REED, JACKSON, 2. Derek Hopkinson, 3. Andrew Krause, 4. Tyler Truex, 5. Eric Mauriello, 6. Dom Fattaruso, 7. Eddie McCarthy, 8. Roger Coss, 9. Kevin Davison, 10. Marc Rogers, 11. Adam LaCicero, 12. Jason Treat, 13. Trevor Alspach, 14. Joey Merlino, 15. Ricky Collins, 16. Ron Frees, 17. Shaun Carrig, 18. Vinny Marone, 19. Joey Jarowicz, 20. Chris Andretta, 21. Robert French, 22. Chris Reynolds, 23. Kenny Van Wickle, 24. Jason Hearne, 25. Danny Bohn, 26. Tom Catalano
FACTORY STOCK FEATURE – 25 Laps – 1. BRYAN O'SHEA, NEPTUNE CITY, 2. Joey Helberg, 3. Scott Riggleman, 4. Nick Kilmer, 5. Elliott Wohl. 6. Tom Rajkowski, 7. Johnny Carpenter, 8. Matt Badessa, 9. Tim Majek, 10. Tony Bartone, 11. Theresa Collins, 12. Nancy Riggleman, 13. Ryan Flores, 14. Tim O'Shea, 15. Richie Byrne, 16. Billy Both, 17. Mike Baldwin, 18. Robert Ptaszynski, 19. Kevin Flores, 20. John Bowers
4 CYLINDER STOCK FEATURE – 25 Laps – 1. NEIL RUTT III, EDISON, 2. Rich Desarno, 3. Doug Ashford, 4. Jeffrey Loesch, 5. Alonzo Morales, 6. Ryan Maher, 7. Sal Liguori, 8. Darianne McLaren, 9. Marko Vuksanic, 10. Nicole Razzano, 11. Dianna McLaren
LEGEND CARS FEATURE – 25 Laps – 1. ROB SILVER, HOWELL, 2. Peter Bruno, 3. Joe McGrath, 4. Kyle Dealaman, 5. Jim Downey, 6. Joe Przybylinski, 7. Roger Nickerson, 8. Kevin Pitchard, 9. Eddie Idec, 10. Quinn Trimmer, 11. Bill Petrolino, DQ Sean Verwys