REED AND HOPKINSON ARE WALL MODIFIED TWIN WINNERS
Story By: Jeff Gravatt/Wall Stadium
Photos By: John John Lane/RacersGuide.com
WALL, N.J. ~ Steven Reed of Jackson and Toms River's Derek Hopkinson were winners in All American Auto Group Modified stock car twin 35-lap main events at Wall Stadium on Saturday night. The wins came in front of a large "First Responders Night" crowd.
In the first Modified race Reed and early leader Andrew Krause of Holmdel struggled for the top spot early before they touched on a restart. Krause went sliding as a result as Reed raced into the lead. Reed then fought off Brick's Eric Mauriello in the late stages of the contest before nailing down the win. Roger Coss of Lafayette was third in the 20-car field, while Tyler Truex of Mayetta and Long Island's Ken Matlach wrapped up the top five.
Hopkinson charged to the front at the outset of the second 35-lapper and never looked back. Matlach haunted him early before Truex advanced to second and challenged. Later in the race Truex had to divert his attention from chasing Hopkinson and fighting off the advances of Reed. Krause and Mauriello were fourth and fifth.
After his car was nearly destroyed in a wreck in his last race here John Carpenter of Howell took the lead with an outside lane pass and then raced to victory in the companion 25 lapper for the O'Shea's Auto Repair Factory Stocks. Wall's Bryan O'Shea and Manchester's Scott Riggleman, who was involved in that recent wreck with Carpenter, was third. Shanon Mongeau of Jackson and John Bowers of Pt. Pleasant were fourth and fifth.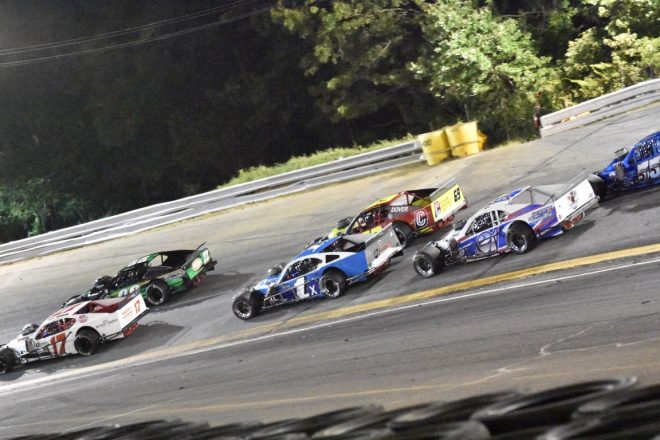 An outside lane pass was also the winning move for Carsten DiGiantomasso of Jackson in the 25-lap Center state Engineering Sportsman feature race. Micheal Carr of Pt. Pleasant advanced to second by the finish with Jonathan Laureigh of Lanoka Harbor, Kyle Scisco of Jackson and Edison's Neil Rutt III finishing third through fifth.
Point leader Rutt continued his winning ways by taking the top spot in the 25-lapper for the Surfside Collision 4 Cylinder Stocks. Early leader Alonzo Morales of Mt. Ephraim was second while Ryan Maher and Jeffrey Loesch, both of Neptune City, and Ian Ashford of Howell completed the top five.
Jackson's Shanon Mongeau won the 25-lapper for the Mike's Performance Center Limited Late Models over Bayville's Mike Tillett, Chris Silvestri of Hazlet, Michelle Moorman and Greg Gastelu.
Auto racing continues at Wall Stadium Speedway this Saturday (July 20) night. Featuring a discounted $10 adult admission, Pack the Track Night will feature twin 25-lap main events for both the Sportsman and Factory Stock cars. 25-lappers will also be contested by the Green Flag Driving Experience Legend Cars and the Three-Quarter Midgets. Demolition Derby action will also be a highlight of the program. Grandstand gates open at 5:00 p.m., qualifying begins at 5:45 p.m. and features start at 7:00 p.m.
Wall Stadium is located on Route 34 in Wall Township, N.J., just one mile north of Garden State Parkway exit 98 and Interstate 195 exit 35B. The speedway hotline number is 732-681-6400 and email address is ckmotorsports@aol.com.
1ST MODIFIED FEATURE – 35 Laps – 1. STEVEN REED, JACKSON, 2. Eric Mauriello, 3. Roger Coss, 4. Tyler Truex, 5. Ken Matlach, 6. Eddie McCarthy, 7 Derek Hopkinson, 8. Andrew Krause, 9. Joey Jarowicz, 10. Kevin Davison, 11. Ed Delage, 12. Jason Treat, 13. Richie Cooper, 14. Tom Catanzaro, 15. Mike Brennan, 16. Kenny Van Wickle, 17. Joey Merlino, 18. Robert French, 19. Chris Andretta, 20. Christian LaCicero
2ND MODIFIED FEATURE – 35 Laps – 1. DEREK HOPKINSON, TOMS RIVER, 2. Truex, 3. Reed, 4. Krause, 5. Mauriello, 6. Matlach, 7. Davison, 8. Van Wickle, 9. Coss, 10. Delage, 11. French, 12. Treat, 13. Catanzaro, 14. Brennan, 15. Cooper, 16. McCarthy, 17. Jarowicz, 18. Merlino, 19. Andretta, 20. LaCicero
FACTORY STOCK FEATURE – 25 Laps – 1. JOHN CARPENTER, HOWELL, 2. Bryan O'Shea, 3. Scott Riggleman, 4. Shanon Mongeau, 5. John Bowers, 6. Elliot Wohl, 7. Tom Rajkowski, 8. Tim Majek, 9. Nick Kilmer, 10. Brian Osborn, 11. Matt Badessa, 12. Robert Ptaszynski, 13. Tony Bartone, 14. Kevin Flores, 15. Matt Malachaka, 16. Billy Both, 17. Nancy Riggleman, 18. Ashley Taylor, 19. Joey Helberg, 20. Robert Stack 21. Joe Mongeau
SPORTSMAN FEATURE – 25 Laps – 1. CARSTEN DIGIANTOMASSO, JACKSON, 2. Michael Carr, 3. Jonathan Laureigh, 4. Kyle Scisco, 5. Neil Rutt III, 6. Robert Sutphin, 7. Jake Nelke, 8. Micheal Rising, 9. Jarret DiGiantomasso, 10. Rich Kopf, 11. Eric Lane, 12. Christian LaCicero, 13 Tommy Martino
4 CYLINDER STOCK FEATURE – 25 Laps – 1. NEIL RUTT III, EDISON, 2. Alonzo Morales, 3. Ryan Maher, 4. Jeffrey Loesch, 5. Ian Ashford, 6. Marko Vulsanic, 7. Doug Ashford, 8. John Ciallella, 9. Darianne McLaren, 10. Cody Critelli, 11. Brian Osborn, 12. Nicole Razzano, 13. Deanna McLaren
LIMITED LATE MODEL FEATURE – 25 Laps – 1. SHANON MONGEAU, JACKSON, 2. Mike Tillett, 3. Chris Silvestri, 4. Michelle Moorman, 5. Greg Gastelu, Jim Moorman