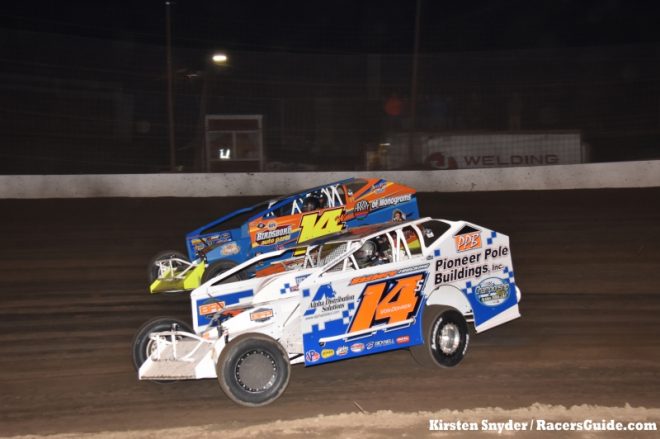 PRACTICE DAY A SUCCESS; NEXT UP IS THE SECOND ANNUAL VP RACING FUELS BRUCE ROGERS MONEY MAKER MEMORIAL PAYING $7,500 TO THE WINNER AT GRANDVIEW SPEEDWAY ON APRIL 6
PAUCH SR., WATT, LAUBACH JOIN THE LARGE FIELD OF ENTRIES
Story By: Ernie Saxton/Grandview Speedway
Photos By: Kirsten Snyder/RacersGuide.com
BECHTELSVILLE, PA March 31, 2019 . . . Ma Nature provided a great day at Grandview Speedway this past Saturday as a variety of different types of race cars, including 32 Modifieds, 21 Sportsman and a mixture of Sprints, Trucks, Midgets, 600 Mods and more, were put through their paces as many of the racers readied for the start of the 57th consecutive season of stock car racing at the Bechtelsville clay oval on Saturday, April 6. As the large number of race cars took part in the traditional practice session a throng of fans enjoyed the free grandstand admission on what was considered a perfect spring..
The highly anticipated Second Annual VP Racing Fuels Bruce Rogers Money Maker Memorial 50-lap Small Block/Big Block Modified race will be presented Saturday with the winner walking off with at least $7,500. Just making the starting field for the Classic that is being run in memory of the late track owner who passed away in March, 2017 will earn a racer $1,000. The first event will get the green at 7 p.m.
American Racer, the tire supplier, has posted $1,000 to be divided up among four of the racers that do not qualify. And there is $500 posted by Bob Hilbert Sportswear of Boyertown, PA for the Hard Charger award.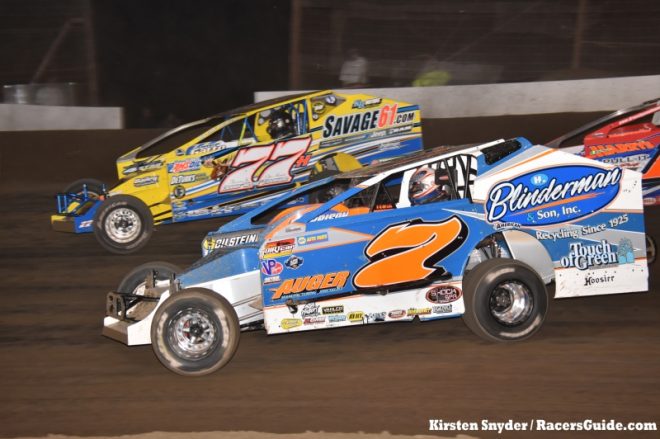 The Rogers Memorial is expected to attract quite a few outsiders as they seek the big bucks for the win and the prestige of winning this prestigious race. Expected to head up the action will be Jeff Strunk, Duane Howard, Craig Von Dohren, Mike Gular, Doug Manmiller, Tim Buckwalter, Louden Reimert, Ron Myers and many others. Legendary dirt track racer Billy Pauch Sr., a big winner at Grandview over the years, Modified racer Ryan Watt, and traveling racer Rick Laubach will be visitors for this race.
Also attracting a lot attention will be a strong field of the popular Sportsman stock car racers making up the second part of this special doubleheader event. The winner of this event walks off with $750 and each driver making the field will earn at least $125.
Leading the racers around for the start in each event will be the Stoudt Auto Sales of Reading pace truck which will be the pace vehicle for all Saturday night racing events.
Racers wishing to register for the Rogers Memorial are asked to visit www.grandviewspeedway.com/bruce-rogers-memorial/. There is no entry fee required and no special license needed. A drivers meeting will take place at 5 p.m. with all cars required to be signed in by that time. The drawing for qualifying heats starting positions takes place at 5:30 p.m.. Hot laps will get started at 6 p.m.
Adult admission will be $28 while youngsters 6 through 11 pay just $5. Kids under six are admitted free. Pit fee is $35. Rain date is April 13th and if it is not needed the NASCAR T.P.Trailers Modifieds and T.P.Truck Equipment Sportsman will kick off their season with a doubleheader at 7 p.m.
Grandview Speedway, a one-third-mile, banked clay track, is located at 43 Passmore Road, Bechtelsville, PA, just off Route 100, 10 miles north of Pottstown. For current information check in at www.grandviewspeedway.com, Facebook or telephone 610.754.7688.