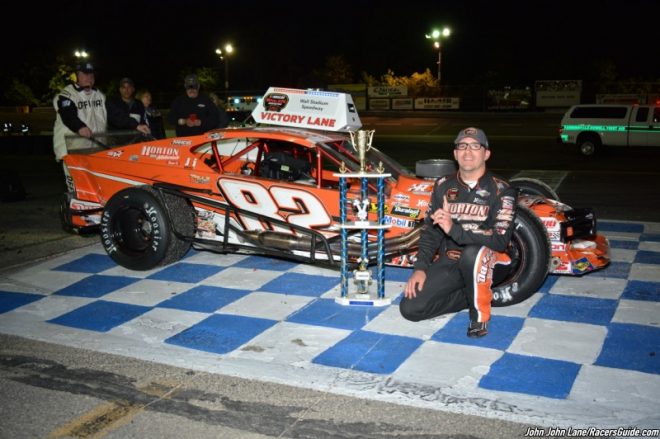 PITKAT SURVIVES TO SCORE WALL MODIFIED TOUR WIN
Story By: Jeff Gravatt/Wall Stadium
Photos By: John John Lane/RacersGuide.com
WALL TOWNSHIP, N.J. ~ The wait was well worth it for Woody Pitkat.
The Stafford, Connecticut, native outlasted all competitors in the NASCAR Whelen Modified Tour return to Wall Stadium Speedway on Saturday and took the checkered flag in the first event for the series at the third-mile oval in 12 years.
It was the fourth career Whelen Modified Tour win for Pitkat, and his first in four years. It was also his first win driving for Danny Watts Racing in his 21st start with the team. Pitkat took over the ride after the passing of Ted Christopher in 2017.
"The biggest thing I told the guys today was that I wasn't going to be over-aggressive," Pitkat said. "I figured we wouldn't qualify that great, but I knew I just needed to be there at the end. I was just trying to ride as much as I could. I really wasn't sure how it was going to work out."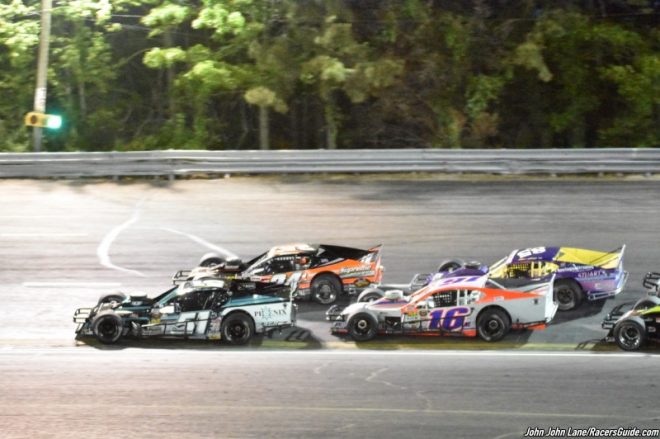 The race didn't look like it was going to fall into Pitkat's lap until the final stages. Justin Bonsignore and Andrew Krause took turns leading early before Doug Coby took control of the race on lap 66 after starting sixth. He led a race-high 72 laps.
Coby was in control of the field on a restart on lap 138, and after contact with home town favorite Krause entering turn three, both of their chances ended. Krause, who was fastest in practice and led 35 laps himself, was done for the night.
That handed the lead to former series champion Ron Silk, who looked as though he would score his second win of the young season driving for Kevin Stuart. But, a restart with just five laps remaining ended Silk's chances as contact sent him spinning in a wreck that collected many of the cars left on the track.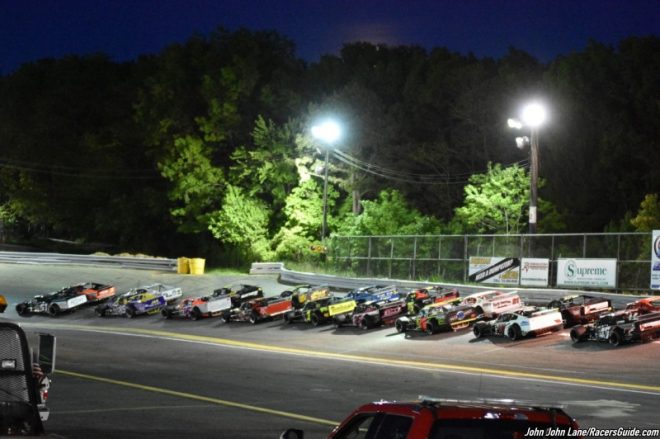 From there, the battle for Pitkat was underway on a green-white-checkered restart in NASCAR overtime, Pitkat lined up to the outside of Sunoco Rookie of the Year contender Timmy Catalano on the front row. At the green, Pitkat powered by to the lead and never looked back, as the No. 82 Horton Avenue Materials Chevrolet started smoking when the nerf-bar starting rubbing on the right-rear tire.
In the end Pitkat made it around to the checkered flag at the top of the field.
In the late dash, rising star and local favorite Blake Barney powered his way to a second-place finish, his career best effort in Whelen Modified Tour competition. Veteran Rob Summers was third, followed by Catalano and Dave Sapienza. Sapienza crashed into an infield barrier at the finish, but no injury was reported.
Eric Goodale was sixth, followed by Ken Heagy, Ron Silk, Tommy Catalano and Doug Coby.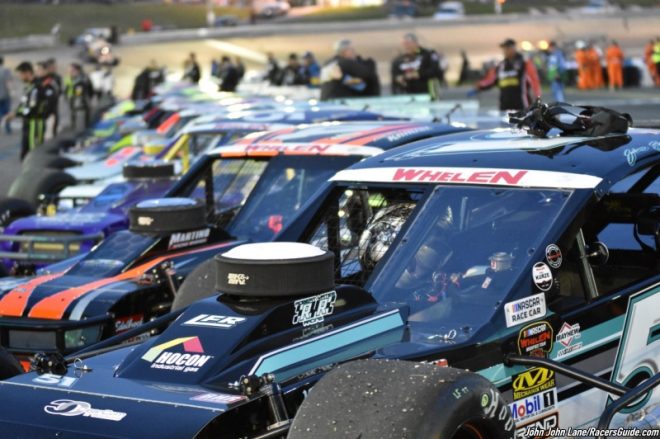 Kyle Scisco of Jackson won his second 25-lap main event of the young season in the companion Center State Engineering Sportsman main event. Scisco's win came after he and fellow Jackson resident Jarret DiGiantomasso touched and tangled on a couple of occasions during the closing laps. Mancester's Shanon Mongeau was able to slip into second spot in front of Carsten DiGiantomasso while Christian LaCicero of Lavallette and Howell's Kevin Davison wrapped up the top five.
Elliott Wohl of Beachwood led most of the way to top the 25-lapper for the O'Shea's Auto Repair Factory Stocks. Defending class champion Mike Montano of Freeport, N.Y. was the runner-up, while Farmingdale's Kenny Green, Tim Majek of Scotch Plains and Union's Joey Helberg wrapped up the top five.
Neil Rutt III of Edison took the lead on lap 17 and won the 25-lapper for the Surfside Collision 4 Cylinder Stocks. Early leader Jeffrey Loesch of Neptune City was second, with Alonzo Morales of Mt. Ephraim, Edison's Darianne McLaren and Brick's Randy Hart were third through fifth.
The 2019 Saturday night regular season then continues on Saturday (May 25) evening with the Modifieds, Sportsman cars, Legend Cars and the Limited Late Models in action The open cockpit Three Quarter Midgets will make their first appearance of the season.
In observance of Memorial day weekend, all active military and veterans will enjoy free grandstand admission when providing proper identification. Grandstands will open at 5:00 p.m. Qualifying starts at 5:45 p.m. and main event action starts at 7:00 p.m.
Saturday night racing action continues through early October with schedule details at wallspeedwayracing.com.
Wall Stadium is located on Route 34 in Wall Township, N.J., just one mile north of Garden State Parkway exit 98 and Interstate 195 exit 35B. The speedway hotline number is 732-681-6400 and email address is ckmotorsports@aol.com.
RACE RESULTS
TOUR MODIFIED FEATURE – 150 Laps – 1. WOODY PITKAT, STAFFORD, CT., 2. Blake Barney, 3. Rob Summers, 4. Tim Catalano, 5. Dave Sapienza, 6. Eric Goodale, 7. Ken Heagy, 8. Ron Silk, 9. Tommy Catalano, 10. Doug Coby, 11. Wade Cole, 12. Jimmy Blewett, 13 Justin Bonsignore, 14. Matt Swanson, 15. Melissa Fifield, 16. Calvin Carroll, 17. Andrew Krause, 18. Chris Pasteryak, 19. Kyle Elwood, 20. J.B. Fortin, 21. Anthony Sesely, 22. Sam Rameau, 23. Patrick Emerling, 24. Jamie Tomaino, 25. Tim Solomito, 26. Craig Lutz, 27. Danny Bohn, 28. Joey Mucciacciaro
SPORTSMAN FEATURE – 25 Laps – 1. KYLE SCISCO, JACKSON, 2. Shanon Mongeau, 3. Carsten DiGiantomasso, 4. Christian LaCicero, 5. Kevin Davison, 6. John McCormack, 7. Larry Thompson, 8. Tommy Martino, Jr., 9. Jonathan Laureigh, 10. Robert Sutphin, 11. Jarrett DiGiantomasso, 12. Jake Nelke, 13. Robert Vassilatos, 14. Michael Rising, 15. Michael Carr, 16. Joe Cooley, 17. Eric Lane
FACTORY STOCK FEATURE – 25 Laps – 1. ELLIOTT WOHL, BAYVILLE, 2. Mike Montano, 3. Kenny Green, 4. Tim Majek, 5. Joey Helberg, 6. Scott Riggleman, 7. Richie Byrne, 8. John Carpenter, 9. Eric Bodenschatz, 10. John Bowers, 11. Brian O'Shea, 12. Waylon Spear, 13. Robert Ptaszynski, 14. Tony Bartone, 15. Kevin Flores, 16. Matt Badessa, 17. Theresa Collins, 18. Nancy Riggleman, 19. Billy Both, 20. Robert Stack, 21. Anthony Pancoast, 22. Gerry Koenig, 23. Tom Rajkowski, 24. Nick Kilmer, 25. terry Cain
4 CYLINDER STOCK FEATURE – 25 Laps – 1. NEIL RUTT III, Edison, 2. Jeffrey Loesch, 3. Alonzo Morales, 4. Darianne McLaren, 5. Randy Hart, 6. Mike Lavery, 7. Sal Liguori, 8. Chuck McDonald, 9. Doug Ashford, 10. Jennifer Schultz, 11. Ryan Maher, 12. Nicole Razzano, 13. Marko Vulsanic, 14. Deanna McLaren, 15. Bill Schwarz