After a Five-Year Absense, Rob Pitcher Returned to Victory Lane at the 'Valley of Speed'
Story and Photos By: MATT NOLES / RACERSGUIDE.COM
WEST LEBANON, NY- June 4, 2017- Sometimes the old adage of 'better late than never' hits closer to home than many would expect it to.
With a rather dismal start to the 2017 season – which included a wreck that took his primary modified out of action for the foreseeable future – Rob Pitcher was left wondering if his five-year streak of near misses and bad luck would ever come to a close at the Lebanon Valley Speedway in West Lebanon, New York. On Saturday night during the fifth-annual JC Flach Memorial, good fortune finally smiled down.
After rocketing to the lead from his outside pole position on Saturday night, Pitcher was never seriously challenged on his way to victory lane for the first time since the 2012 season. It's safe to say that seeing the checkered flag after 30-laps of racing brought equal parts of elation and relief for the veteran modified driver.
"Track position certainly helped a lot tonight," said Pitcher. "After wrecking our primary car a few weeks ago, that really hurt us and the car we ran tonight is our backup car that has the weaker of the two engines in it; maybe that helped us tonight with the slick surface. Starting up front helped but that doesn't mean anything here. You can start right up front and go right to the back."
With a convincing win in his heat race earlier in the evening, Pitcher knew he had a good car for the track conditions; however, even that knowledge wasn't enough to prevent him from second-guessing some of his decisions before race time.
"We were really tight in the heat race so I made some changes," He continued. "I was wondering if I did too much; if I loosened it up too much but it turned out that we were pretty smooth and pretty good in the middle where it was slick."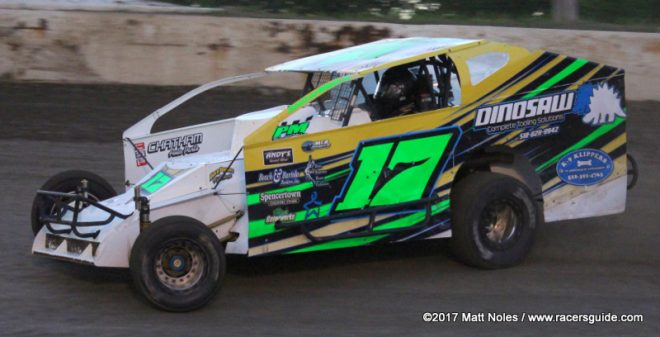 Though getting to the lead early may have put some of the questions to rest, he still couldn't help but feel like a sitting duck and as the race wore on, he began to wonder where the competition was; especially one driver in particular.
"I was just waiting for the 20 car to come like he always does," stated Pitcher. "With five-laps to go I realized that I didn't hear anyone close to me so I thought 'maybe we got this.' I was just hoping there wouldn't be a caution but we got it done and it's a great feeling; we haven't won a race since 2012 and it's been a bit of a struggle the past few weeks so it's just nice to be here with a win."
There was more than just the relief of finally reaching victory lane for Pitcher on Saturday night, there was a special meaning to his triumph; it was in memory of the late JC Flach.
"I think about JC all the time here," Pitcher stated. "He was such a young man and the Flach family has been around racing for so long and they're such a great family and a great asset to the sport so to win on a night dedicated to a man like JC is overwhelming; it's just great."
After the seemingly endless string of setbacks, Rob Pitcher has finally put himself on the plus side – at least for one Saturday night – and that fact will pay dividends not only in a monetary sense but in the morale department as well.
"This win is a huge boost for our whole team," Pitcher concluded. "The money will definitely go to fixing our other car but more than anything, this win was a shot in the arm. Now we can come back here with a little less stress on our shoulders now that we've won one. Now we can just race and hopefully get another win before the end of the year."
Matt Noles is a contributing writer for Racers Guide and Dirt Track Digest. He currently resides in Sprakers, New York and can be reached via e-mail at matt_noles@yahoo.com.