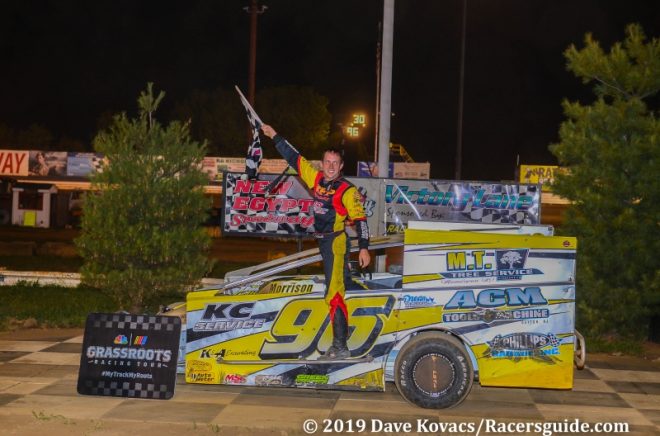 Billy Pauch Jr. is "the Man" on Ladies Night at New Egypt
Story By: Pete Wortman/New Egypt Speedway
Photos By: Dave Kovacs/RacersGuide.com
Billy Pauch Jr. of , Frenchtown, NJ won his fourth Vahlco Wheels Modified feature event of the season on Central Paint Ladies Night Saturday at New Egypt Speedway. The 2017 Modified champion & current point leader powered around race leader Cale Ross on lap 16 and went on to his first win at NES since June 26th.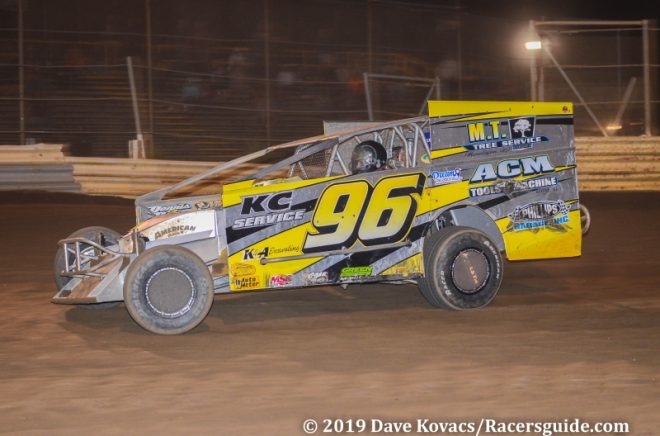 "We finally got one!" quipped a visibly relieved Pauch Jr. in victory lane, "We had a very good car tonight. These past two weeks are probably the toughest I have ever had racing and I was really down on myself, but we pushed thru and I am really proud of this whole team. This was a much needed win"
Cale Ross, who ran away and hid in his heat race victory, looked to repeat that performance at the start of the 30 lap feature event. Ross with Blaine Bracelin in tow pulled away from the rest of the field when the yellow was quickly displayed with two laps in the books when Kevin Vaclavicek spun in turn 3 and Tuesday night's winner David Van Horn slammed into him. Despite the heavy contact, both cars were able to rejoin at the back of the pack for the restart which saw Pauch Jr. already up to 6th from his 10th starting slot. Ross again dominated the restart as Bracelin gave chase and Pauch Jr. battled with hard charger Danny Bouc as the duo sliced thru the pack. Pauch Jr. won this battle and quickly caught and passed Bracelin for second on lap 7 and then set his sights on Ross, who was 10 car lengths out in front. Pauch began to pound the outside of the race track as he tracked down and was the bumper of the leader by lap 12. Pauch appeared ready to fly by the leader, however Ross had found grip on the very bottom groove of the track and would power back past the point leader on every turn. Ross thwarted Pauch's attempts to pass at every turn for 4 consecutive laps, until lap 16 when Pauch drove the car in deep into turn 3 and powered around the leader in turn 4. Ross moved up to the outside and kept up the torrid pace just five lengths back over the remaining distance. Some brief hope came in the form of lapped traffic in the final 5 laps, but Pauch Jr. handled it like the champion he is and went on to his 25th career Modified win at New Egypt Speedway. Modified rookie Ross continued to impress with yet another strong run for second. Bracelin posted his best finish ever at NES in third. David VanHorn rallied back from that lap 2 tangle to finish 4th and Davey Sammons rounded out the top five.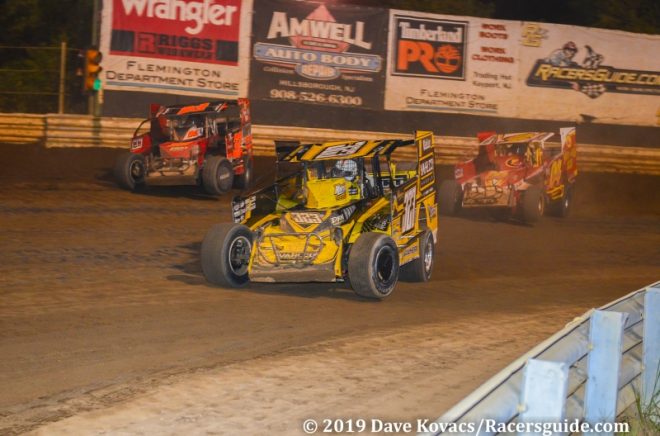 Ryan Heim of Parkertown, NJ won his first career feature in the Hammer Sportsman 20 lap event. Heim took command on lap 4 and led the remaining distance holding off a late race charge by Jim Housworth and Steve Davis, who finished second and third respectively. JT Trstensky and Art Liedl rounded out the top five.
The Crate Modifieds also saw a first time winner in victory lane, for the seventh time this season, as Kevin Borden Jr. outpaced rookie Nick Van Wickle over the 20 lap distance. Veteran racer Steve Hicks came home third, followed by point leader Ryan Simmons fourth and Howie Finch in fifth.
Billy Liedtka scored his fifth win and 31st of his career in the 15 lap Street Stock victory. Liedtka held off Mick Search & Brian Spencer for the popular victory.
The Central Paint Ladies night Powder Puff race winners were Daralynne McCaughey (Sportsman) & Ashley Wroble (Street Stocks).
Next week Sat. night August 31st, it is New Egypt Speedway's annual Labor Day weekend double dip, with Twin 20 lap features for the Vahlco Wheels Modifieds. Also on the card will be the Larry's Hot Rods & Harleys NEWS Sprint Cars, the Hammer Sportsman and the Mike's Performance Center 4-cylinders. Gates will open at 5pm, with warm-ups at 6pm and the first race starting at 7pm.
Reminder, Sept. 7th will be the John Romano Memorial 30 lap event for the Hammer Sportsman sponsored by 48Barriers.com along with G&M Dill Trucking and Amwell Auto Body. Lap sponsorships and contingency bonuses continue to come in for this must see event. Anyone interested in getting involved by sponsoring something for this event please contact Pete MacDonald at the track office (609)-758-1900.
New Egypt Speedway Results
Central Paint Ladies Night
8/24/2019
Vahlco Wheels MODIFIEDS
Feature (30 laps): 1. Billy Pauch Jr. 2. Cale Ross 3. Blaine Bracelin 4. David VanHorn 5. Davey Sammons 6. Billy Osmun 7. Danny Bouc 8. Brandon Grosso 9. Mike Butler 10. Ryan Krachun 11. Rich Rutski 12. John McClelland 13. Pat Wall 14. Kevin Vaclvicek 15. TJ Lilly 16. Bob Rambone 17. PJ Oliver.
Heat Winners: Cale Ross, Billy Osmun
Hammer SPORTSMAN
Feature (20 laps): 1. Ryan Heim 2. Jim Housworth 3. Steve Davis 4. JT Trstensky 5. Art Liedl 6. David Burns 7. Joseph Brown 8. Will Dupree 9. Bob Lineman Jr. 10.Will Trstensky 11. John Criscione 12. Howie Finch 13. Jim Hawkes 14. Jimmy Amato 15. Marty Resnick 16. Matt Luzi DNS: Jason Kosch
Heat Winners: Ryan Heim, Jason Kosch
CRATE MODIFIEDS
Feature (20 laps): 1. Kevin Borden 2. Nick Van Wickle 3. Steve Hicks 4. Ryan Simmons 5. Howie Finch 6. Eric Palmer 7. Ryan Krushinski 8. Joe Toth 9. Anthony Tramontana 10. Jon Meyer 11. DJ Hunt 12. Aaron Weaver 13. Matt Miller 14. Zach Merola 15. Jake Roveda 16. Tom Princiotta 17. Andy Walko 18. Vinny Troia 19. Robbie Dunn 20. Johnny Bangs 21. Ryan Heim 22. Dan Fleming 23. Jeremy Martino 24. Bobby Holzwarth
Heat Winners: Nick Van Wickle, DJ Hunt, Kevin Borden
STREET STOCKS
Feature (15 laps): 1. Bill Liedtka 2. Mick Search 3. Brian Spencer 4. Billy Wroble 5. Doug DeBray 6. Marty Derr 7. Joe Reid 8. Dennis Seeley 9. Chris Felber 10. Todd Dige DNS: Vern McLaughlin