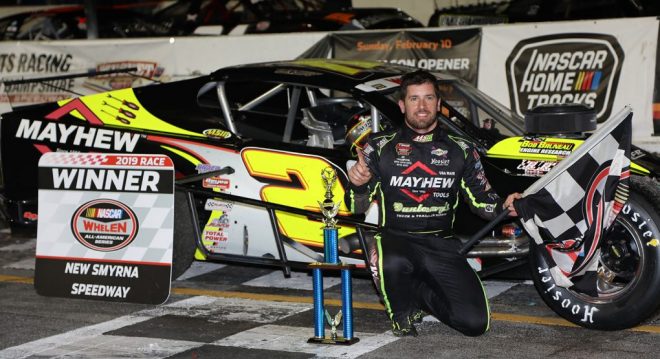 Mayhew Tools To Sponsor Whelen Modified Tour Pole Award
Story By: Kyle Souza/NWMT
Photos By: Jim Dupont/NASCAR
MASSACHUSETTS BASED COMPANY WILL AWARD "BIG STICK" TO EACH POLE WINNING CREW CHIEF
DAYTONA BEACH, Fla. – NASCAR Whelen Modified Tour drivers will have an extra incentive in their search of pole awards during the 2019 season.
Mayhew Tools, a Massachusetts-based company that produces tools that serve the industrial, automotive and hardware industries across the globe, will sponsor the pole award in 2019 for the Whelen Modified Tour.
Drivers will chase the top qualifying spot in 17 championship points events, but the drivers won't be the only ones to benefit from winning a pole award. Mayhew is bringing the crew chiefs into the fray by announcing they will produce a "Big Stick" to each crew chief who turns the wrenches on a pole winning car.
The "Big Stick" is the largest pry bar that Mayhew has ever created.
Mayhew Tools is no stranger to success on the Whelen Modified Tour. The company sponsored Bob Garbarino's famed Mystic Missile with Jimmy Blewett behind the wheel in 2016, before making the move to Mike Smeriglio Racing as the primary sponsor of then four-time NASCAR Whelen Modified Tour champion Doug Coby at the beginning of the 2017 season. In their first year as partners with Coby, they were celebrating Coby's fourth straight title and fifth overall – and they were also on the car for Coby's third-place finish in the 2018 championship standings.
Lawless is also excited about the opportunity to continue to increase brand awareness for Mayhew – a company that provides tools to mechanics throughout the garage area. For Mayhew, the chance to give something to each pole winning crew chief was one of the most important parts of the deal.
"NASCAR has been great to work with. This will be a good opportunity for us to get more visibility," Lawless said. "The drivers get the awards, but we make the tools for the guys that work on the cars. We would like to give some sort of a reward to the crew chief because he is very involved in the whole process."
The NASCAR Whelen Modified Tour season begins on Saturday, March 16, at Myrtle Beach Speedway in South Carolina. The first event of the season, the Performance Plus 150, will be followed by the return of NASCAR Whelen Modifieds to South Boston Speedway on March 30.