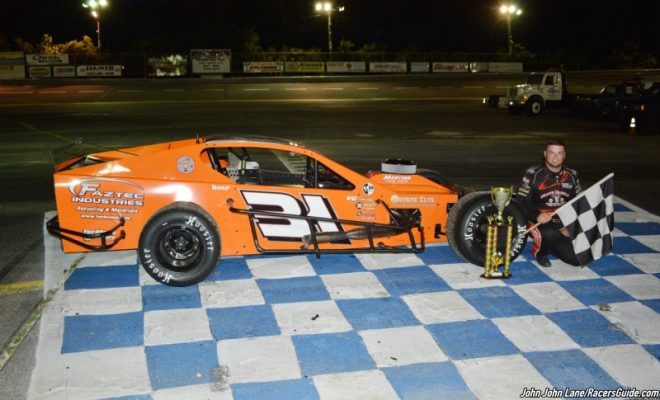 MAURIELLO TOPS MODS, MAJEK, O'SHEA AND RAJKOWSKI ARE WALL FACTORY STOCK WINNERS
Story By: Jeff Gravatt/Wall Stadium
Photos By: John John Lane/RacersGuide.com
WALL TOWNSHIP, N.J. ~ Eric Mauriello raced to his third win of the season in the 40-lap main event for the All American Auto Group Modified stock cars at Wall Stadium Speedway Saturday night. The Brick resident's victory came in front of a large crowd on the first Saturday night of the summer season at the Jersey Shore.
Kenny Matlach of New Hyde Park, N.Y. was the first leader of the contest but Tyler Truex of Little Egg Harbor soon advanced to second to challenge. Mauriello was on the charge from deep in the pack and arrived in third spot soon after. The top runners raced in tight formation until lap eight when several made contact and Matlach spun as a result. Mauriello then used the outside lane, as he had to advance through the pack, to race into the lead and was never headed the rest of the way.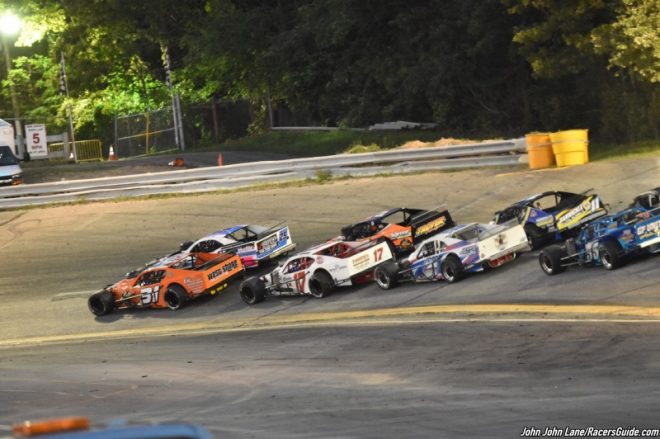 Holmdel's Andrew Krause advanced to second by lap 12 and then raced home for second with Roger Coss of Lafayette, Toms River's Derek Hopkinson and recent Garden State Classic winner Steven Reed of Jackson wrapping up the top five.
"Steve and the crew have this No. 31 running great," Mauriello said after stretching his point lead. "Inside or outside the car is fast and handles well. It really works good in the outside lane."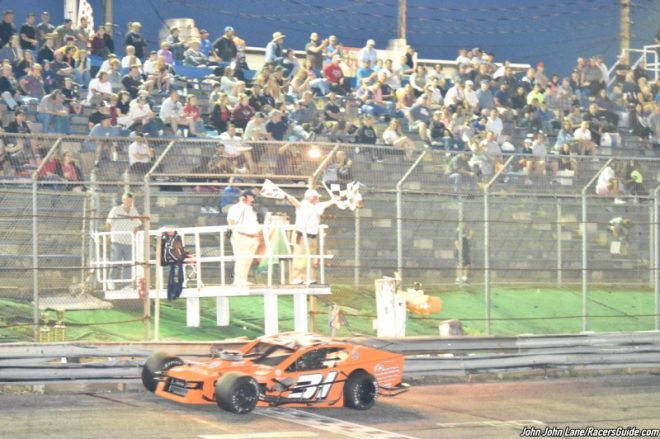 The O'Shea's Auto Repair Factory Stocks were featured in three 25-lap main events. Tim Majek of Scotch Plains grabbed his second career win in the first race after early leader John Bowers of Pt. Pleasant spun after the duo made contact in the heat of battle on lap 18. Bryan O'Shea of Neptune City, Manchester's Scott Riggleman, Gerry Koenig of Merrick, N.Y. and Howell's Nick Kilmer wrapped up the top five.
The second main event saw O'Shea take the after jumping into the top spot early. Koenig, Tom Rajkowski of Fords, Elliott Wohl of Beachwood and Brick's Joe Mongeau completed the top five.
Rajkowski then took over the lead of the third main event on lap seven and raced on to his first ever main event win. Koenig, Wohl, early leader Joey Helberg of Union and Mongeau wrapped up the top five.
Jarret DiGiantomasso of Jackson took an emotional victory, dedicating the win to a friend who recently passed away, in the Center State Engineering Sportsman 25-lapper. Michael Carr of Pt. Pleasant was second with Howell's Eric Lane, Tommy Martino of Farmingdale and Michael Rising of Little Egg Harbor finishing third through fifth.
Neil Rutt III of Edison to the lead early and raced to a convincing win in the 25-lap race for the Surfside Collision 4 Cylinder Stocks, his third of the season. Jeffrey Loesch of Neptune City, Darianne McLaren of Edison, Sal Liguori of Hazlet and Ryan Maher of Neptune were second through fifth.
Defending Mike's Performance Center Limited Late Model champion Shanon Mongeau of Jackson won his fifth 25-lapper of the second over Jerick Johnson of North Carolina, Hazlet's Chris Silvestri, Jim Moorman of Brooklawn and Jackson's Greg Gastelu.
Auto racing continues at Wall Stadium Speedway this Saturday (June 29) night. The Modified cars will battle in a 40-lapper while the Center State Engineering Sportsman cars and the Green Flag Driving Experience Legend cars will compete in 25 lap main events. The Surfside Collision 4 Cylinder Stocks are set for a 50-lap feature race. All Scouts arriving at the track wearing any part of the uniform will be admitted free of charge. Grandstand gates open at 5:00 p.m., qualifying begins at 5:45 p.m. and features start at 7:00 p.m.
Wall Stadium is located on Route 34 in Wall Township, N.J., just one mile north of Garden State Parkway exit 98 and Interstate 195 exit 35B. The speedway hotline number is 732-681-6400 and email address is ckmotorsports@aol.com.
MODIFIED FEATURE – 40 Laps – 1. ERIC MAURIELLO, BRICK, 2. Andrew Krause, 3. Roger Coss, 4. Derek Hopkinson, 5. Steven Reed, 6. Kenny Van Wickle, 7. Dom Fattaruso, 8. Ken Matlach, 9. Eddie McCarthy 10. Chris Andretta, 11. Jason Treat, 12. Robert French, 13. Tom Catanzaro, 14. Shaun Carrig, 15. Kevin Davison, 16. Joey Jatowicz, DQ Tyler Truex
1ST FACTORY STOCK FEATURE – 25 Laps – 1 TIM MAJEK, SCOTCH PLAINS, 2. Bryan O'Shea, 3. Scott Riggleman, 4. Gerry Koenig, 5. Nick Kilmer, 6. John Carpenter, 7. Joey Helberg, 8. Elliott Wohl, 9. Robert Ptaszynski, 10. Matt Badessa, 11. Joe Mongeau, 12. Tony Bartone, 13. Kevin Flores, 14. John Bowers, 15. Tom Rajkowski, 16. Brian Osborn, 17. Eric Bodenschatz, 18. Nancy Riggleman, 19. Robert Stack, 20. Bill Both, 21. Chris Felber, 22. Anthony Pancoast, 23. Theresa Collins, 24. Ashley Tyler, 25. Matt Malachaka
2ND FACTORY STOCK FEATURE – 25 Laps – 1. BRYAN O'SHEA, NEPTUNE CITY, 2. Koenig, 3. Rajkowski, 4. Wohl, 5. Mongeau, 6. Badessa, 7. Helberg, 8. Ptaszynski, 9. Bowers, 10. Majek, 11. Scott Riggleman, 12. carpenter, 13. Kilmer, 14. Bartone, 15. Bodenschatz, 16. Felber, 17. Pancoast, 18. Osborn, 19. Both, 20. Nancy Riggleman, 21. Tyler, 22. Collins, 23. Stack, 24. Malachaka, 25. Flores
3RD FACTORY STOCK FEATURE – 25 Laps – 1. TOM RAJKOWSKI, FORDS, 2. Koenig, 3. Wohl, 4. Helberg, 5. Mongeau, 6. Kilmer, 7. Pancoast, 8. Ptaszynski, 9. Flores, 10. bowers, 11. Malachaka, 12. Both, 13. Felber, 14. Nancy Riggleman, 15. Tyler, 16. Osborn, 17. Carpenter, 18. Scott Riggleman, 19. Majek, 20. Bodenschatz, 21. Bartone, 22. Badessa, 23. O'Shea
SPORTSMAN FEATURE – 25 Laps – 1. JARRET DIGIANTOMASSO, JACKSON, 2. Michael Carr, 3. Eric lane, 4. Tommy Martino, 5. Michael Rising, 6. John McCormack, 7. Kyle Scisco, 8. Carsten DiGiantomasso, 9. Tim Stephen, 10. Joe Cooley, 11. Neil Rutt III, 12. Roland DeMartino, 13. Jake Nelke
4 CYLINDER STOCK FEATURE – 25 Laps – 1. NEIL RUTT III, EDISON, 2. Jeffrey Loesch, 3. Darianne McLaren, 4. Sal Liguori, 5. Ryan Maher, 6. Randy Hart, 7. Nicole Razzano, 8. Alonzo Morales, 9. Bill Schwarz, 10. Deanna McLaren
LIMITED LATE MODEL FEATURE – 25 Laps – 1. SHANON MONGEAU, JACKSON, 2. Jerick Johnson, 3. Chris Silvestri, 4. Jim Moorman, 5. Greg Gastelu