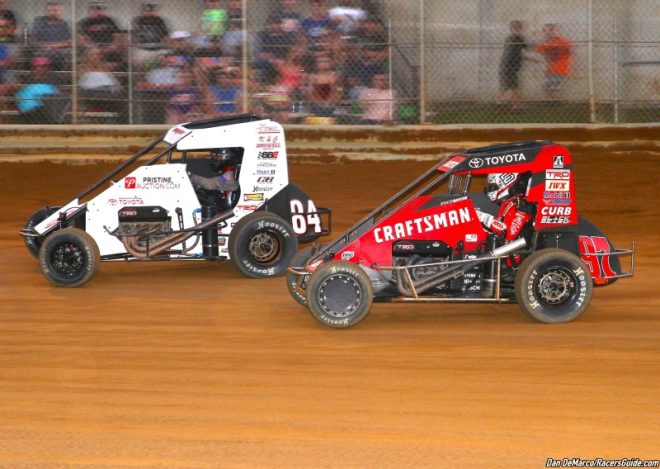 MASSIVE TURKEY NIGHT MIDGET ENTRY LIST AWAITS VENTURA
Story By: Richie Murray – USAC Media
Ventura, California (November 13, 2019)………As it stands now, the entry list for the 79th running of the Turkey Night Grand Prix is stacked to the gills with the number of cars, drivers and the amount of talent that will be on display for the prestigious event on Thanksgiving Night, November 28, at California's Ventura Raceway.
Entries are still rolling in at press time, but at the moment, the lone past Turkey Night Midget winner in the field is 2012 and 2016 victor Kyle Larson (Elk Grove, Calif.). He's joined by a slew of USAC National champions who have filed their entries, including Tyler Courtney (Indianapolis, Ind.), Chris Windom (Canton, Ill.), Spencer Bayston (Lebanon, Ind.), Jerry Coons, Jr. (Tucson, Ariz.), Logan Seavey (Sutter, Calif.), Brady Bacon (Broken Arrow, Okla.) and Rico Abreu (St. Helena, Calif.).
In addition to that bunch, a number of recent winners on the USAC NOS Energy Drink National Midget and AMSOIL National Sprint Car trails are gunning for glory at Ventura: Cannon McIntosh (Bixby, Okla.), Kevin Thomas, Jr. (Cullman, Ala.), Justin Grant (Ione, Calif.), Thomas Meseraull (San Jose, Calif.), Zeb Wise (Angola, Ind.), Tanner Carrick (Lincoln, Calif.) and Jason McDougal (Broken Arrow, Okla.).
Shane Golobic (Fremont, Calif.), Carson Macedo (Lemoore, Calif.), Gio Scelzi (Fresno, Calif.) and Aaron Reutzel (Clute, Texas) have all won on the World of Outlaws NOS Energy Drink Sprint Car Series campaign in 2019.
Leading the USAC Western contingent in the event are Western States Midget point leader Robert Dalby (Anaheim, Calif.), plus 2019 series winners Ben Worth (Coalinga, Calif.), Chase Johnson (Penngrove, Calif.) and Maria Cofer (Macdoel, Calif.) as well as USAC Western Regional champions Ronnie Gardner (Riverside, Calif.), David Prickett (Fresno, Calif.), Jake Swanson (Anaheim, Calif.), Ryan Bernal (Hollister, Calif.) and Austin Liggett (Tracy, Calif.).
Thirteen states are represented thus far with Alabama, Arizona, California, Colorado, Illinois, Indiana, Kansas, North Carolina, Oklahoma, Pennsylvania, Texas, Washington and Wyoming presenting drivers. Three different countries are represented so far with Michael Pickens (New Zealand) and Kaidon Brown (Australia) making the trip to the states for the event.
USAC Midget practice and USAC West Coast/VRA Sprint Cars will kick off the Turkey Night festivities on Wednesday, November 27 and conclude Thursday night, November 28 with the finales for the West Coast/VRA Sprints and the 98-lap main event for the midgets.
Advance tickets for the "79th Running of the Turkey Night Grand Prix" are available online through venturaraceway.com or by calling 805.648.7223. Ventura Raceway is located on the Ventura County Fairgrounds at 10 West Harbor Blvd. in Ventura, California.
---
TURKEY NIGHT GRAND PRIX USAC MIDGET ENTRY LIST:
(Updated November 13, 2019)
07x Troy Morris III/Bakersfield, CA (Trinity Motorsports)
08 Cannon McIntosh/Bixby, OK (Dave Mac Motorsports)
1 Karsyn Elledge/Mooresville, NC (Tucker-Boat Motorsports)
1K Kyle Larson/Elk Grove, CA (Kyle Larson Open Wheel)
1NP TBA (Kelly Nichols)
1NZ Michael Pickens/Auckland, NZ (RMS LLC)
1p Terry Nichols/Delano, CA (Kelly Nichols)
1x Johnathon Henry/Stockton, CA (LKK Racing)
3F TBA (Ted Finkenbinder)
4A Justin Grant/Ione, CA (RAMS Racing)
4D Robert Dalby/Anaheim, CA (Ken Dalby)
5 Kevin Thomas, Jr./Cullman, AL (Petry Motorsports)
5G Ben Worth/Coalinga, CA (Dean Alexander)
7BC Tyler Courtney/Indianapolis, IN (Clauson-Marshall Racing)
7x Thomas Meseraull/San Jose, CA (RMS LLC)
8 Randi Pankratz/Atascadero, CA (Wally Pankratz)
9 Daison Pursley/Locust Grove, OK (Keith Kunz-Curb-Agajanian)
11E Cory Elliott/Bakersfield, CA (Mitch Elliott)
15 Ron Hazelton/Chatsworth, CA (Ron Hazelton)
15DJ David Prickett/Fresno, CA (Neverlift Motorsports)
15x Carson Garrett/Littleton, CO (Broc Garrett)
17BC Chris Windom/Canton, IL (Clauson-Marshall Racing)
17w Shane Golobic/Fremont, CA (Matt Wood Racing)
19 Spencer Bayston/Lebanon, IN (Brodie Hayward)
19w Jake Morgan/Fair Oaks, CA (Mike Sala)
20 C.J. Sarna/Palm Desert, CA (C.J. Sarna)
20AZ Shon Deskins/Waddell, AZ (Shon Deskins Racing)
21 Carson Macedo/Lemoore, CA (Tarlton Motorsports)
25 Jerry Coons, Jr./Tucson, AZ (Petry Motorsports)
25x Chase Johnson/Penngrove, CA (Tom Malloy)
27 Tucker Klaasmeyer/Paola, KS (Keith Kunz-Curb-Agajanian)
27B Jake Bubak/Arvada, CO (Patrick Bourke)
27w Colby Copeland/Roseville, CA (Matt Wood Racing)
27x Clint Wilson/Paradise, CA (Mounce Motorsports)
31B Kyle Beilman/Mar Vista, CA (Beilman Motorsports)
33p Mike Leach, Jr./Orange, CA (Mike Leach, Sr.)
39BC Zeb Wise/Angola, IN (Clauson-Marshall Racing)
47BC Andrew Layser/Collegeville, PA (Clauson-Marshall Racing)
55 Nick Drake/Mooresville, NC (Troy Cline)
55T Tony Everhart/El Cajon, CA (Tony Everhart)
56x Mark Chisholm/Cheyenne, WY (Mark Chisholm)
57 Maria Cofer/Macdoel, CA (Johnny Cofer)
57D Daniel Robinson/Ewing, IL (McCreery Motorsports)
67 Logan Seavey/Sutter, CA (Keith Kunz-Curb-Agajanian)
67K Holley Hollan/Broken Arrow, OK (Keith Kunz-Curb-Agajanian)
67x Britton Bock/Fresno, CA (Mike Bock)
68 Ronnie Gardner/Riverside, CA (Six8 Motorsports)
71 Jesse Colwell/Red Bluff, CA (Keith Kunz-Curb-Agajanian)
71D Bryan Drollinger/San Pedro, CA (Drollinger Bros. Racing)
71K Tanner Carrick/Lincoln, CA (Keith Kunz-Curb-Agajanian)
71s Cody Swanson/Norco, CA (Marcie Campbell)
73 Dylan Ito/Ventura, CA (Keith Ford)
73K Jake Swanson/Anaheim, CA (Keith Ford)
73x Brady Bacon/Broken Arrow, OK (Keith Ford)
76m Jason McDougal/Broken Arrow, OK (FMR Racing)
77w Ryan Bernal/Hollister, CA (Matt Wood Racing)
78 Marvin Mitchell/Madera, CA (Marvin Mitchell)
81 Dillon Welch/Carmel, IN (Tucker-Boat Motorsports)
83 Austin Liggett/Tracy, CA (Mona Liggett)
84 Gio Scelzi/Fresno, CA (Tucker-Boat Motorsports)
85 Aaron Reutzel/Clute, TX (Tucker-Boat Motorsports)
91 Chris Sheil/Aurora, CO (Cappy Mason)
97 Rico Abreu/St. Helena, CA (Keith Kunz-Curb-Agajanian)
97K Buddy Kofoid/Penngrove, CA (Keith Kunz-Curb-Agajanian)
97w Kaidon Brown/Sydney, AU (Matt Wood Racing)
99 Colton Heath/Marysville, WA (Carla & Gaylon Stewart)