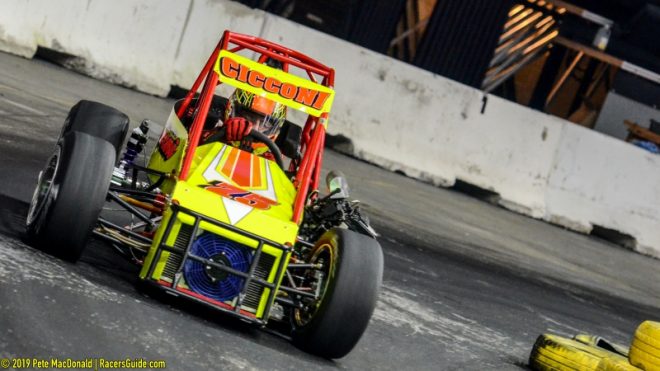 LONG TIME OPEN WHEEL FAVORITE LOU CICCONI, JR. LOOKS TO GET BACK IN THE WINNERS' CIRCLE IN SYRACUSE INDOOR RACES MARCH 8-9
Story By: Ernie Saxton/Indoor Auto Racing Championship
Photos By: Pete MacDonald/RacersGuide.com
SYRACUSE, NY March 4, 2019 . . . When the Indoor Auto Racing Series TQ Midget drivers take their first green flag over the March 8-9 weekend inside the new Exposition Center on the New York State Fairgrounds in Syracuse, Lou Cicconi, Jr., will rank among the favorites.
Cicconi, of Aston, PA, brings into the Syracuse event sponsored by RPM Raceway a singular distinction among all 58 entrants. The 50 year old Cicconi won the 58th and last race held at N.Y.'s Niagara Falls Convention Center, on March 9, 2002 before the building was transformed into a casino.
Shortly thereafter Len Sammons brought back indoor racing to Atlantic City, N.J. after a 24 year absence. This led to the formation of the Indoor Auto Racing Series which has promoted events headlined by the TQ Midgets the past 17 years. The Syracuse venue this weekend becomes the eighth different location hosting an event. Last year an event at Albany Times Union Center made New York the fifth different state to host a Len Sammons promoted event.
This Friday and Saturday night the cars and stars of the Indoor Auto Racing Series fueled by VP will be taking part in the fourth and final fifth round of the 2019 season. On the line will be time trials, qualifying events and a 40 lap feature event both nights with the overall season champion crowned following Saturday's event.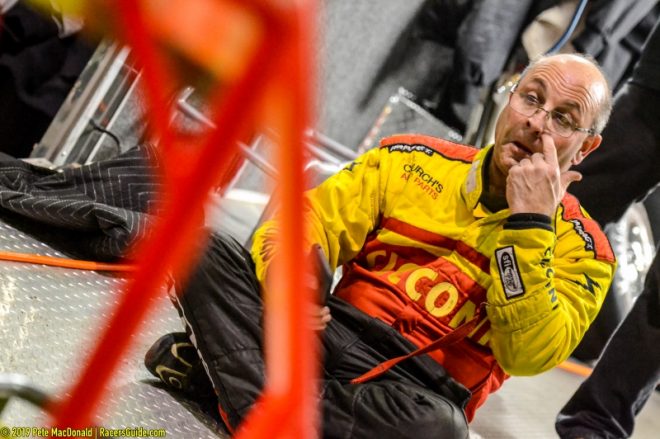 Cicconi, a four-time winner at both Niagara Falls and Atlantic City over the years, is making a comeback this winter after conquering some personal health issues.
"It got to the point where I was short of breath and couldn't breathe," Cicconi related. "The doctor told me I was overweight and out of shape."
As a result, Cicconi kept a low profile for the past three seasons, running a very limited schedule while fielding cars for other drivers. But for this year's Indoor Auto Racing Series schedule Cicconi returned in a big way. He not only returned to the cock-pit full-time but also fielded other neon yellow and red No. 75 TQs for the Allentown and Atlantic City races.
"I know I will never get back to where I was," said Cicconi, a two-time winner of Atlantic City's Gambler's Classics (2006, 2010). "But I want to be able to give it my best effort. You lose something by not racing regularly but I am getting my confidence back."
Cicconi is well known in Central New York racing circles for his Supermodified and ISMA achievements. He won one Oswego Speedway Supermodified feature, in 2013, and has 20 ISMA wins as well as a championship (2013) and two runner-up title chase placings (2001, 2012).
Cicconi will field a second car for Syracuse, being driven by young Damon Paul of Stony Point. NY.
"Damon's a nice young kid. I like him and his father (Tim) too. I want to give him a shot. But two cars is all I want to go to Syracuse with. I need to focus on my own deal."
Though Cicconi is not in the hunt for it, the biggest prize in Syracuse will be the crowning of the 2019 Indoor Auto Racing Series Fueled By VP Race Fuels. North Carolina resident Ryan Flores leads the standings, with 290 after the first three races. But Flores, who works full time for Roger Penske's Ryan Blaney NASCAR Monster Energy Cup team, will not be in the Syracuse field because of his work commitment.
Erick Rudolph, Ransomville, NY, 260, and Justin Bonsignore, Holtsville, LI, NY, 239, Andy Jankowiak, Tonawanda, NY, 220, and Eddie Strada, Lake Ariel, PA, 213, who are second through fifth thus become the pre-race title favorites.
A maximum of 210 points are available, 100 for a feature win and five points for quick time each night, meaning that 210 markers can be picked up by any TQ competitor over the Syracuse race weekend. Non-qualifiers earn 10 points for each night, a minimum of 20 points for the weekend. Thus the most points any driver can gain is 190.
The points chase with the TQs is so close that any one of the top 26 drivers in the standings could, in theory, win the championship.
Round 3 and Round 4 for the companion Slingshots and Champ Karts is also on the Syracuse card. Each of the two nights of racing will consist of complete programs as well for these two divisions.
Dr. Williams Lowe, a long-time supporter of TQ Midget racing, has posted $200 to the fast qualifier both nights. N.Y.'s Oswego Speedway, the home of SuperModified racing, has signed on to sponsor the TQ Midget heat races. The winner of each of the six Oswego Speedway heat races on both Friday and Saturday night will receive not only a spot in the A-Main but a $50 bonus.
Doors open at 6 PM on Friday night with racing beginning at 7:30. Doors open at 5:30 PM on Saturday with racing at 7 PM. Fans will be able to visit the pit area to see the cars and meet the drivers each night until 30 minutes before the racing begins.
The building has a different seating configuration than other venues the series stops at in that grandstand patrons enter at track level, then walk up to seating areas.
A link to purchase tickets in advance is available at www.indoorautoracing.com, at this location, spectators may select choice seats from three sections located on both the front and the backstretch. Tickets can also be purchased by calling E-Tix directly at 1-800-514-3849. Tickets will also be available each day of the event starting at 2 PM at the Expo Box Office, but prices increase by $5 each on the days of the event. Pit passes, which do not guarantee a seat, are on sale on the backside of the building on Friday from 9 am to 2 PM and Saturday 11:30 to 2 PM. After 2 PM, pit passes will be available at the box office at the front of the building. Parking is free.
Race fans can enjoy a double header weekend at the Fairgrounds with the 33rd annual Syracuse Motorsports Expo and Trade Show being held at the Center of Progress Building. This show opens on Saturday at 10 am giving everyone plenty of time to enjoy that show then walk over to the nearby Exposition Center for the races that night. The Trade show reopens on Sunday from 11 to 4 pm.