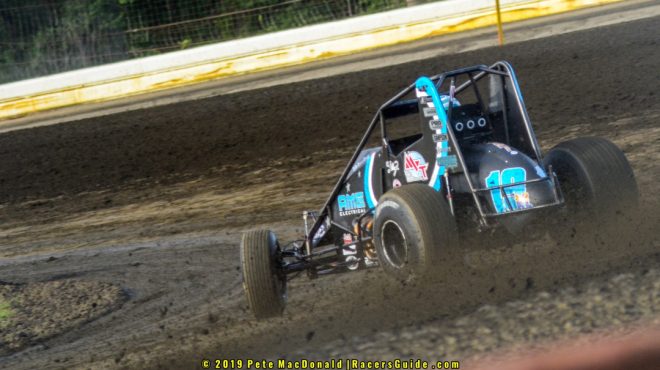 LEARY'S LANDMARK SEASON NETS USAC SPRINT TITLE
Story By: Richie Murray – USAC Media
Photos By: Dan DeMarco & Pete MacDonald/RacersGuide.com
San Tan Valley, Arizona (November 16, 2019)………Was there any more indicative way of how C.J. Leary and Reinbold/Underwood Motorsports achieved their USAC AMSOIL National Sprint Car championship than how they performed in Saturday night's season finale at Arizona Speedway?
The team rolled off the trailer for the second night of Western World and clicked off fast time during qualifying, then won their heat race from the third row and finished off with a solid top-five run. Night-after-night, track-after-track, Leary and crew chiseled the competition with their unrelenting consistency.
Their 11 fast qualifying times rank as the third most ever in a single USAC National Sprint Car season behind only Kevin Thomas, Jr.'s 15 in 2018 and Tom Bigelow's 14 in 1978. Along the way, the team accrued a series-high 32 top-ten finishes in 34 starts and series-high-equaling 25 top-five finishes.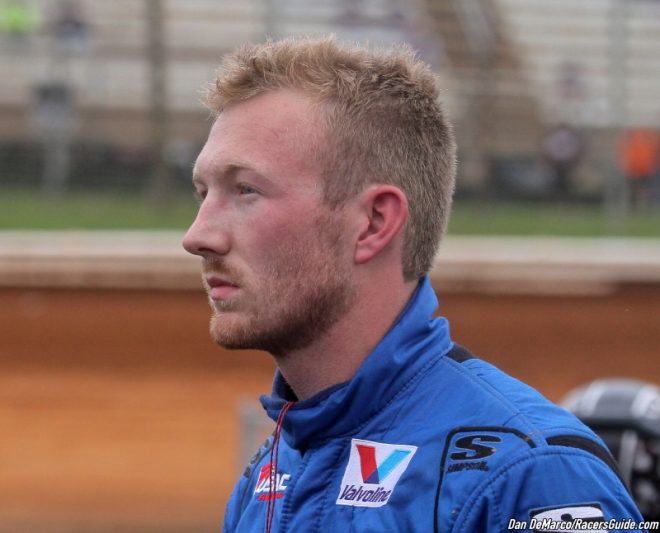 It's an astonishing stat line for a team and driver of any caliber in any particular year, let alone by a team that had never run the USAC AMSOIL National Sprint Car schedule prior to 2019 and a team who's core players were not a cohesive unit at this point one calendar year ago.
A deal was struck late last year which brought the youthful and talented Leary on board to take the wheel along with highly successful winning crew chief Davey Jones turning the wrenches. At that point, a winning combination was born.
"We've just been really consistent all year long," Leary explained. "Davey's given me a fast hot rod night in and night out. I just felt like if we got through Pennsylvania, we'd have a good shot at getting the championship because Pennsylvania's always been my weak link."
Leary steam rolled through the first part of the season when all the bugs and kinks are yet to be ironed out and the working relationships between driver, crew and owner are still in the development process. Fairly quickly, a team can tell if they'll eventually sink or swim with what they have. From its initial appearances, the team could've swam the entire Atlantic Ocean with as good as they were right out of the box.
The team won their third night out in Ocala, Fla. in February, then took over a point lead they wouldn't relinquish following the first night of #LetsRaceTwo at Eldora in May. The team powered through the aforementioned Eastern Storm swing through Pennsylvania and New Jersey, finishing 2nd, 5th and 3rd to collect the mini-series title.
The magic continued through the eight-race stretch in July through the Hoosier State to earn an Indiana Sprint Week title, the third driver to win both Eastern Storm, ISW and the USAC National Sprint title within a single year after Bryan Clauson (2013) and Robert Ballou (2015). Through the summer heat in Indiana, Leary and company took six top-fives and eight top-tens and reached a season-high 134-point lead following the Bloomington round of ISW in July.
The team's first finish outside the top ten didn't arrive until late August at Kokomo (Ind.) Speedway when Leary biked it while running fourth on the first night of Sprint Car Smackdown. However, the team was able to withstand the minor setback and continued their flourishing ways with a firm grip of a 100-plus point lead for two months of the season.
That is, until late September's 4-Crown Nationals at Eldora where Leary was involved in a tangle with Chris Windom while running fourth, which relegated him to a 22nd place finish while Courtney earned max points with a sweep of the night, narrowing the canyon in the championship race to 58, the closest margin seen since June, three months earlier.
From there, the pressurized race was switched on with the reigning titlist in Courtney beaming with confidence as he chased the rabbit in Leary that hadn't been rattled points-wise in quite some time. But Leary responded enviably with a 4th in the Midwest finale at Lawrenceburg, before grabbing a 5th in the opener at Perris, followed by a 10th there the following night and a much-needed sigh of relief victory on the final night of the Oval Nationals to close out the penultimate weekend.
Once the page was turned for the final race set at Arizona Speedway, Courtney solidified his contention for a title on the first night of Western World by picking up qualifying points, then racing from the tail to win his heat. Leary checked mate and collected eight points of his own for a heat win after a ho-hum sub-top-10 qualifying run by his standards. Courtney raced to victory in the night's main event while Leary managed a 6th. A solid run in most cases, but in this instance, it was a net 15-point loss for Leary, who took a 26-point interval into Saturday's last call.
Locked-in Leary snared fast time for six points and nabbed a heat win for eight points while Courtney earned three qualifying points but was forced to swap the engine from his ride following mechanical trouble during his time trial run. Courtney took second in his own heat race, setting up a final showcase between the two Indiana born and bred racers.
Courtney went all in, exclaiming to his crew before the start that he was either going to bring back a trophy or a steering wheel, implying he was going for broke with an oath to take care of the factors he was in control of while Leary just had to manage 11th or better to lock up the crown.
Leary hung right there comfortably smack dab in the middle of the top-ten for the duration of the 30 laps, never once falling out of the hunt and below the Mendoza line. Meanwhile, Courtney delivered on his promise, bringing home the Western World trophy. All the while, Leary was like clockwork. When the clock struck midnight on the season, he was right there where he needed to be.
As a result, Leary became USAC's newest first-time champion, as did crew chief Davey Jones and the Reinbold/Underwood Motorsports team. At the age of 23, Leary became the third youngest USAC National Sprint Car driver champion behind only Bryan Clauson and Levi Jones and, at age 23, has realized a life-long dream of becoming a USAC championship.
"The pressure coming into tonight was eating at me, so I'll take a breather and let this sink in," Leary exhaled. "It's definitely something to be proud of. It's something I've been wanting since I was a little kid. It definitely didn't happen overnight. This is my eighth year on the USAC National tour and to be standing up here means the world to me."
Also fitting is how it all came full circle. The discussion of the formation of the Arizona-based team began a year ago in Perris, Calif., and one year later, Leary became a first-time Oval Nationals winner at Perris and a first-time championship right in his car owner's homeland in the Grand Canyon State.
"We've toured all over the United States, and to end here in (car owner) Andy's (Reinbold) backyard, I think it's pretty special," Leary said. "He has all his friends, family, his co-workers, everybody's out here supporting him as a race team. Andy and his whole family have taken us in like family and have put us up in their house and just went racing. It's pretty cool, I think I can relate a lot to my own race team. It's a family affair and I'm just glad to get it done for Andy, his dad Rex, and the whole AME crew. I can't say enough for these guys. They've made this year pretty special for me."
For Reinbold, despite his team's relative lack of experience on the National trail, he had full confidence in the team he surrounded himself with. One that he expected, back in December, January and February, would be standing on the podium just as they were Saturday night at Arizona Speedway.
"Honestly, absolutely," Reinbold deadpanned when asked whether he expected to be standing on the stage as a champion. "The team that we put together, all of our partners, all of our sponsors, our family, everybody believed from the beginning. It was a little tough at the very beginning down in Florida with the new cars, the Spike cars. They were used to the DRC. But once we all bought into it, we got rolling and C.J. was just wonderful in driving and hitting his marks all year long. It was amazing."
2019 C.J. LEARY USAC AMSOIL NATIONAL SPRINT CAR STATS:
FEATURE WINS: 2 – Feb 16 at Bubba Raceway Park & Nov 9 at Perris Auto Speedway
FEATURE LAPS LED: 102
TOP-FIVE FEATURE FINISHES: 25
TOP-TEN FEATURE FINISHES: 32
FAST QUALIFYING TIMES: 11
HEAT RACE WINS: 12
FEATURE STARTS: 34
CAREER FEATURE WINS: 9