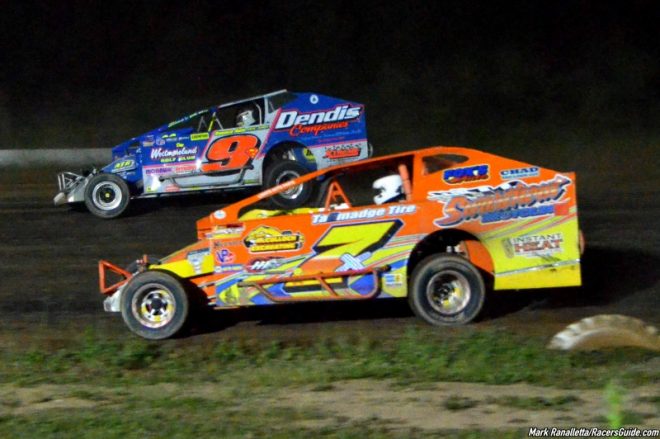 Land Of Legends Raceway Breaks Ground On Start To 2019 Race Season
Practice day kicks off 56th year of motorsports at historic Ontario County Fairgrounds oval
Story By: Tom Skibinski/Land of Legends Raceway
Photos By: Mark Ranalletta/RacersGuide.com
Canandaigua, NY – April 13, 2019 – Sun-filled skies and temperatures in the high-60s greeted racers and fans Saturday afternoon as Land of Legends Raceway unlocked its gates for a 56th season of motorsports activity at the historic half-mile clay oval. Second-year track promoter Paul Cole and his staff welcomed back nearly 40 teams and a couple hundred eager fans, with the Ontario County Fairgrounds speedway gearing up for its 42nd year of DIRTcar racing in 2019.
"Last year we worked our way from the ground up and this season we're able to fine-tune and build on the solid foundation that we now have in place," noted Cole, as he continued in preparation for next weekend's long-awaited Land of Legends lid-lifter. "We have the back stretch pits finished and added a new set of scales. We're looking forward to keeping the show fresh from week to week and offering another entertaining summer for everyone that comes out in support."
Providing their own support throughout the season, General Manager Greg Emerson and Race Director Greg Hixson return as Cole's right hand men while Jim Hixson, Wally Ingraham, Rob Noaker and Bill Twist remain teammates handling technical issues pitside. Veteran officials Tom Curtis and Mike Scoppo will share pit steward duties once the regular season gets underway.
Scott Hixson is again in control of the race action as he serves as head flagger for a sixth season at the popular wine country speedplant.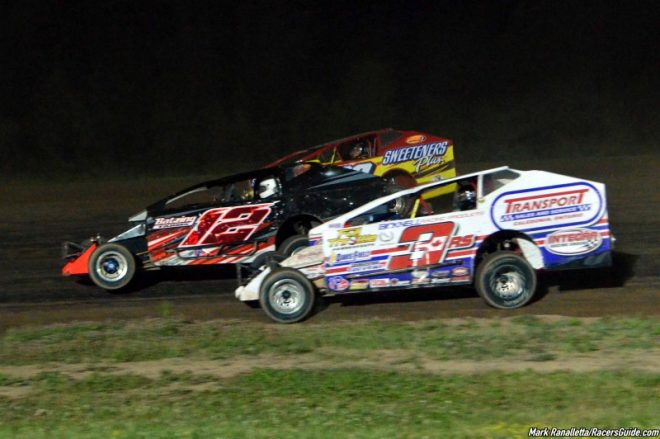 Steve Ovens joins Wendy Emerson as the weekly voices of LOLR in '19 with the familiar duo of Doug Elkins and Shane Andrews slated to make guest appearances behind the microphone during the season. Also filling the tower on raceday, the talented trio of Sheila Darcy, Gary and Donna Spaid return to anchor the electronic scoring system as FLX Media Group founders Matt Thomas and Art Rorick, along with chief camera operators Mike Lawler and Bob Miller, coordinate 'live' internet streaming and the track video production program.
While last season's speedway resurgence included the addition of a brand-new multi-purpose scoreboard and scoring loop, installation of advanced LED track lighting, mobile 'jumbotron' video display on the frontstretch and incorporation of fiber optics and wi-fi capabilities throughout the property, arrangements for new aluminum grandstand seating are being made as Cole and the Ontario Co. Fairboard work toward obtaining a grant from New York State in order to further upgrade the facility.
Saturday's trackside activity went green just after 1 o'clock and for the next three hours a combined total of 37 Pepsi Big-Block Modified, 358-Modified, Canandaigua Chrysler-Dodge-Jeep-Ram Sportsman, Mike Emhof Motorsports 305 Sprint Car, 360 Sprint, and Smith Bros. Drywall Street Stock entries navigated the speedway.
The MEM 305 mount of 2018 Sportsman campaigner Trevor Years was the first car under the flagstand followed by the winged machines of reigning division points king Darryl Ruggles and his daughter Alysha Bay, along with weekly rivals Brandyn Griffin, Dan Bennett and Johnny Kolosek, plus newcomers Kevin Carlson and female flash Jordan Noody. Ruggles also logged laps in his neon yellow 360-powered ride as did Steve Glover, Paul Habeck, Pete Richardson and Jonathan Preston.
Ron 'Bundy' Metcalf led the full-fender fleet of Jason Quigley and Jordan Moden, along with first-year Street Stock pilots Chris Beyea and William Bradley Jr. Still recovering from a paralyzing demolition derby incident suffered during last July's county fair, Canandaigua's Bradley, 27 yrs., turned his dream into reality following his first-ever laps taken around his hometown track.
A baker's dozen Sportsman wheelmen signed in on Saturday including top returnees Nick Guererri, Kane Bristol, Anthony Kimble, Jeff Davoli, Benny Karlsen and Jeff Lawrence. New Legends graduate Timmy Borden, Dwight Nichols, Keith Stevenson, Wesley Hayes, Cam Tuttle, Zack Sam and Bubby Pawlack filled out the field of 13 registered for the first informal pre-season test session.
LOLR Big-Block regulars Gil Tegg Jr. and Lance Dusett led a half-dozen Modified cars to their first green flag of the season, followed in order by Small-Block chauffeurs Greg Martin, Nick Joy, Brad Godshalk and Scott Kerwin aboard his self-owned ride that Canadian upstart Mat Williamson will pilot on Fridays closer to home out west at Ransomville Speedway. Dusett was the lone casualty of the day as the red #77 Batzel's Automotive entry loaded up after sustaining a blown engine.
A second practice day is slated for Wed., April 17 with all gates opening at 4 p.m. and track time reserved 5-8 p.m. Grandstand general admission is free to fans once again and the pit fee remains $20 for this final tune-up.
The official DIRTcar season-opener is set for Sat., Apr. 20 with the 'Cabin Fever 40' for Sportsman (show up points only) headlining the weekend show. The first Saturday Spectacular includes a lead-off 35-lap feature for Big-Block Modifieds along with qualifying and main events for winged Sprints and full-fender Street Stocks.
Grandstand gates unlock at 5 p.m. and the first qualifying heat is scored at 7 o'clock. Racers are allowed in the pits at 4:30 with warm-ups slated for 6 p.m. following a brief driver's meeting conducted at 5:45.
The adult grandstand ticket price is $15 for all 'Saturday Spectaculars,' $13 for Seniors (65 yrs. plus) while 16 and under are FREE with a paid adult. Reserved Grandstand seating for a weekly show is $17 and $2 for all children 16 and under. Seniors 65+ are $15. The pit fee is $30.
Be sure to log into www.landoflegendsraceway.com often as further schedule information for the upcoming season will be posted right up to raceday. To discuss marketing opportunities available at the track in 2019, please contact LOLR GM Greg Emerson via e-mail gemerson@landoflegendsraceway.com.
Advance sale tickets are always available for purchase online by logging into www.LandOfLegendsRaceway.com, hitting the red "Buy Tickets" button on the homepage, then making a selection from the list of date(s)/event(s) provided.
Season passes are available by calling GM Greg at 585-624-1509; General Admission with reserved seat $275.00, Pit Pass $550.00 (*not valid for September shows).