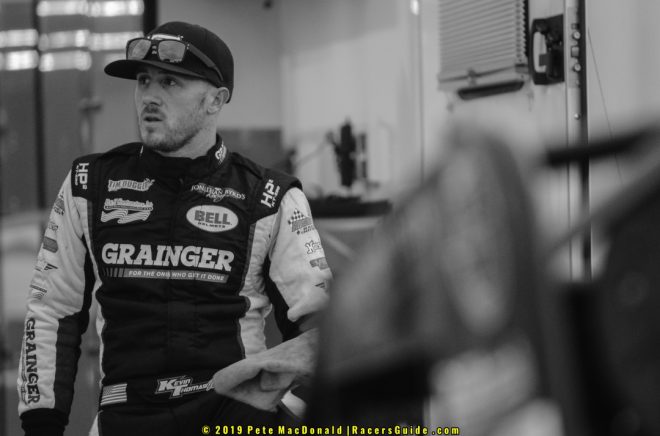 KTJ AIMS TO RUN UP FRONT AT SPRINGFIELD AND END RUNNER-UP STREAK
Story By: Richie Murray – USAC Media
Photo By: Pete MacDonald/RacersGuide.com
Springfield, Illinois (August 14, 2019)………No driver has finished as consistently well on the dirt tracks of the USAC Silver Crown Champ Car Series over the past calendar year than has Kevin Thomas, Jr., as he prepares for this Saturday's 58th running of the Bettenhausen 100 presented by BRANDT at the Illinois State Fairgrounds in Springfield.
There's been a consistent theme in each of the Cullman, Alabama native's last four starts: a 2nd at Springfield, a 2nd at Du Quoin, and a 2nd at Eldora to close out 2018, followed by another 2nd place result in his only start on the dirt this season in May's Hoosier Hundred at the Indiana State Fairgrounds Mile.
Four-straight top-two finishes is an impressive statistic regardless of which aspect you choose to look at it. In a championship race, in most cases, that puts a driver right in the thick of the hunt. But Thomas is in the business of winning races at this point after missing two starts on the Silver Crown schedule, and that's his sole focus heading into Springfield.
Thomas is now among a group of four drivers who've ran second at least four times in their Silver Crown careers without getting a win thus far: Arnie Knepper, 1984 series champion Dave Blaney, Pablo Donoso and himself.
The difference being that Thomas is in the midst of the run and seems more than ready to punch open the door to victory lane at this point. There's been no riding around, no war of attrition that's put him up front and no luck. Thomas has been a force on the dirt and there's no doubt he's game for a winning run once again. Over those past four races, he's led three of them for 138 of the 250 total laps (55.2%) and was in the lead entering the final 10-lap stretch in all three of the races at Springfield, Eldora and the Indy Mile.
With 25 career USAC AMSOIL National Sprint Car wins to go along with 5 victories in the USAC NOS Energy Drink National Midget division, Thomas is more than poised to end that with that elusive W at a place where the famed Gohr/Foxco No. 56 has won three poles with Tom Bigelow in 1981, Steve Chassey in 1983 and Dave Darland in 1999, along with four 100-mile victories by Chuck Gurney in 1994 and Dave Darland in 1997, 1999 and 2003. Thomas very well could be next in line this Saturday to join that prestigious group in both categories.
A win Saturday would also move Thomas into a select group of drivers who've earned their first career Champ Car wins in the Silver Crown era at the Springfield Mile, following Larry Rice (1977), Gary Bettenhausen (1978), Bobby Olivero (1979), Cole Whitt (2009) and Justin Grant (2017).
MOST 2ND PLACE FINISHES WITHOUT A SILVER CROWN WIN:
(4) Dave Blaney, Pablo Donoso, Arnie Knepper & Kevin Thomas, Jr.
(3) Randy Tolsma
(2) Jimmy Caruthers, Jac Haudenschild & Jon Stanbrough
(1) Robert Ballou, Tim Barber, Mike Brecht, Barry Camp, Tom Capie, Ed Carpenter, Jim Childers, Bob Cicconi, Carl Edwards, Bob Ewell, Robby Flock, Stan Fox, Damion Gardner, Gene Lee Gibson, Jesse Hockett, Jon Johnson, P.J. Jones, Michael Lewis, Warren Mockler, Bill Puterbaugh, Pete Shepherd III, Bentley Warren, Greg Weld, Kramer Williamson & Jacob Wilson
DRIVERS WHO'VE EARNED FIRST CHAMP CAR WIN AT SPRINGFIELD:
(Silver Crown Era 1971-Present)
1977: Larry Rice
1978: Gary Bettenhausen
1979: Bobby Olivero
2009: Cole Whitt
2017: Justin Grant
The Bettenhausen 100 in Springfield gets underway with pits opening and registration starting at 7am (Central), the ticket office and grandstands opening at 9am, the drivers meeting at 9:30am, Silver Crown practice from 10am to 11:10am, Fatheadz Silver Crown Qualifying at 11:30am, Sportsman hot laps at noon, the Silver Crown Qualifying Race at 12:30pm, Sportsman heats at 1pm, pre-race ceremonies at 1:30pm and the Bettenhausen 100-mile race at 2pm.
Tickets will be available on raceday or by calling the State Fair office at 217-782-1979. Info and tickets can also be obtained by calling the Track Enterprises office at 217-764-3200. Discount tickets for Sunday also available at Menards. Advance Tickets (Presale) are $25 for adults and $10 for children 11 and under. On race day, tickets are $30 for adults and $10 for children 11 and under. Infield tickets are $20 for adults and $5 for children 11 and under. Pit passes are $35 for adults and $20 for children 11 and under. Infield parking is $5 for those parking in the infield with no infield or pit passes.
This Saturday's Springfield race can be watched LIVE and on-demand on FloRacing, listened to via live audio on the USAC app as well as live timing and scoring on both the USAC app and the Race-Monitor app.
2019 BETTENHAUSEN 100 ENTRY LIST (37 Drivers)
/ DRIVER / HOMETOWN / TEAM
07 JACOB WILSON/Crawfordsville, IN (Wilson Brothers Racing)
08 KYLE STEFFENS/St. Louis, MO (Kyle Steffens)
2 PATRICK LAWSON/Edwardsville, IL (Patrick Lawson)
6 BRADY BACON/Broken Arrow, OK (Klatt Enterprises)
7 KYLE ROBBINS/New Castle, IN (KR Racing)
9 ®CHRIS DYSON/Pleasant Valley, NY (Chris Dyson Racing)
10 C.J. LEARY/Greenfield, IN (DMW Motorsports)
12 BRIAN TYLER/Mt. Pleasant, NC (Galas Motorsports)
14 A.J. FIKE/Galesburg, IL (Dennis & Dave McQuinn)
15 CHAD KEMENAH/Arvada, OH (Hampshire/Kemenah Racing)
16 AUSTIN NEMIRE/Sylvania, OH (Nemire-Lesko Racing)
17 CHRIS WINDOM/Canton, IL (Goodnight-Byrd Racing)
20 KODY SWANSON/Kingsburg, CA (Gene Nolen Racing)
21 JEFF SWINDELL/Germantown, TN (Mark Swanson Encore Team)
24 MIKE HAGGENBOTTOM/Levittown, PA (John Haggenbottom)
26 AARON PIERCE/Muncie, IN (Sam Pierce)
29 JOEY MOUGHAN/Springfield, IL (Joey Moughan)
31 ®DAVE BERKHEIMER/Mechanicsburg, PA (Berkheimer Racing)
33 ®RONNIE WUERDEMAN/Cincinnati, OH (Ronnie Wuerdeman)
34 TERRY BABB/Decatur, IL (Ken Morford)
39 MATT GOODNIGHT/Winchester, IN (Goodnight Racing)
40 DAVID BYRNE/Shullsburg, WI (Byrne Racing)
43 JOHN HEYDENREICH/Bloomsburg, PA (A.J. Felker)
44 DANNY LONG/Bonne Terre, MO (Danny Long)
47 ®AUSTIN MUNDIE/Dallas, TX (Patty Butler)
51 RUSS GAMESTER/Peru, IN (Gamester Racing)
53 STEVE BUCKWALTER/Royersford, PA (Five Three Motorsports)
56 KEVIN THOMAS, JR./Cullman, AL (Foxco Racing)
57 ®DALLAS HEWITT/Troy, OH (Dallas Hewitt)
71 SHANE COCKRUM/Benton, IL (Hardy Boys Motorsports)
77 CHRIS URISH/Elkhart, IL (Chris Urish)
78 ERIC GORDON/Fortville, IN (Armstrong/Slinkard Racing)
81 SHANE COTTLE/Kansas, IL (Curtis Williams)
91 JUSTIN GRANT/Ione, CA (Hemelgarn Racing)
97 TYLER COURTNEY/Indianapolis, IN (Hans Lein)
99 ®KOREY WEYANT/Springfield, IL (Scott Weyant)
123 ®JIMMY LIGHT/West Springfield, PA (Two-Three Motorsports)
® = USAC Silver Crown Rookie of the Year contender