KRAUSE WINS WALL STADIUM SPOOKY MODIFIED 75 LAPPER
Story By: Jeff Gravatt/Wall Stadium
Photos By: John John Lane/RacersGuide.com
WALL TOWNSHIP, N.J. ~ After fighting through tough fortunes during the 2019 regular season Andrew Krause fought off the competition to win the 75 lap All American Auto Group Modified stock car feature race Saturday afternoon at Wall Stadium Speedway. The victory in the "Spooky Spectacular" racing program's main event was Krause's first of the 2019 campaign.
Adam LaCicero of Lavallette was the first leader of the event before Brick's Eric Mauriello took command on lap 10 with an outside lane pass. Krause, who had lined up sixth at the outset, also took the high road two laps later to race into second spot and chase Mauriello. The duo then wrestled, often times in side-by-side fashion, towards the halfway point of the test before Krause drove to the high side of a sliding Mauriello to take the lead near lap 25. The duo then continued their fight past the halfway mark as Derek Hopkinson of Toms River ran a tight third.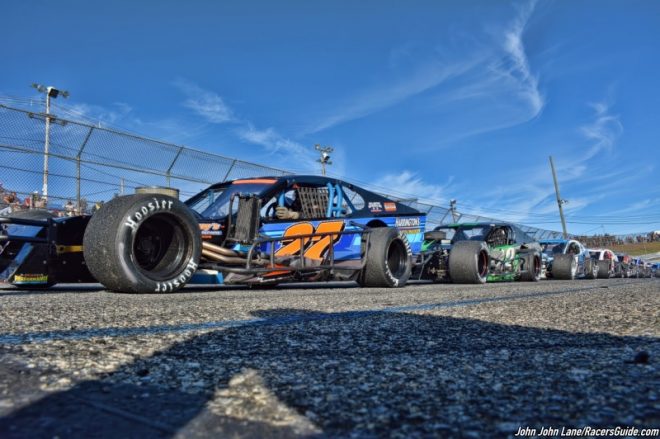 Just past the halfway point officials asked Mauriello to go to the rear of the pack because they felt that Mauriello had been warned about jumping on restarts too many times. This gave Hopkinson the chance to go after Krause and he took the lead with just over 25 laps remaining. Krause and Hopkinson then battled side-by-side after a lap 66 caution before Krause slipped back into the lead and raced on to the win in the 75 lap test. Hopkinson, Eddie McCarthy of Pt. Pleasant, who was in contention most of the way, Mauriello and Chris Andretta of Neptune wrapped up the top five.
"That was a real workout," Krause said after the win. "I really have to thank my family and the crew for all the support they give me and the race team. Thanks to all of them we always come to the track with a car that is capable of winning."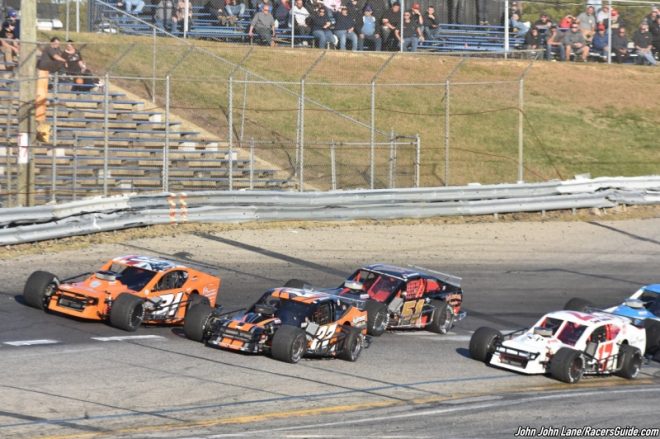 Bryan O'Shea of Neptune City continued his break through season with his sixth win of the campaign in the 50-lapper for the O'Shea's Auto Repair Factory Stocks. Newly crowned champion Elliot Wohl of Beachwood was the runner-up, while invader Rob McCormick, early leader Scott Riggleman of Manchester and Brick's Kevin Flores wrapped up the top five.
Newly crowned Surfside Collision 4 Cylinder Stock champ Neil Rutt III of Edison topped the 25-lap main event in convincing fashion over Brick's Ronnie Mullen, Jeffrey Loesch of Neptune City, Hazlet's Sal Liguori and Todd Dige.
Young racer Mason Magee of Charlestown, Md. grabbed his third win of the season in the 25-lapper for the Green Flag Driving Experience Legend Cars. Jim Sylvester, Quinn Trimmer, Mike Benton and Art Marrero were second through fifth.
The season-ending "Turkey Derby" is next on the schedule on Friday, Saturday and Sunday of Thanksgiving weekend. More information on the event is available at wallspeedwayracing.com.
Wall Stadium is located on Route 34 in Wall Township, N.J., just one mile north of Garden State Parkway exit 98 and Interstate 195 exit 35B. The speedway hotline number is 732-681-6400 and email address is ckmotorsports@aol.com.THE END –
MODIFIED
FEATURE – 40 Laps – 1. ANDREW KRAUSE, HOLMDEL, 2. Derek Hopkinson, 3. Eddie McCarthy, 4. Eric Mauriello, 5. Chris Andretta, 6. Danny Bohn, 7. Adam LaCicero, 8. Ricky Collins, 9. Michael Carr, 10. Joey Jarowicz, 11. Ken Matlach, 12. Nick Baer, 13. Robert French, 14. Tyler Truex, 15. Tommy Martino
FACTORY STOCK
FEATURE – 50 Laps – 1. BRYAN O'SHEA, NEPTUNE CITY, 2. Elliot Wohl, 3. Rob McCormick, 4. Scott Riggleman, 5. Kevin Flores, 6. Billy Both, 7. Gary Burton, 8. Nancy Riggleman, 9. Scott Purcell, 10. Jerry Stanzione, 11. Tom Rajkowski, 12. Nick Catone, 13. Eric Bodenschatz
4 CYLINDER
FEATURE – 25 Laps – 1. NEIL RUTT III, EDISON, 2. Ronnie Mullen, 3. Jeffrey Loesch, 4. Sal Liguori, 5. Todd Dige, 6. Ryan Maher, 7. Chuck McDonald, 8. Nicole Razzano, 9. Darianne McLaren, 10. Cody Critelli, 11. Marko Vuksanic, 12. Deanna McLaren, 13. Brian DeSarno
LEGEND CARS
FEATURE – 25 Laps – 1. MASON MAGEE, CHARLESTOWN, MD., 2. Jim Sylvester, 3. Quinn Trimmer, 4. Mike Benton, 5. Art Marrero, 6. Joe Przybylinski, 7. Chris Gall