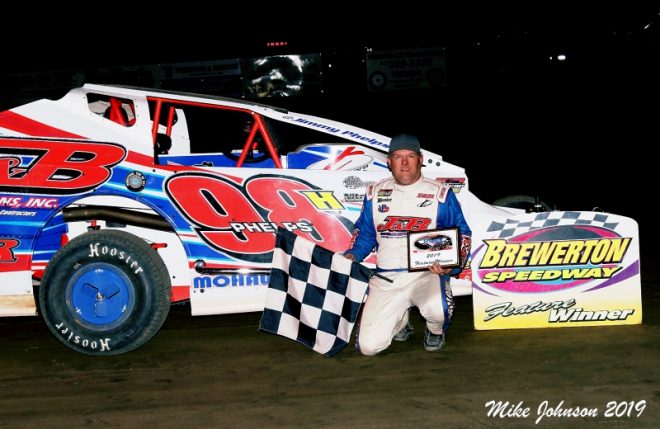 Jimmy Phelps Romps To Brewerton Speedway Modified Win
Story By: Dave Medler/Brewerton Speedway
Photos By: Mike Johnson/RacersGuide.com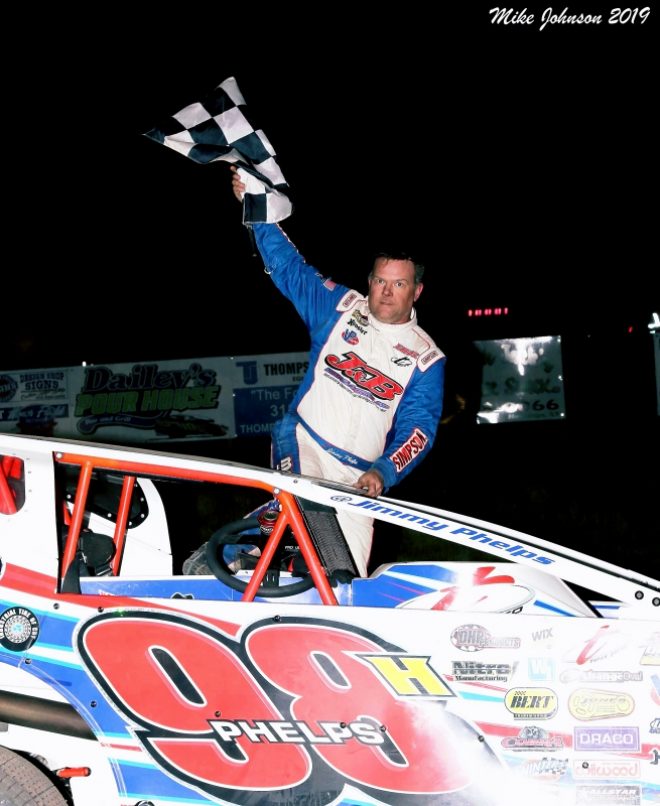 BREWERTON, NY – Defending Tracey Road Equipment DIRTcar Modified track champion Jimmy Phelps from Baldwinsville, NY erased opening night mechanical issues Friday night at the Brewerton Speedway leading every lap of the 35-lap feature.
Phelps would take advantage of a front row starting spot blasting out to leads as large as 6 seconds during long green flag runs. Caution periods would tighten the field up allowing Billy Decker and Larry Wight to keep Phelps within sight but would never mount a serious challenge with Phelps grabbing the victory by 1.015 over Decker.
Other winners on the Reagan Companies night were, Jim Spano & Alan Fink (DOT Foods DIRTcar Sportsman) Jeff May (Can-Am Mod Lite Series) Chuck Powelczyk (Fleet Repair Truck & Trailer Repair 4-Cylinders).
Jimmy Phelps would lead the 23-car Modified field to the green and then would open a full straightaway lead by lap 5 with racing behind him two and three-wide on the tacky and fast surface.
With 10-laps complete, Phelps was on rails bolting out to a 3.5 seconds lead on the battle for second and third between Matt Hulsizer and Chad Phelps.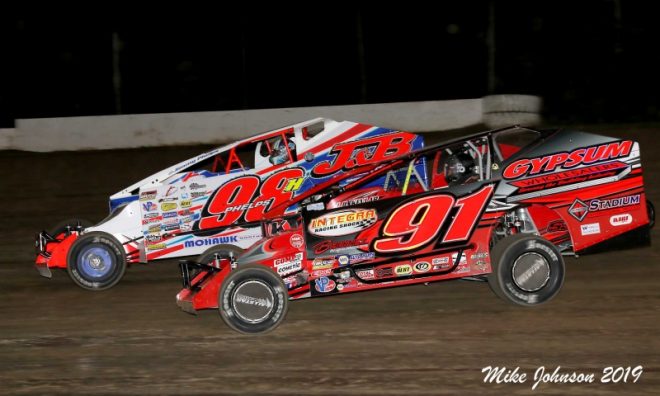 The race would still be caution-free on lap 15 and would see Phelps running away and hiding from the rest of the field leaving Hulsizer, Larry Wight, Billy Decker and Tim Sears Jr. to battle it out for second through fifth.
With 20 laps showing on the scoring tower, Phelps was still on cruise control holding his big lead and had four lapped cars between himself and second place Decker with Hulsizer, Wight and Sears still in the top-five.
The yellow flag would wave on laps 22 & 24 erasing Phelps' big lead and giving the field a shot to try and wrestle the lead and the win away from Phelps.
Over the final 11 laps Billy Decker and Larry Wight could keep Jimmy Phelps within sight but couldn't mount a serious challenge as Jimmy Phelps cruised to the win. Decker, Wight, Tim Sears Jr. and Matt Hulsizer finished second through fifth.
Thirty-six DIRTcar Sportsman signed into the pit area setting up two 25-lap features.
In the first feature Torrey Stoughtenger would bolt out to the early lead holding a six-car length advantage by lap 10 while behind him you could have thrown a blanket over Jim Spano, Quinn Wallis and Willy Decker Jr. in a three-way battle for second through fourth.
After shaking free of Wallis and Decker, Spano would catch and then drive under and by Stoughtenger exiting turn four to be scored the new leader on lap 12.
Once out front Spano would never be seriously challenged the rest of the way cruising to his first win at the speedway since what he recalled was a special Sportsman race in the 1980's. Amy Holland made an impressive late race charge to finish second. Willy Decker Jr., Stephen Denton, and Chris Mackey finished third through fifth.
In the second Sportsman feature, Colby Herzog and Bailey Groves would lead early laps until Billy Clark Jr. would drive by them both in one lap to be scored the new leader on lap 5.
With 10 laps showing on the scoring tower, Clark and Dylan Zacharias were locked in a tight fight for the lead with Tim Devendorf, Herzog and Groves showing in the top-five.
On lap 11 Zacharias would use the top-side of the speedway to drive by Clark into the lead.
The yellow would wave on lap 13 and Clark would take advantage, regaining the lead when the green came back out.
Alan Fink would move into second and would take the lead on lap 19 just before the yellow would wave setting up a dash to the checkers.
When the green came back out, Fink would cruise to the win with Billy Clark Jr., Mark Yorker, Dylan Zacharias and Kevin Root completing the top-five.
An impressive field of 36 cars signed into the pits for the Can-Am Mod Lite Series that would take four heats and a B-Main to set the 26-car starting field for the 20-lap feature.
In the 20-lap main defending U.S. Air Force Mod Lite track champion Justin Williams, Tyler Winger and Jeff May would all lead laps in a tight fight for top-five positions throughout the entire distance.
The difference in the race was a late caution setting up a green, white, checker finish that would see Jeff May wrestle the lead from Winger and make his long trip from Canada worthwhile, picking up the victory. Tyler Winger, Zack Babcock, Casey Sykes and Doug Williams finished second through fifth.
The 15-lap Fleet Repair Truck & Trailer Repair 4-Cylinder feature would see the winningest driver in the division, Chuck Powelczyk, grab the lead at the drop of the green and would lead every lap outdistancing opening night winner Evan Wright, Quinn Wallis, Ray Bechler and Chris Bonoffski.
This Friday, June 7 is one of the most popular nights on the racing schedule when Xtreme Auto Recovery and Ehrlich Pest Control present Family Autograph Night plus American Diabetes Association Awareness.
After all the qualifying races, fans of all ages will be able to come down on the track to get up close to all the cars, meet their favorite drivers for pictures, autographs and driver giveaways.
Racing on the 'D-Shaped Dirt Demon' will be the Tracey Road Equipment DIRTcar Modifieds, DOT Foods DIRTcar Sportsman, United States Air Force Mod Lites and Fleet Repairs Truck & Trailer Repair 4-Cylinders.
Adult grandstand admission is $12 with everyone 18 years old and younger admitted free. Pit admission is $27 Participant, $30 Non-Participant. Grandstands will open at 5:30 with racing at 7:30 pm.
Any questions you might have please contact Cory Reed at (315) 668-6906 or cory@brewertonspeedway.com .
For all the latest news go to www.brewertonspeedway.com and like the track Facebook and Twitter pages.
Reagan Companies May 31 Results
(Tracey Road Equipment DIRTcar Modifieds 35 Laps) – JIMMY PHELPS, Billy Decker, Larry Wight, Tim Sears Jr., Matt Hulsizer, Pat Ward, Chris Hile, Rob Bellinger, Tom Sears Jr., Chad Phelps, Dave Marcuccilli, Roy Bresnahan, Andrew Ferguson, Nick Krause, Katelyn Hile, Jason Occhino, Tim Murphy, Tyler Trump, Ron Davis III, Chris Hulsizer, Jim Witko, Tim Harris, DNS Joe August.
(DOT Foods DIRTcar Sportsman #1 – 25 Laps – Pending Tech) – JIM SPANO, Amy Holland, Willy Decker Jr., Stephen Denton, Chris Mackey, Zach Sobotka, Torrey Stoughtenger, Quinn Wallis, Rich Townsend, Joe Sobotka, Rick Rogala, Tyler Corcoran, Tyler Murray, Jeff Taylor, Robert Gage, Jake Petit, Dorian Wahdan, JJ Courcy.