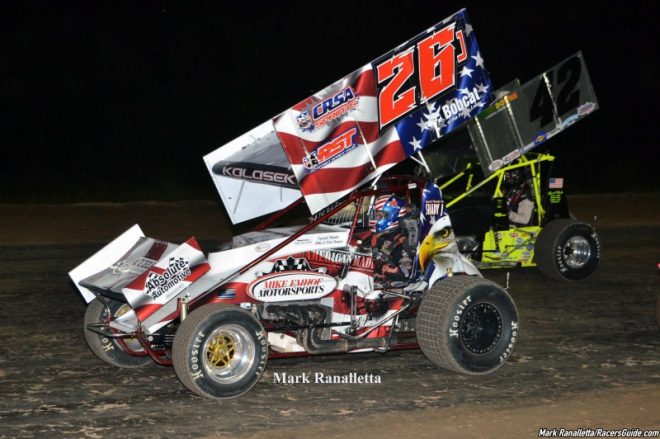 Inaugural New York Nationals Weekend 360 Sprint Car Format Finalized
Land Of Legends Raceway Promoter Paul Cole outlines schedule, format, rules & purse
Story By: Tom Skibinski/LOL Raceway
Photos By: Mark Ranalletta/RacersGuide.com
Canandaigua, NY – August 27, 2019 – In just over a week's time Land Of Legends Raceway will play host to the most lucrative weekend of racing ever presented by track promoter Paul Cole. The first-ever New York Nationals goes green Sept. 6-7.
Showcasing some of the best sprint car teams in the Northeast, top wingmen will be sharing over $35,000 in the two-day NY Nationals extravaganza.
Attached please find a complete list of racing events currently scheduled during the weekend, race day format, rule book particulars and posted purse structures.
The adult grandstand general admission ticket price is $22 on Friday, $20 for seniors (65 yrs. plus) while children 6-16 yrs. are $5 with a paid adult. On Saturday an adult GA ticket is $29, seniors are $27 and kids 16 & under are still $5. Reserved grandstand seating tickets are extra while a 2-day GA pass will be offered for $45. Grandstand gates swing open at 5pm both days.
Advance sale tickets remain available for purchase online by logging into www.LandOfLegendsRaceway.com, hitting the red "Buy Tickets" button on the homepage, then making a selection from the list of date(s)/event(s) provided.
Be sure to check out www.landoflegendsraceway.com often for the most up-to-date schedule information as raceday approaches. Marketing opportunities are always available at the track by contacting LOLR GM Greg Emerson via e-mail gemerson@landoflegendsraceway.com.
Land of Legends Raceway is located on County Road 10 at the Ontario County Fairgrounds, just 1-1/2-miles north of Routes 5&20, and is easily accessible from the NYS Thruway (I-90), taking Exit 43 (Manchester, Route 21 South) traveling from the east or Exit 44 (Farmington, Route 332 South) coming from the west.
Track Instant Info
Website: www.LandOfLegendsRaceway.com
E-Mail: info@LandOfLegendsRaceway.com
Twitter: @LandofLegendsNY
Facebook: @LandofLegendsNY
Instagram: @LandofLegendsNY
Along with recognizing its weekly 50/50 raffle fund beneficiaries, Land of Legends Raceway is proud to salute several sponsors and corporate partners that continue to help bring its fans the best Saturday night racing show in the Northeast. Listed alphabetically are current division sponsors Big Dog Country 103.5FM Radio, Mike Emhof Motorsports, Pepsi/Mountain Dew/Lipton Geneva Club Beverage; event sponsors Admar Construction Equipment & Supply Company, American Equipment, A-Verdi Storage Containers, Geneva Club Beverage, Honeoye Auto Parts/Auto Value, Lake Beverage, L&L Transmission & Towing, Main Energy, Red Osier Restaurant, Sherwin Williams Paint, Tradition Automotive Group; promotional partners Champion Power Equipment, Dig Safely New York 811, Dobbers Sports Bar, Elab Smokers Boutique, Hoosier Racing Tire, Ontario County Fairboard, Star Headlight & Lantern Co., VP Racing Fuels, Weedsport Hall of Fame, Wright Beverage.