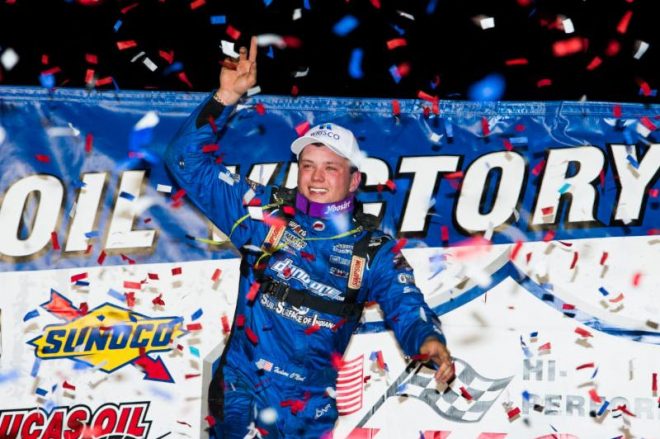 Hudson O'Neal Rules 34 Raceway
Story By: Jeremy Shields/LOLMDS
Photos By: Heath Lawson/LOLMDS
WEST BURLINGTON, IOWA (May 16, 2019) – Hudson O'Neal passed Jonathan Davenport on lap 48 and went on to score his second win of the season on Thursday night at 34 Raceway.
O'Neal battled with his father Don for several laps after the 18-year-old charged from the 10th starting position. Then, a single file restart with three laps to go saw O'Neal pass Davenport to score a one-two finish for Longhorn Chassis.
Hudson O'Neal's fourth career Lucas Oil Late Model Dirt Series victory came over Davenport, Josh Richards, Kyle Bronson and Earl Pearson Jr.
Don O'Neal took the lead heading the down the backstretch on lap 38, but that lap was never completed as contact between Don O'Neal and Davenport caused the caution flag when O'Neal came to a halt with a left rear flat.
Davenport then went back in front with Hudson O'Neal in second. It was the fateful lap 47 that allowed Hudson O'Neal to saddle up behind Davenport. The 3-lap shootout was set, and Hudson O'Neal came out on top. Davenport then held off Richards by just half-a-car length for second.
"Oh my gosh I am out of breath," said the winner in Lucas Oil Victory Lane. "The surface was bumpy, but it made for some good racing. I was all over this thing. It really widened out there at the end and it gave me a chance to make a move there on JD. We weren't very good at the beginning, but we continually got better and better. I just put myself in a good position there at the end."
"I hate what happened to my dad," Hudson added. "We were battling hard. I thought for a moment I had a right rear flat under that one caution because it was lying low really bad. It scared me for a little bit. This car was on a rail tonight. We made the right adjustments to get it to the front. It's good to be back in Victory Lane after not being very good for a couple of months."
Davenport congratulated the young O'Neal in Victory Lane. "It was a heck of battle with the O'Neal's and inside my own racecar. I am sure it was a heck of a show for the fans. I didn't know where I was going there sometimes. I want to tell Don [O'Neal] I am sorry. You can't see out of these things. As soon as he slid me, I ran over his left rear and I tried to get off of him."
Richards' in the Clint Bowyer Racing No. 14 battled with his teammate Don O'Neal before settling for a third-place finish. "We had a good car early and we drove our way up to third after starting seventh. I had a good there with Don. I kept bottoming out on the restarts. We were way too tight for the conditions, but it was a lot of fun out there tonight. The crew has been working hard, and I thought we might be able to get both Bowyer cars in the top three, but we will take it and head the next one."
The winner's Todd and Vickie Burns-owned, Longhorn Chassis is powered by a Clements Racing Engine and sponsored by: Dyno One, West Side Tractor Sales Company, Sub-Surface of Indiana, Tarpy Trucking, VP Fuels, and Crawford Outdoor.
Completing the top ten were Don O'Neal, Chase Junghans, Shanon Buckingham, Tyler Bruening, and Devin Moran.
Lucas Oil Late Model Dirt Series
Race Summary
Thursday, May 16, 2019
TruAcre 50
34 Raceway – West Burlington, Iowa
Miller Welders Time Trials
Fast Time Group A: Jonathan Davenport / 14.581 seconds
Fast Time Group B: Tim McCreadie / 14.466 seconds (overall)
Penske Race Shocks Heat Race #1 Finish (10 Laps, Top 4 Transfer): Jonathan Davenport, Billy Moyer, Jr., Chase Junghans, Tyler Erb ®, Jason Jameson ®, Brian Shirley, Allen Murray, Allen Weisser, Joel Callahan
FK Rod Ends Heat Race #2 Finish (10 Laps, Top 4 Transfer): Earl Pearson, Jr., Josh Richards, Devin Moran ®, Chris Simpson, Bobby Pierce, Frank Heckenast, Jr., Dave Eckrich, Spencer Diercks, Gavin Landers
Simpson Race Products Heat Race #3 Finish (10 Laps, Top 4 Transfer): Tyler Bruening, Don O'Neal, Tim McCreadie, Kyle Bronson, Shanon Buckingham, Chad Simpson, Chad Holladay, Jay Johnson, James Wilson-DNS
Lucas Oil Products Penetrating Oil Heat Race #4 Finish (10 Laps, Top 4 Transfer): Billy Moyer, Hudson O'Neal, Shannon Babb, Jimmy Owens, Stormy Scott, Jonathan Brauns, Mike Fryer, Tim Simpson
Lucas Oil Products Red "N" Tacky Spray Grease B-Main #1 Finish (12 Laps, Top 3 Transfer): Frank Heckenast, Jr., Bobby Pierce, Spencer Diercks, Allen Weisser, Brian Shirley, Joel Callahan, Jason Jameson ®, Allen Murray, Dave Eckrich, Gavin Landers
FAST Shafts B-Main #2 Finish (12 Laps, Top 3 Transfer): Shanon Buckingham, Chad Simpson, Stormy Scott, Chad Holladay, Jay Johnson, Mike Fryer, Jonathan Brauns-DNS, Tim Simpson-DNS, James Wilson-DNS
Lucas Oil Feature Finish (50 Laps):
FINISH
START
CAR #
DRIVER NAME
HOMETOWN
EARNINGS
1
8
71
Hudson O'Neal
Martinsville, IN
$10,700
2
1
49
Jonathan Davenport
Blairsville, GA
$6,600
3
7
14
Josh Richards
Shinnston, WV
$4,300
4
14
40B
Kyle Bronson
Brandon, FL
$3,450
5
3
1
Earl Pearson, Jr.
Jacksonville, FL
$3,050
6
6
5
Don O'Neal
Martinsville, IN
$2,700
7
9
18J
Chase Junghans
Manhattan, KS
$1,500
8
18
50
Shanon Buckingham
Morristown, TN
$1,300
9
2
16T
Tyler Bruening
Decorah, IA
$1,200
10
11
1M
Devin Moran ®
Dresden, OH
$1,900
11
5
21JR
Billy Moyer, Jr.
Batesville, AR
$1,775
12
16
20
Jimmy Owens
Newport, TN
$1,850
13
22
2s
Stormy Scott
Las Cruses, NM
$1,025
14
13
1T
Tyler Erb ®
New Waverly, TX
$1,700
15
23
12J
Jason Jameson ®
Lawrenceburg, IN
$1,650
16
4
21
Billy Moyer
Batesville, AR
$925
17
19
32P
Bobby Pierce
Oakwood, IL
$900
18
17
99JR
Frank Heckenast, Jr.
Frankfort, IL
$875
19
21
29d
Spencer Diercks
Davenport, IA
$850
20
10
39
Tim McCreadie
Watertown, NY
$1,525
21
20
1s
Chad Simpson
Mt. Vernon, IA
$800
22
12
18
Shannon Babb
Mowequa, IL
$800
23
15
32S
Chris Simpson
Oxford, IA
$800
24
24
2M
Allen Murray
San Antonio, TX
$800
Race Statistics
Entrants: 35
Lap Leaders: Jonathan Davenport (Laps 1 – 47); Hudson O'Neal (Laps 48 – 50)
Wrisco Feature Winner: Hudson O'Neal
Margin of Victory: 0.761 seconds
Cautions: Tim McCreadie (Lap 1); Jason Jameson (Lap 8); Tyler Bruening (Lap 23); Bobby Pierce, Devin Moran, Frank Heckenast Jr., Jason Jameson (Lap 23); Earl Pearson Jr. (Lap 24); Jason Jameson, Chase Junghans (Lap 27); Billy Moyer Jr. (Lap 28); Tyler Bruening (Lap 37); Tyler Erb (Lap 37)
Series Provisionals: Jason Jameson
Miller Welders Fast Time Provisionals: Allen Murray
Optima Batteries Hard Charger of the Race: Kyle Bronson (Advanced 10 Positions)
Midwest Sheet Metal Spoiler Challenge Point Leader: Jonathan Davenport
Allstar Performance Power Move of the Race: Chase Junghans
Sunoco Race for Gas Highest Finisher: Josh Richards
Eibach Springs Rookie of the Race: Devin Moran
COMP Cams Engine Builder of the Race: Clements Race Engines
Ohlins Shocks Chassis Builder of the Race: Longhorn Chassis
Outerwears Crew Chief of the Race: Taylon Center (Hudson O'Neal)
Dirty Girl Racewear Fastest Lap of the Race: Jonathan Davenport (Lap #9 – 15.2249 seconds)
Hot Rod Processing Tough Break of the Race: Don O'Neal
STEEL-IT Most Laps Led: Jonathan Davenport (47 Laps)
PFC Brakes Pole Award: Jonathan Davenport
Time of Race: 48 minutes 08 seconds