Heinke-Baldwin Race Team Showcased Strong Performance at SDW
Story By: Mandee Pauch/MPR
Photos By Jeff Clemons & Harry Meeks/RacersGuide.com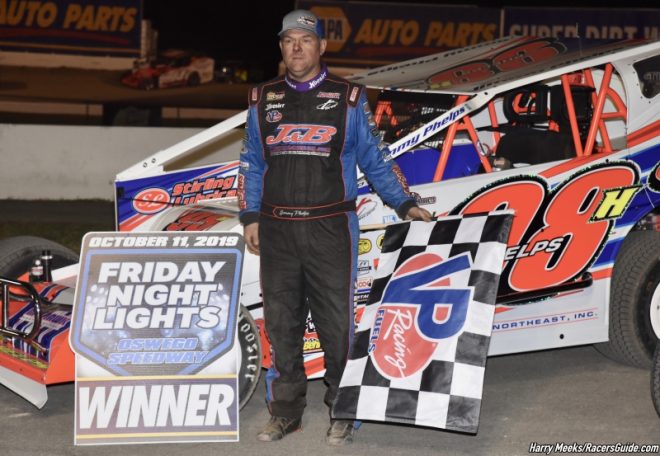 Mandee Pauch Relations – October 17, 2019 – Jimmy Phelps and Max McLaughlin showcased a strong performance during the 48th Annual NAPA Auto Parts Super DIRT Week at Oswego Speedway.
Their week got underway Wednesday night with Phelps at Weedsport Speedway for Weedsport's annual 358 Modified Kickoff Party.
"It was our first night out with the 358 car," Phelps said. "It was a last-minute deal so we figured we should run it before we took it to Oswego."
Phelps was fast right off the trailer.
"We were fastest in practice and in time trial's and won our heat. Then we drew really well," he said.
Phelps rolled off on the outside of the front row for the 100-lap event.
"It felt like we really had a fast car," he added. "We ended up fourth after all was said and done. It was pretty exciting knowing what we had to work with."
Thursday afternoon officially kicked off Super DIRT Week for the HBR team with both Big Block and Small Block Modified time trials.
"We timed late enough that we had a good shot with the 358," Phelps noted. "I cut a really good lap and sat on the pole which was honestly a surprise. I didn't think we necessarily were the best car, but the guys made some good adjustments and we caught a good lap."
The Big Block however was quite the opposite for the No.98h team.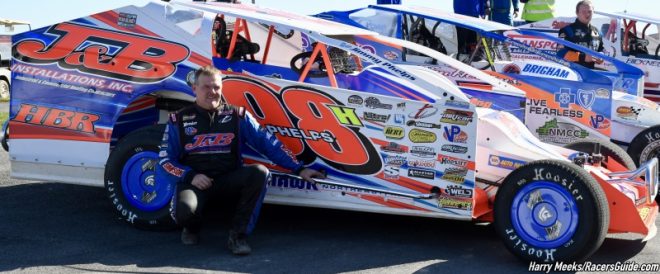 "We were really happy with the big block in practice," he said. "We didn't really get ourselves in a good position after they started counting the running order for time trial position, so it set us up in the middle for time trials. However, we sat on the pole for quite some time. Then as the track got faster and faster, we got bumped back and missed the cut by one. Considering, I was really happy. Going into the triples I thought we had two really good cars, so I was excited."
Teammate, Max McLaughlin and the No.6h team felt pretty good with their time trial efforts.
"It was one of those deals who carried the most momentum had the fastest car and we didn't do that," McLaughlin said. "The car felt good but we timed in 16th overall."
Friday night under the lights opened with the 358 Modified 25-lap heat races.
"We had a relatively easy day," Phelps said. "We didn't make a whole lot of changes. We started on the pole in first heat and had a pretty solid lead, then the top came in. We had a few late challenges, but we were able to hold them off an ended up winning that."
Phelps then rolled off in third for the first Big Block Modified 30-lap heat race.
"We had gotten to second then a yellow came out and I got into the lead," he said. "We had a comfortable lead, then we got into traffic and could cruise."
Winning both qualifiers had Phelps and the team sitting on cloud nine.
"I never won both heat races, so it really helped build the confidence going into the weekend. We were able to just focus on the races and trying to execute properly."
McLaughlin rolled off on the inside of the fourth row in his Big Block heat race.
"We fell back at the beginning," noted McLaughlin. "We were really loose. We didn't have a good package to get ahold of the track. We were able to make the right passes though as the race went on and were able to get back to fifth."
McLaughlin was able to maneuver his way back through the field to lock into Sunday's show.
"After the heat race we changed everything around and it seemed a lot better during Saturday's practice. We changed a few more small things to adjust for the 200 on Sunday."
After a long rain delay on Saturday, the Salute to The Troops 150 Small Block Modified race was run under the lights.
"We had a good amount of rain on Saturday," noted Phelps. "It was a guessing game because we knew the track would be different but at the end of the day, we weren't bad. We led a few laps and started getting tight as the track started to slick off. We were balanced until the track showed signs of wear and we started pushing."
Phelps was able to hang on to the top-five for 60-70 laps until the 100-lap competition caution came out.
"We went in to make what we felt was a relatively small change," Phelps said. "We had some miscommunication and ended up not doing the change we were shooting for. In the midst of all the changing, we didn't get the time to do the math on our fuel. We ended up coming a lap short on fuel. It was one of those races we would have loved to have back.
We didn't have the results we were capable of, but things happen, and we had to put it behind us for Sunday."
The final day of Super DIRT Week was here, and the team had a new day, clear vision, and the sun was shining for the prestigious Billy Whittaker Cars 200.
"We had a strategy and stuck to it," Phelps said. "I don't think there was any right or wrong strategy wise. The track didn't provide a whole lot of opportunity for passing. We chose to stay out and ran the top-3 the first 120-laps. We took tires and fuel and just had to bide our time and take what we could get. Fortunately, towards the end once things started opening up although it seemed to be a little late for us. I thought we had a little more but considering all the wreckage and the tole the track took on, I felt fortunate to get to fifth place."
Between all of the laps, fuel, tires, and pit stop strategies, Phelps and the No.98h team were able to bring home a strong fifth-place finish.
"We've had DIRT weeks where we saw better results but didn't quite have the early week success, so it was nice to be able to be consistent every time we went out, so it was a really good feeling," Phelps said. "It was a testament for HBR and our guys. I was very proud of our success."
McLaughlin lined his No.6h machine on the outside of the seventh row for the 200-lap main event.
"We had a really good car," he said. "We got to lap 80 and pitted then drove form 36th and all the way up to second. There was only one more cars to pass and that was the leader, and he was going to pit soon. I felt like we wouldn't have a problem making it back through the field, so we pitted to put on some fresh tires. We made it back up to the top-five, however, the adjustments made on pit road made us too tight. We weren't good enough to win because of how much we tightened up so I had no choice but to come back to pit road. There was miscommunication during the pit stop and I was told to leave pit road and the right rear wasn't put on tight."
Unfortunately, McLaughlin's strong run ended after losing the tire, forcing him to go pit side late in the race.
"I feel like we had a good shot to win," he added. "If not, we definitely had at least a second-place car. We had a great shot to win. I'm pretty bummed with how the day went but looking back, if we would've stayed out on lap 120 we may have had a great shot at it."
Next on tap for the team will be this coming Friday at Brockville Ontario Speedway with Jimmy Phelps and the Super DIRTcar Series for the Loud & Dirt Northeast Fall Nationals.