Australian Import 'Batman' Peter Britten Looks Back on What Might Have Been at Super DIRT Week XLVI
Story By: MATT NOLES / RACERSGUIDE.COM
Photos By: RACERSGUIDE.COM PHOTO STAFF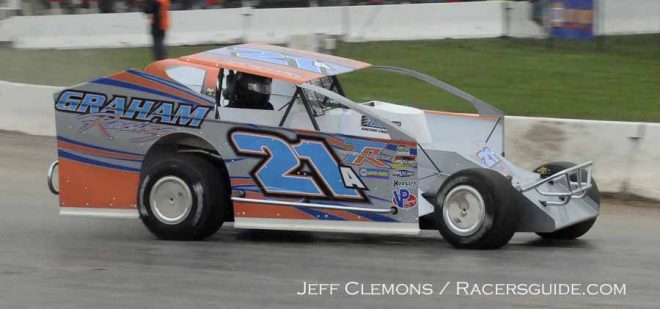 OSWEGO, NY- October 8, 2017- It's incredible how quickly joy and elation can turn into sadness and agony. After the Billy Whittaker Cars 200 at Super DIRT Week XLVI on Sunday evening, nobody fully understands those wide ranges of emotion quite like Australian native Peter Britten does.
With less than half of a lap remaining in the biggest race of the year for the northeast center-steer modifieds at the Oswego Speedway in Oswego, N.Y., the driver of the Graham Racing No. 21A watched the biggest win of his career slip from his grasp relegating him to a second-place finish leaving him to wonder what might have been.
"The only way to some this up is heartbreaking," stated a visibly disappointed Britten on Sunday evening. "There really aren't any other words to describe it. It wasn't just today; people don't understand that racers prepare for so long for a moment like this."
Britten, who captured the Albany-Saratoga Speedway [in Malta, N.Y.] modified track championship this season, has been so incredibly fast and competitive in the latter stages of the season that it seemed as if all the stars were aligning for him to capture his first Super DIRT Week title. Now that the motors are silent, he will have to wait another year to try it again.
"It seems like we've been so fast lately but we just have things go against us," Britten continued. "I know this deal is a tough race to win and plenty of people have lost a lot more of them than I have but it's still heartbreaking. You know Matt – and congratulations to him – he's just a phenomenally talented driver and his team is awesome. To come in second to him is no disgrace but I want to be better than him and I believe we can be. He got us today but I have plenty more years in my racing career so we'll be back for a while to come."
As is stated so often in racing, hindsight is always 20/20. In the closing laps – with Sheppard challenging for the lead – Britten's spotter advised him to cover the bottom to take away Sheppard's line heading into turn-one. Had he not done so, there's a strong probability that it would have been Britten in victory lane at the end of the event instead of Sheppard.
Even though the intended result wasn't reached, Britten can't be completed dissatisfied with his efforts throughout the week. He took a new race team formed specifically for Super DIRT Week XLVI and nearly brought them the victory after starting the race from the 25th position on the grid.
"We put this team together just for DIRT Week," He explained. "It's a brand-new car and a brand-new team obviously and my first time running the car was in practice on Wednesday. This isn't a bad deal for a brand-new team and a brand-new car but this obviously not what we wanted but that's how it goes."
Though he has proven that he shouldn't be counted out of contention regardless of what race he's in or where he's starting, Britten's sudden and resolute march to the front took everyone by surprise; including himself.
"It's always encouraging to make the right changes," He stated. "We really started moving forward and it was surprising. We easily drove by everybody to be honest; I mean it's not too often you can do that on a race track especially against a field of drivers with this caliber. We had the right car, the right setup, the right package and I was comfortable driving the car and we were really good."
Really good doesn't truly come close to describing his performance after the midway point of the event. Spectacular is a more-fitting definition of his driving on Sunday afternoon when he took his Troyer Engineering chassis to the outside lane – one which nobody knew existed up to that point – and flew by the leaders like they were going in reverse.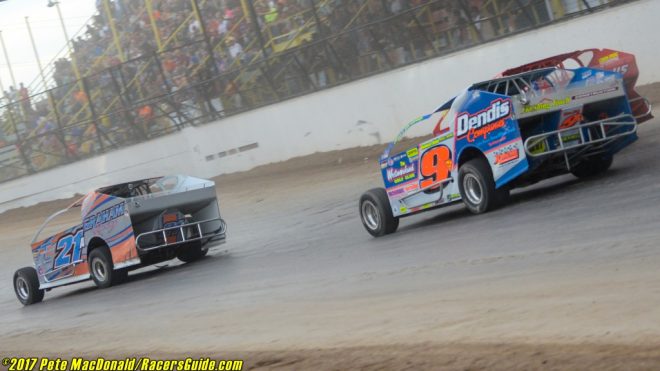 "I didn't know the outside was there," said Britten with a chuckle. "I went up there to test the waters and I was kind of surprised at what I found. It's actually surprising how well the race track came in to be honest. After yesterday, racing wasn't much fun at all and today it was a track you could race on and that's all you can ask for."
The race track didn't just come in; it did the opposite of what many expected it to. "It was a weird deal," Britten continued. "We all know that dirt tracks are forever-changing and there's always something different happening but I didn't expect it to do what it did."
First the speedway locked down on the bottom and then it slicked up and widened out all the way to the wall; in either case, Britten put on one of the best driving performances in recent memory even if it ended with less-than ideal results.
"That's why these races are cool," He concluded. "There's a lot of drama; everything is forever-changing; lines move around; tire choices change; it's a tough deal but that's why it's so hard to win."