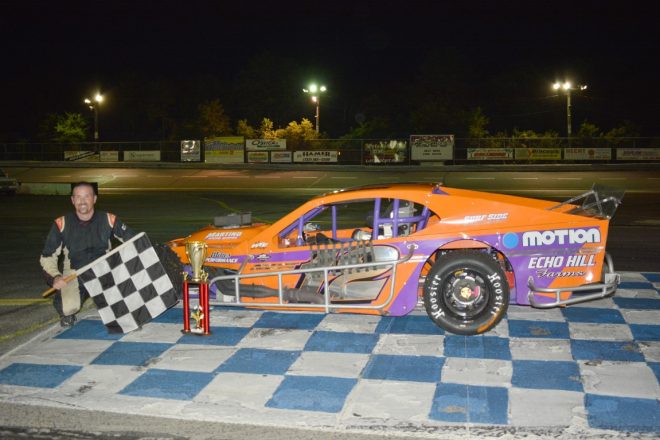 HEARNE HURDLES TO MODIFIED RACE WIN AT WALL SATURDAY
Story By: Jeff Gravatt/Wall Stadium
Photos By: John John Lane/RacersGuide.com
WALL, N.J. ~ On the same speedway on which his father Gil Hearne won a record setting 101 times, New Egypt speedster Jason Hearne fought off some of the best drivers in the business to win the 40-lap "Ladies' Night" feature race at Wall Stadium Speedway Saturday night. The All American Auto Group Modified win was Hearne's career fourth and his first in just over three years.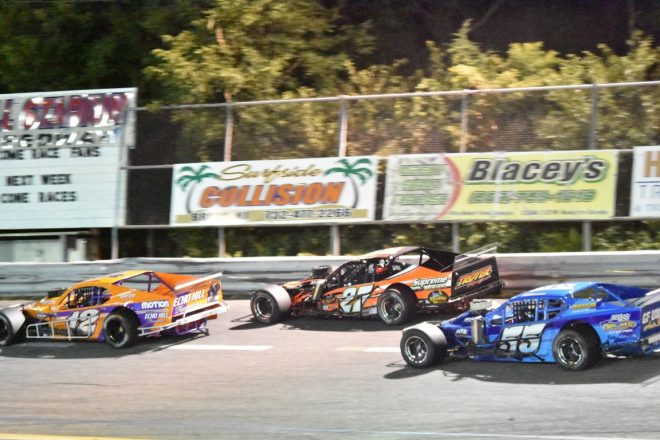 Hearne rocketed his famous family trademark No. 12 to the front at the outset but was never alone. Andrew Krause of Holmdel was the first to take a shot at the leader before Howell's Kevin Davison advanced to second and went after the leader starting on lap 12. Krause later advanced to second and went after Hearne again while former champion and current point leader Steven Reed of Jackson was always in the mix in this high speed chase. This battle for the win became even more intense thanks to several restarts due to mostly minor incidents.
At the finish Hearne's bright orange racer parked in the winner's circle while Krause, Reed, Jason's Jason Treat and Derek Hopkinson of Toms River wrapped up the top five.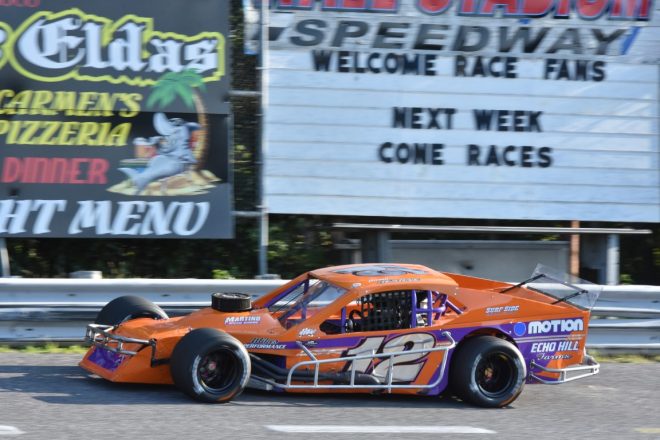 "It feels great to win again," Hearne said after the event. "Did I think I was going to win again? The way my luck has been going I didn't think I was going to finish a race again! I have to thank Jim Wolf. He has been with me in this for 20 years. Also want to thank Bob from Echo Hills Farm. He is here every race."
Jarret DiGiantomasso of Jackson raced to victory in the companion 25-lapper for the Center State Engineering Sportsman cars taking the lead with just three laps remaining. DiGiantomasso took command when early leader Tommy Martino of Farmingdale got out of shape exiting turn two involving several racers including DiGiantomasso's brother Carsten.
Wrapping up the top five at the finish were Neil Rutt III of Edison, Jackson's Shanon Mongeau, Roland DeMartino of Beachwood and Lanoka Harbor's Jonathan Laureigh.
After trying all season for a victory Alonzo Morales of Mt. Ephraim grabbed two Surfside Collision 4 Cylinder Stock main event wins Saturday night. In the first race, rain postponed from earlier in the season, Morales chased Jeffrey Loesch of Neptune City to the line. When Loesch's car failed the post race inspection Morales earned the win over Rutt, Ricky Williams, Brick's Randy Hart and Chuck McDonald of Groton, Ct.
Morales enjoyed the win in the second race as Rutt, Loesch, Ryan Maher of Neptune City, and McDonald wrapped up the top five.
Point leader Shanon Mongeau of Jackson won his sixth Mike Performance Center Limited Late Model 25-lap race of the season while Krause, Hazlet's Chris Silvestri, Andy Gamble and Jim Moorman were second through fifth.
Auto racing continues at Wall Stadium Speedway this Saturday (August 10) night. Action is slated for the Modifieds, Sportsman, Limited Late Models, Factory Stocks and 4 Cylinder Stocks. Grandstand gates open at 5:00 p.m., qualifying begins at 5:45 p.m. and features start at 7:00 p.m.
Wall Stadium is located on Route 34 in Wall Township, N.J., just one mile north of Garden State Parkway exit 98 and Interstate 195 exit 35B. The speedway hotline number is 732-681-6400 and email address is ckmotorsports@aol.com.
MODIFIED FEATURE – 40 Laps – 1. JASON HEARNE, NEW EGYPT, 2. Andrew Krause, 3. Steven Reed, 4. Jason Treat, 5. Derek Hopkinson, 6. Kevin Davison, 7. Tyler Truex, 8. Joey Merlino, 9. Kenny Van Wickle, 10. Dom Fattaruso, 11. Joey Jarowicz, 12. Nick Baer, 13. Eric Mauriello, 14. Ed Delage, 15. Ken Matlach, 16. Roger Coss, 17. Tom Catanzaro, 18 Eddie McCarthy
SPORTSMAN FEATURE – 25 Laps – 1. JARRET DIGIANTOMASSO, JACKSON, 2. Neil Rutt III, 3. Shanon Mongeau, 4. Roland DeMartino, 5. Jonathan Laureigh, 6. Kyle Scisco, 7. Jake Nelke, 8. Robert Sutphin, 9. Tommy Martino, 10. Carsten DiGiantomasso, 11. Larry Thompson, 12. Michael Rising, 13. Kenny Reaves
1ST 4 CYLINDER STOCK FEATURE – 25 Laps – 1. ALONZO MORALES, MT. EPHRAIM, 2. Neil Rutt III, 3. Ricky Williams, 4. Randy Hart, 5. Chuck McDonald, 6. Ryan Maher, 7. Darianne McLaren, 8. Nicole, Razzano, 9. Bill Schwarz, 10. Richard Smith, 11. Deanna McLaren, DQ Jeffrey Loesch
2ND 4 CYLINDER STOCK FEATURE – 25 Laps – 1. ALONZO MORALES, MT. EPHRAIM, 2. Rutt, 3. Loesch, 4. Maher, 5. McDonald, 6. Razzano, 7. Mike Lavery, 8. Hart, 9. Darianne McLaren, 10. Marko Vulsanic, 11. Cody Critelli, 12. Smith, 13. Schwartz, 14. Deanna McLaren, 15. Williams
LIMITED LATE MODEL FEATURE – 25 Laps – 1 SHANON MONGEAU, JACKSON, 2. Andrew Krause, 3. Chris Silvestri, 4. Andy Gamble, 5. Jim Moorman, 6. Michelle Moorman, 7. Mike Tillett, 8. Greg Gastelu