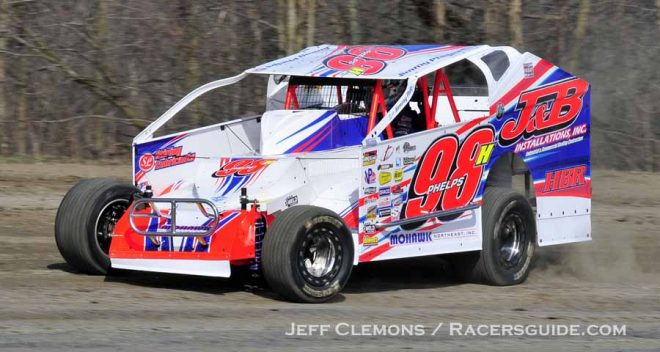 HBR Ready to Tackle Centennial Weekend
Story By: Mandee Pauch/MPR
Photo By: Jeff Clemons/RacersGuide.com
Mandee Pauch Relations – August 14, 2019 – Jimmy Phelps and the HBR team collected three-top five finished this past weekend.
The team kicked off the weekend Friday evening at Brewerton Speedway after an early rain delay.
"The track was challenging after the rain hit," Phelps said.
Phelps started fourth and made his way into second in his heat race, which lined him up on the outside of the third row for the main event.
"We had good track position," he said. "Decker started on the pole and checked out. We ran third most of the race and got passed for fourth at the line. The track was super heavy and fast from the rain and we were too tight to carry any speed. We held our own but weren't really a threat to win."
Saturday night saw the no.98h roll into Orange County Fair Speedway in preparation for the Centennial weekend at the fairgrounds.
"Went into it with an open mind to test for this coming weekend."
Saturday's event was a makeup event so the team had to qualify through a consolation where Phelps ran away with the win.
"We started 25th in first of double features," noted Phelps. "We made some good headway. Some restarts we got bounced around and lost some ground but managed to get to ninth. We got caught up in too many little messes to be able to regain track position."
The invert for the second feature had Phelps rolling off on the inside of the second row.
"We rode there for a few laps then got the lead," he said. "We had a car that was decent enough to hold our own. There was a restart with eight to go. I think the tires may have sealed up. I was on the bottom on the restart when the tires broke loose. The second-place car rolled around me and beat me into one. I feel like we gave the win away which bummed me out, but it wasn't a bad finish to the weekend."
Next up for the Heinke-Baldwin race team will be the Centennial weekend at Orange County Fair Speedway in Middletown, NY on Thursday, Friday, and Saturday.
HBR QUICK RESULTS –
Jimmy Phelps
August 9 – Brewerton Speedway; Heat: 2 (4); Feature: 4 (6)
August 10 – Orange County Fair Speedway; Consi: 1 (8); Feature 1: 4 (9); Feature 2: 2 (3)