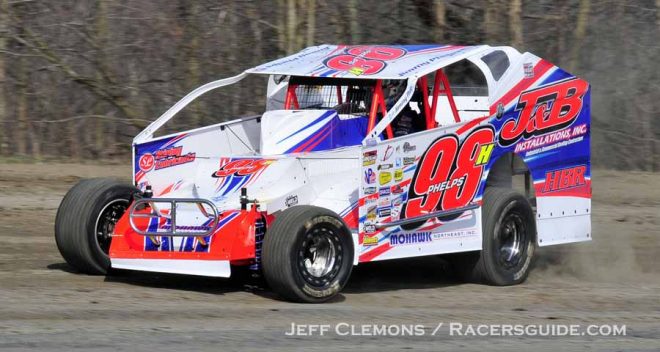 HBR Racing Recap 7.9.19
Story By: Mandee Pauch/MPR
Photo By: Jeff Clemons/RacersGuide.com
Mandee Pauch Relations – July 9, 2019 –The team was back together again for the special Super DIRTcar Series event at Land of Legends Raceway on the 4thof July.
Phelps and the No.98h teams' evening started off a little rockier than anticipated.
"We weren't terrible in hot laps," Phelps said. "I didn't think I had that bad of a car, I just did a bad job in time trials which put us deep in our heat."
Phelps started on the inside of the fourth row for his heat race and drove through to get the final transfer spot into the 100-lap main event.
"It was a weird night," he said. "We didn't feel like we were that good."
Phelps rolled off on the outside of the tenth row for the main event.
"We were struggling early on but started to make some ground up as the race went on," he added. "We got into the top five and settled for fourth. "I was almost surprised. I was praying to get to the top ten and things just started clicking. It turned out to be a decent finish."
McLaughlin and the No.6h team were off to a rough start as well Thursday evening, but were quickly able to turn it around.
"We struggled in the heat race a bit," he said. "We started on the pole and ended up third. We just barely got into the redraw."
McLaughlin's luck quickly turned around after drawing the pole position for the main event.
"We made a ton of adjustments in the feature," McLaughlin said. "We were good early. We were a little loose from the start and just got looser and looser. I had to drive it super straight. I went on to lead all 99 laps and got passed on the last lap. A little contact was made in turn one which had me drive off the backstretch a little, so I drove really hard into three trying to win a series race, drove in a little over my head, and took out the leader and myself. I made a mistake but will learn from it and be a better racer going forward."
Phelps and the No.98h team continued on to Brewerton Speedway Friday evening.
"Brewerton has been a little different this year," Phelps said. "We really don't feel like we're strong as we should be, so we've been playing and making some changes."
The team was fast right off the trailer.
"We started fourth in the heat and pulled away with the win."
The team was feeling confident heading into the main event, deciding not to make any adjustments after the heat victory.
"We started ninth and got to second and was all over the leader, then all of the sudden it was like a switch," noted Phelps. "We got free and lost any momentum we had. We went from offense to defense and held on for fourth. We weren't great at the end, but we definitely have to get that figured out. We have to make changes to stay good towards the end of the race."
On tap this week will be one lone event this Friday evening at Brewerton Speedway. With a light week ahead, the team is looking forward to freshening up their equipment for the big Super DIRTcar Series swing at the end of the month.
HBR QUICK RESULTS –
Jimmy Phelps
July 4 – Land of Legends Raceway; Heat: 4 (7); Feature: 4 (20)
July 5 – Brewerton Speedway; Heat: 1 (4); Feature: 4 (9)
Max McLaughlin
July 4 – Land of Legends Raceway; Heat: 3 (1); Feature: DNF (1)
HBR SEASON STATS –
Jimmy Phelps
16races– 1 win, 9 top five's, 13 top 10's
Max McLaughlin
3 races – 1 top five, 2 top 10's
MEDIA LINKS –
HBR
Facebook:www.facebook.com/hbrmotorsports
Twitter:www.twitter.com/HBR_Racing
Jimmy Phelps
Website:www.jimmyphelps.com
Facebook:www.facebook.com/JimmyPhelps
Twitter:www.twitter.com/jimmy_phelps
Instagram:www.instagram.com/jimmyphelps
Max McLaughlin
Website:www.maxmclaughlinracing.com
Facebook:www.facebook.com/MaxMcLaughlinRacing
Twitter:www.twitter.com/MaxMcLaughlin_
Instagram:www.instagram.com/maxmclaughlin_
APPAREL –
The HBR team has apparel available for sale at their racecar trailer during events they compete in this season.
SPONSOR SPOTLIGHT –Fragola Performance Systems
For information on Fragola, visit www.fragolaperformancesystems.com.
"We've had a really good relationship with Fragola for 10+ years," noted Phelps. "They're quality is unmatched, and they provide us with great stuff."
Phelps would also like to thankJ&B Installations, Mohawk Northeast, Teo Pro Car, Strange Oval, Winters Performance, Bob Bruneau, Simpson Race Products, VP Fuels, Fragola Performance Systems, Jones Racing Products, Wilwood, FK Rod Ends, Cobra Motorhomes, Bert Transmissions, Maxima Racing Oil, Nitro Manufacturing, DHP Products, and Arts Radiator for their continued support.
MANDEE PAUCH RELATIONS – Mandee Pauch Relations specializes in affordable public relations and media management for drivers, race teams, racetracks, businesses, sponsors, events and more. MPR provides a wide array of services that individuals in the racing industry require in order to advance in the sport.
To meet the media relations needs of your program contact Mandee Pauch at mandeepauchrelations@yahoo.com. For more information on MPR, visit www.mandeepauchrelations.com.