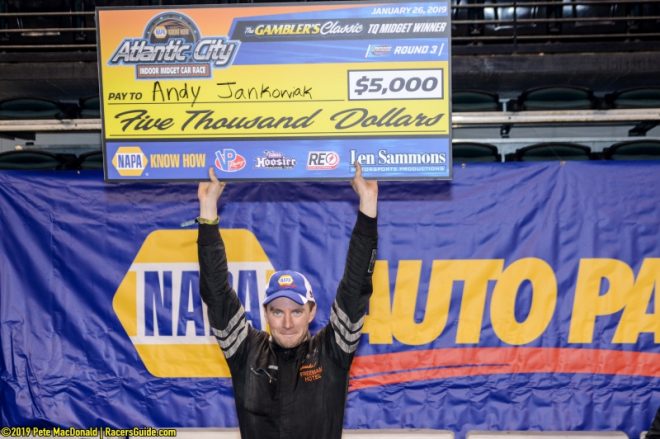 ATLANTIC CITY GAMBLER'S CLASSIC WINNER ANDY JANKOWIAK LOOKS FORWARD TO RACING IN FRONT OF HOME STATE, NEW YORK, CROWD THIS WEEKEND, MARCH 8-9, IN SYRACUSE EXPO CENTER INDOOR AUTO RACING SERIES TWO DAY FINALE; SERIES TITLE IS A DISTINCT POSSIBILITY
Story By: Ernie Saxton/Indoor Auto Racing Championship
Photos By: Pete MacDonald/RacersGuide.com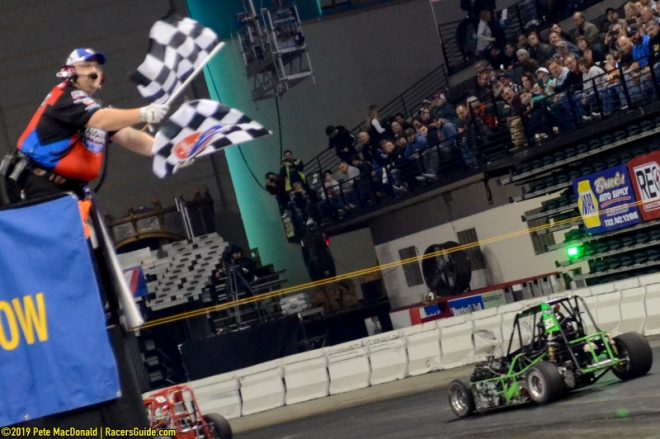 SYRACUSE, NY March 6, 2019. . . Andy Jankowiak is among the contenders for the 2019 Indoor Auto Racing Series Fueled By VP Racing Fuels championship. The Buffalo, N.Y. racer will have two shots at gaining in the standings this weekend when the series finale is held inside the New York State Fairgrounds Exposition Center in Syracuse, NY.
With feature events for the headline Three Quarter (TQ) Midgets being held on both Friday and Saturday night March 8-9 in events sponsored by RPM Raceway, Andy J. has a shot to move up to the top spot in the standings.
Though his focus is clear, to win both features and the championship, Jankowiak admits that he is still savoring the last Indoor Series race, on January 26, 2019.
That's the night in Atlantic City, N.J. he won the Gambler's Classic inside Boardwalk Hall for the first time.
"Nothing will ever take the place of winning the Gambler's Classic in Atlantic City," Jankowiak declared. "But a win in Syracuse would be almost as good. There are a lot of my friends who couldn't make the other races because they couldn't take a weekend off from their work."
This weekend will be the fourth and final fifth round of the 2019 season. On the line will be time trials, qualifying events and a 40 lap feature event both nights with the overall season champion crowned following Saturday's event.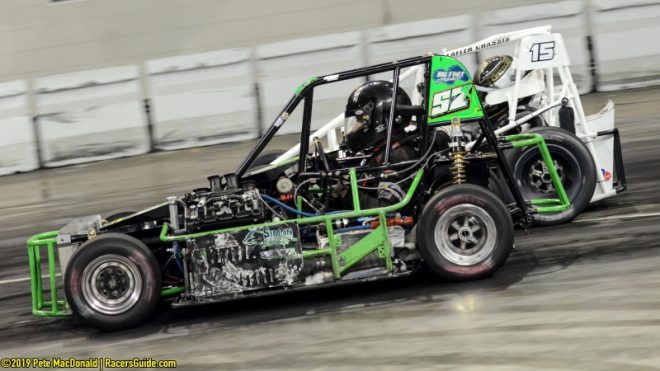 Jankowiak, 30, admits the raw excitement he felt in the Atlantic City victory was all consuming. But the opportunity to race in front of many of his racing friends in a TQ indoors for the first time is something he savors in a different way.
One person who will be at Syracuse to see Jankowiak is Vinny Christiano who is a long time Buffalo, NY area driver and car owner who gave Jankowiak his first ride in a TQ Midget.
"He put me in his car at Holland one night and I fell in love with the cars," Jankowiak, 30, said. "Vinnie and I were very successful. We won a lot of TQ races at Holland and at Lancaster. He gave me a shot and I've been racing these cars ever since."
Jankowiak has also wheeled TQ Midgets for two other legendary northwestern New York drivers and car owners, Harry Macy and John Casey.
Casey put Jankowiak in one of his cars at Holland one night. At the checkered, Andy J beat Casey's regular driver, Kyle Hutchinson. Hutchinson is a late entry in the Syracuse TQ field in Casey's car this weekend.
"I hope to be able to do well in front of all of these guys, for myself and to showcase the Series. This is one of the best deals going," the affable Jankowiak shared.
The biggest prize in Syracuse will be the crowning of the 2019 Indoor Auto Racing Series championship. North Carolina resident Ryan Flores leads the standings, with 290 after the first three races. But Flores, who works full time for Roger Penske's Ryan Blaney NASCAR Monster Energy Cup team, will not be in the Syracuse field because of his work commitment.
Erick Rudolph, Ransomville, NY, 260, and Justin Bonsignore, Holtsville, LI, NY, 239 lead Jankowiak who has 220. A maximum of 210 points are available, 100 for a feature win and five points for quick time each night, meaning that 210 markers can be picked up by any TQ competitor over the Syracuse race weekend. Non-qualifiers earn 10 points for each night, a minimum of 20 points for the weekend. Thus the most points any driver can gain is 190.
Andy J knows a lot will have to fall into place him to win the crown. "The Series title would be nice to win. I missed it by two points one year. We have been in contention but I always seem to have one bad race. The best way to win the championship is to run well both days. I have to finish better by a couple of spots in both race than (Erick Rudolph, Justin Bonsignore) do to win the Series."
Syracuse is, of course, unknown territory for all of the nearly 60 TQ drivers and teams.
"It's a new track and none of us will know how to set the car up until we practice," Jankowiak. "That doesn't bother me. The shape of the track will mean a lot. I set the car up the same way for Atlantic City this past year as I did last year for Albany and I won. Albany was a lot shorter but the turns were about the same."
Round 3 and Round 4 for the companion Slingshots and Champ Karts is also on the Syracuse card. Each of the two nights of racing will consist of complete programs as well for these two divisions.
Dr. Williams Lowe, a long-time supporter of TQ Midget racing, has posted $200 to the fast qualifier both nights. N.Y.'s Oswego Speedway, the home of SuperModified racing, has signed on to sponsor the TQ Midget heat races. The winner of each of the six Oswego Speedway heat races on both Friday and Saturday night will receive not only a spot in the A-Main but a $50 bonus. Bob Hilbert Sportswear is offering a $150 bonus to the driver that leads lap 20 during both TQ Midget feature events.
Doors open at 6 PM on Friday night with racing beginning at 7:30. Doors open at 5:30 PM on Saturday with racing at 7 PM. Fans will be able to visit the pit area to see the cars and meet the drivers each night until 30 minutes before the racing begins.
A link to purchase tickets in advance is available at www.indoorautoracing.com or calling E-Tix directly at 1-800-514-3849.
Tickets will also be available each day of the event starting at 2 PM at the Expo Box Office, but prices increase by $5 each on the days of the event. Pit passes, which do not guarantee a seat, are on sale on the backside of the building on Friday from 9 am to 2 PM and Saturday 11:30 to 2 PM. After 2 PM, pit passes will be available at the box office at the front of the building. Parking on the fairgrounds is free.
Race fans can enjoy a double header weekend at the Fairgrounds with the 33rd annual Syracuse Motorsports Expo and Trade Show being held at the Center of Progress Building. This show opens on Saturday at 10 am giving everyone plenty of time to enjoy that show then walk over to the nearby Exposition Center for the races that night. The Trade show reopens on Sunday from 11 to 4 pm.