Tim Fuller Crossed another Speedway off His Bucket List with His First-Career Win at 'The Track of Champions'
Story and Photos By: MATT NOLES / RACERSGUIDE.COM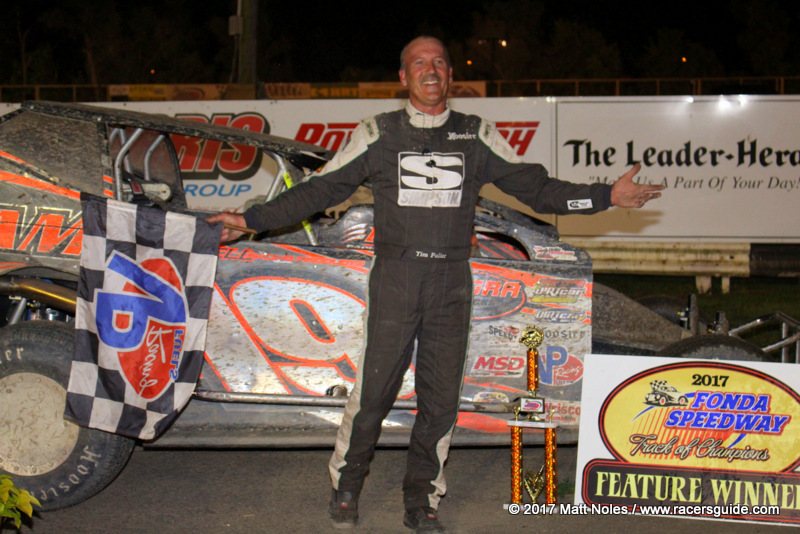 FONDA, NY- June 18, 2017- The list of drivers that have never won at the Fonda Speedway in Fonda, New York is fairly extensive to say the least.
After Saturday night's DIRTcar modified feature at the historic oval, that list became one name shorter as Tim Fuller marched to the front with rapid precision and won his first-ever feature in devastating and convincing fashion.
From the onset of the evening, the driver of the Graham Racing No. 19 seemed to be on a mission. Although he has been strong throughout the early stages of the 2017 season at the 'Track of Champions,' the puzzle pieces were yet to fall into place exactly when he needed them to; until last night that is.
"We've been coming here for so long," stated Fuller after his victory Saturday night. "We'd come here once or twice a year but we could never put it all together. We've been close and close time and time again and I knew we were running good enough to do it; we just had to wait it out."

For many in the Mohawk Valley, the very premise of Tim Fuller heading to the Montgomery county fairgrounds seemed too good to be true when the inevitable rumor mill swung into high-gear during the off season. Yet for the seasoned-veteran, the choice to join the ranks of weekly competitors was rather simplistic and easy at the same time.
"I'm here because Pete [Demitraszek] asked me to come here," Fuller explained. "When a promoter calls you three or four times during the winter, that tells me that he wants you there. Nobody else except for Canandaigua [Motorsports Park] bothered to call me so, I'm going to go where I'm wanted and I'm going to drag as many people with me as I can."
Though he's undoubtedly familiar with the subtle quirks and nuances that racing at Fonda Speedway so often requires, it still took the experienced pilot a few times around to figure out exactly what he needed to reach the checkered flag on Saturday night. It's rather safe to say that the learning curve – which was marginal at best – has been overcome as was evident by his conclusive victory over Stewart Friesen and company.
"I went out there and looked at the track before the feature and I freed the car up," explained Fuller. "It turned out to be the right thing to do because you usually don't free the car up before the feature and I don't think everybody else did. Here, you have to be able to really drive around the place and drive fast and it was a heavy race track tonight; it all worked out."
To say it worked out is a gross understatement at best. Within a mere handful of laps, Fuller had charged – and even using that word is an understatement – into the runner-up position and began to chase down then race leader Justin Boehler. When he reached the No. 50J, he blew by in what must have seemed like a flash. In short, Boehler never knew what hit him.
What's more, Fuller didn't stop there. Where many of the Fonda faithful have grown accustomed to seeing Stewart Friesen make his late-race charge, even the driver of the No. 44 didn't seem to have enough up his sleeve to chase him down. Basically – and it's a cliché saying that seems flowery and ridiculous to make most of the time – Fuller was damn near in another zip code.
The road to victory lane was certainly long – especially given the caliber of driver that Fuller undoubtedly is – and his latest career accomplishment unquestionably meant a little more than most especially given the names of champions and victors that have come before him at the half-mile facility.
"Winning here is everything," Fuller stated. "Jumpin' Jack [Johnson] was one of my heroes growing up and he's won more features here than anybody and we were really good friend throughout the last 10 or 15-years of his career; this is just one of those places that has a lot of mystique."
Like most drivers, Fuller is a student of racing history and to join the ranks of his predecessors as a winner – especially considering some of the greatest names in the sport have competed at Fonda – is something that he doesn't take lightly or for granted in any respect.
"They used to run the Cup [NASCAR Monster Energy Series] cars here," Fuller continued. "I mean David Pearson and Richard Petty have run here. It's just one of those places that has a lot of mystique to it and there aren't a lot of those places left. If you can come here and win at a place like that, it's important."
After years of trying, the proverbial 'monkey' is officially off the back of Tim Fuller where Fonda Speedway is concerned. With time being the enemy – as it is for all drivers – winning at this piece of hallowed ground quickly rose to the upper reaches of his 'bucket list.' Now, that list too has one less accomplishment that needs to be made; it's almost a sigh of relief.
"Absolutely winning here was on my bucket list," Fuller concluded. "And that's another reason why I came here other than Pete asking me to. I wanted to win here; I knew we ran well here – we ran well here every time we came here – but we just couldn't finish the deal. Now we just have to keep battling with Ronnie [Johnson] and Stew [Friesen] and see what happens. It'll be a good, tight battle and that's good for the track, it's fun for the drivers and it's good for the fans."
Matt Noles is a contributing writer for Racers Guide and Dirt Track Digest. He currently resides in Sprakers, New York and can be reached via e-mail at matt_noles@yahoo.com.