Stewart Friesen Outruns Marc Johnson and Brett Hearn to Take the Season Opener at Albany-Saratoga
Story and Photos By: MATT NOLES / RACERSGUIDE.COM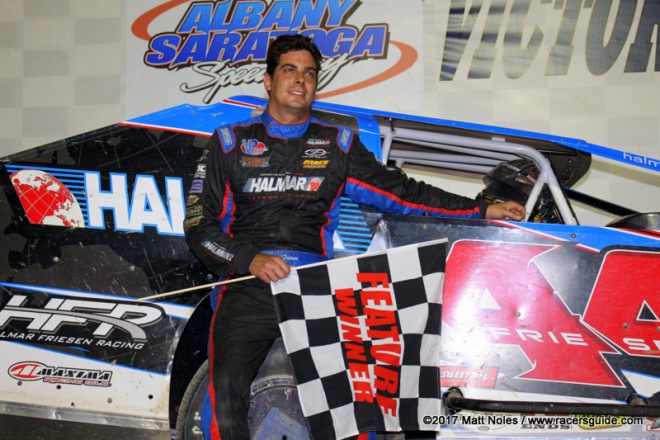 MALTA, NY- April 29, 2017- Winning can best be summarized into two categories; it's never easy and it never seems to get old.
Though Stewart Friesen has been making winning races look extremely easy for the better part of the past decade, Friday night told a different tale as the Sprakers, New York resident had to hold off both Marc Johnson and Brett Hearn while dealing with heavy lapped-traffic on his way to victory lane Friday night at the Albany-Saratoga Speedway.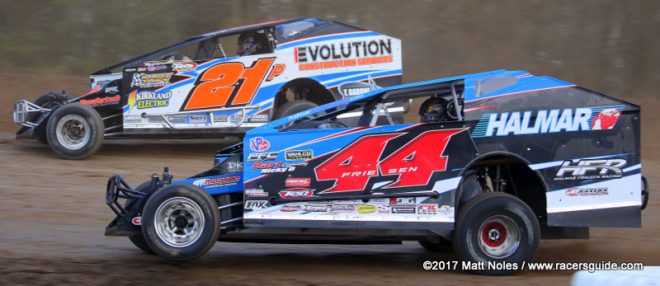 Friesen, who collected six wins at the Saratoga County oval in 2016, wasted no time getting to the lead early on in the 35-lap modified feature. Where it's usually smooth sailing for the Canadian import, on this night, it was anything but.
"Lapped traffic made it really exciting tonight," said Friesen in victory lane. "I was just trying to keep my nose clean while those guys were battling just as hard for their spots as we were up front. I knew having Marc [Johnson] and Brett [Hearn] behind me, I had to get passed them as quick as I could. We got lucky; we got into a little bit of wheel-rubbing with a couple of guys but for the most part we came out unscathed."
With a hectic schedule, one that includes racing on pavement as well as dirt, Friesen never seemed to skip a beat as the Halmar sponsored entry was undeniably fast from the onset of the evening.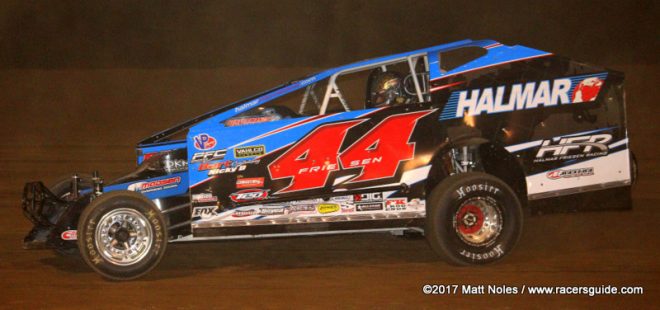 "We went back to our notebook from last year," He commented. "We tweaked on the car a little bit over the winter and got the motor running a little bit better and as you can see from tonight, our work is paying off."
The Ontario native has won races from the front row and, in turn, from the last row. However, if given the choice, good starting position trumps the opposite any day of the week. "I don't know how much starting position played into tonight but it definitely helps," Friesen continued. "I mean, all of the big players are right there. Once I got to the front I kept on seeing Brett's nose and then Marc would get back to second and he'd be there; I was just trying to play a game of chess really."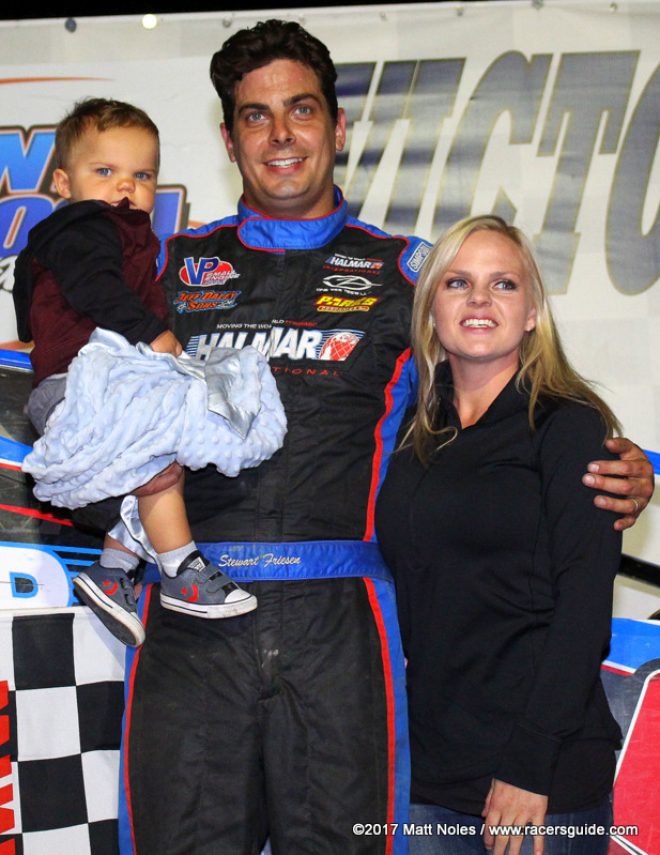 If there's one thing that can be said for Stewart Friesen it's this; he handles pressure like a champion should; which, truth be told, is a good character trait to have because pressure came in spades tonight for the driver of the familiar No. 44 modified.
"I felt quite a bit of pressure and it was a long race," Friesen said. "Those cautions were tough especially when we went single-file. At one point I was coming off of turn four and I could see the back of the field in turn one under caution. It was pretty crazy."
With over 100 modified victories over the past five or so years, one would almost have to wonder if winning ever gets old. For Friesen the answer is unequivocally, and unmercifully no; absolutely not.
"Winning never gets old," He concluded with a laugh. "We're going to go back to the shop, unload the car and get ready for the next one. We'll be back here next Friday to see if we can do it again."
Matt Noles is a contributing writer for Racer's Guide and Dirt Track Digest. He currently resides in Sprakers, New York and can be reached via e-mail at matt_noles@yahoo.com.