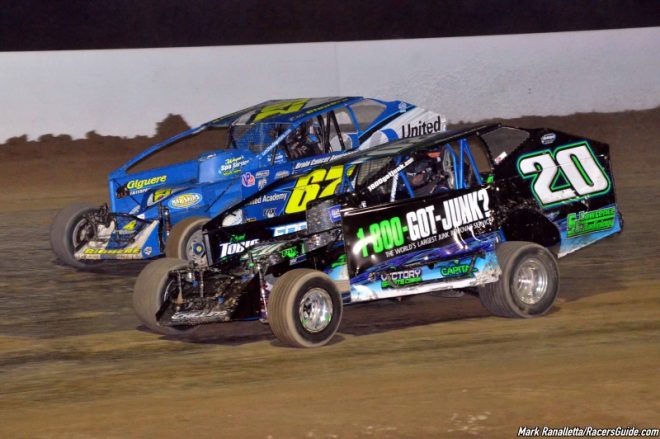 DIRTcar Sportsman Coming to Weedsport Speedway Five Times in 2019
Story By: Dan Kapuscinski/Weedsport Speedway
Photos By: Mark Ranalletta/RacersGuide.com
WEEDSPORT, NY (April 9, 2019) – The ultra-competitive DIRTcar Sportsman division will visit Weedsport Speedway on five different occasions in 2019, including two DIRTcar Sportsman Series tour stops on July 2 and October 9.
All Sportsman events at Weedsport will once again pay a minimum of $1,000 to win with $100 to start.
A vital component of the Weedsport Speedway schedule for several years, the DIRTcar Sportsman will make their first stop on Monday, May 27 alongside the Super DIRTcar Series Big Block Modifieds and the CRSA Sprints as part of Heroes Remembered Weekend.
The May 27 main event will serve as a tune-up for the 6th annual Sportsman Classic 75 presented by Stirling Lubricants and Champion Racing Oil on Tuesday, July 2. The annual DIRTcar Sportsman Series stop will see a lucrative $2,500 paycheck handed out to the winner of this crown jewel Sportsman event.
The Sportsman will again be paired with the Super DIRTcar Series Big Block Modifieds on Hall of Fame Weekend on Saturday, July 28 presented by Coca-Cola of Northern New England.
The Sunday, August 11 ESS Legends Reunion powered by Pit Stop Convenience Stores will feature the winged ESS Sprint Cars along with the DIRTcar Sportsman's fourth main event of the year.
The 2019 racing calendar will draw to a close on Wednesday, October 9 for the Super DIRT Week Kick-Off Party as the DIRTcar Sportsman Series returns to compete on the same card as the DIRTcar 358-Modified Series.
While the season concludes on October 9, it officially starts on Sunday, May 19 with the season opening A-Verdi Storage Containers Empire State Challenge, which will be a day-long event to open 2019.
A special mid-way concert will take place beginning at 5 p.m. featuring local Classic Rock & Country music band, "Chasing Neon." The mid-way performance will run through 6:30 p.m.
The CNY Chevy Dealers Pavilion will be open through the afternoon with hot food and cold beer to help jump start the season at The Port.
Camping and tickets are currently available online at www.weedsportspeedway.com. Click on the "Tickets" tab at the top of the screen to learn more.
The Stirling Lubricants/Champion Racing Oil Modified Series will join the World of Outlaws on Sunday, May 19 for a fast-paced one-two punch. The mighty Modifieds will compete for a $3,000 top prize during the Empire State Challenge with a $500 358-Modified bonus on the line.
The Stirling Lubricants/Champion Racing Oil Modified Series will feature a total of six events in 2019, with a $2,000 prize going to the overall series champion following the September 2, Labor Day 100.
For a full 2019 schedule and Weedsport Speedway information be sure to visit online at www.weedsportspeedway.com. Fans can also FOLLOW on Twitter @WeedsportSpdwy and LIKE on Facebook at www.facebook.com/weedsportspeedway.
Interested in seeing your company listed in our press releases, or being placed on 'PortVision'? Be sure to call the Weedsport Speedway office at (315) 834-3067 for sponsorship and advertising information.
About Weedsport Speedway: Officially opened for the first time on July 24, 1955 – the Weedsport Speedway 3/8 mile dirt oval has produced a legendary list of drivers and champions including Will Cagle, Danny Johnson, Bob McCreadie, Alan Johnson, Jack Johnson, and Dave Lape to name a few. In 2018, Weedsport introduced the all-new Weedsport Kartway, just outside of the Speedway's main pit area, to begin to foster the next generation of racers, crew members and race fans. Together, Weedsport Speedway and Kartway are excited to bring fans and followers a schedule of 15 racing events in 2019, hosting everything from Karts and Sprint Cars, to Late Models and Modifieds, Pro Stocks and Micro Sprints, even Flat Track Motorcycles. Couple the racing with state-of-the-art camping and track amenities, unmatched on-site television production capabilities, plus the ability for large scale concert productions and Weedsport is one of the marquee entertainment venues in the country.