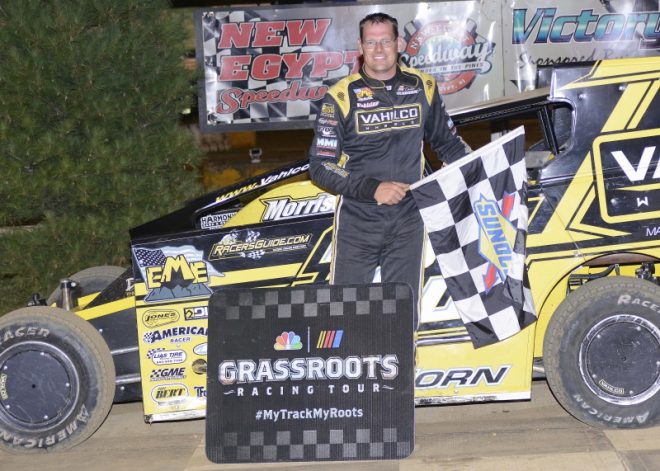 David VanHorn Blitzes the Field on Youth Football Night at NES
Story By: Pete Wortman/New Egypt Speedway
Photos By: Doug Rothermel
New Egypt, NJ – (July 27, 2019) David VanHorn of Ringoes, NJ won his second Vahlco Wheels Modified feature event of the season on Eastern Auto Parts Warehouse Youth Football Night Saturday at New Egypt Speedway. The 2018 Modified champion, DVH charged to the front quickly and never looked back as he recorded his 8th career victory in the 30 lap non stop event, which was completed in just 9 minutes and 14 seconds.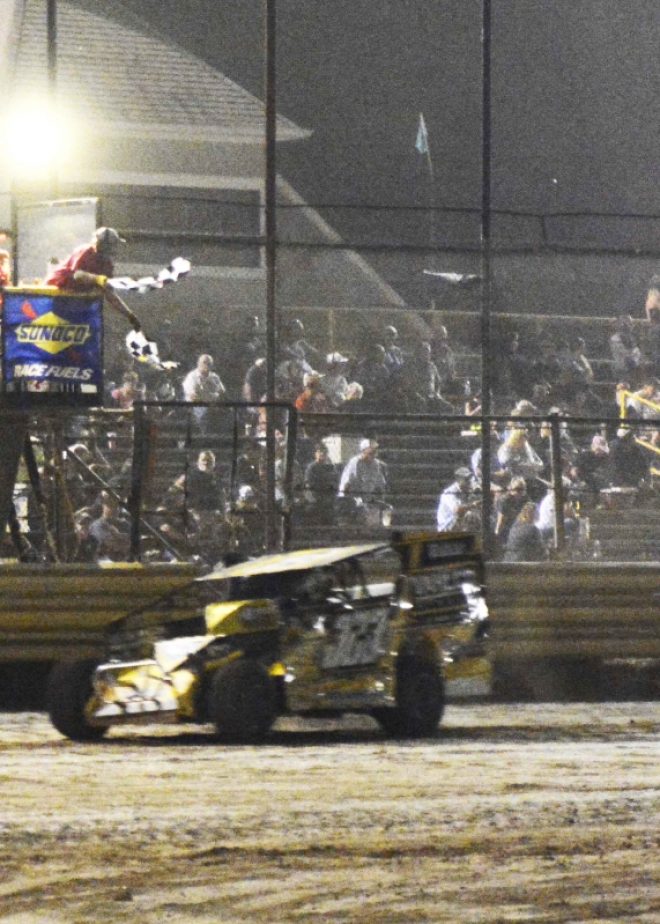 "I have to thank the guys up at DKM Fabrication, This car was on rails tonight!", stated an elated VanHorn in victory lane, "I also want to thank my Dad for all of his help and Fred Vahlsing for giving me the opportunity to drive this car and all of his support"
JR Fulper and Pat Wall brought the field to the green flag with Fulper taking command. This was short lived as Wall drove under Fulper on lap 3 to take over the lead. Wall had his #5w glued to the inside guardrail as he tried to open up a little breathing room on the field. Danny Bouc, who started in fifth, was on the move racing into second on lap 5. Meanwhile VanHorn was charging thru the field using the top groove and was suddenly in third closing in on the leaders. Before Bouc could mount a serious challenge on Wall for the lead, DVH flew by on the outside sweeping to the front. Bouc quickly switched to the outside and followed VanHorn by Wall and into second. Bouc set his sights on reeling in VanHorn, however this was not to be as VanHorn's #323 drove off into the night, while Bouc did everything he could to keep pace. With just 10 laps remaining lapped traffic came into play, but DVH handled it masterfully and cruised to the victory. Bouc settled for a solid and well-earned second place finish. Point leader Billy Pauch Jr. marched thru the field from his 13th starting position to come home third, Pat Wall used the inside groove to perfection finishing fourth and Mike Butler, who fell back in the pack early, came on strong late to finish in the top five.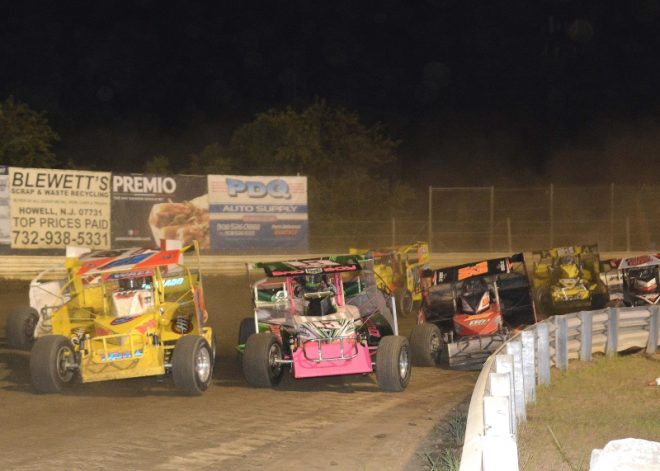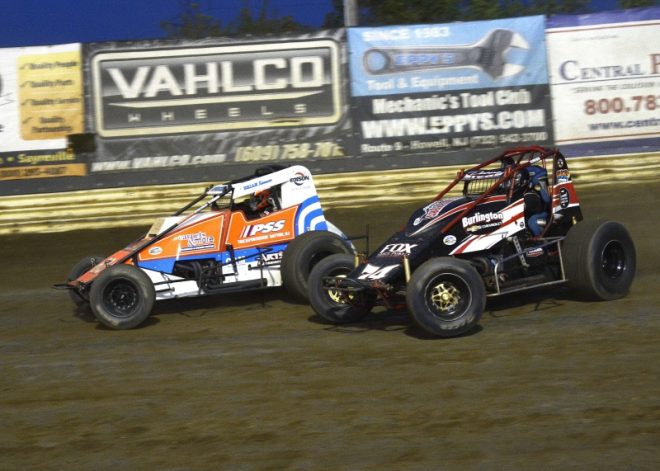 Rich Mellor of North Hanover Twp., NJ padded his point lead by scoring his 5th victory of the season in the Larry's Hot Rods and Harley's Northeast Wingless Sprint cars. Mellor took the lead before the halfway point of the 20 lap event and drove to his 7th career win. Brian Spencer came home second in his new car, followed by Heidi Hedin, Duane Nixon and John Brammell.
David Burns of Flemington, NJ was victorious in the Hammer Sportsman 20 lap feature event, as he led his car owner and teammate Marty Resnick for most of the event when the races only caution flew on the final lap. Burns kept control on the restart and scored his first win of 2019. Three-time champion Bob Lineman Jr. grabbed second on the final turn as Resnick settled for third. JT Trstensky and Art Liedl rounded out the top five.
Brian Spencer outdueled point leader Billy Liedtka in just his second start for the 15 lap Street Stock victory. Spencer raced side by side with Liedtka over the final laps, beating the all-time leading Street Stock winner by a bumper at the stripe. Todd Dige finished third in his first time out this season, followed by Billy Wroble and Jim Avery.
Next week Sat. night August 3rd, it is Scout night & Jeep Night 2 at New Egypt Speedway. All Scouts in uniform will get in for free & everyone who brings their Jeep will receive ½ price general admission and there will be a Jeep parade on the track at intermission. The Vahlco Wheels Modifieds will once again headline the event, and they will be joined on the track by the Larry's Hot Rods & Harleys NEWS Sprint Cars, the Crate Modifieds and the Mike's Performance Center 4-cylinders. Gates will open at 5pm, with warm-ups at 6pm and the first race taking place at 7pm.
New Egypt Speedway Results
Eastern Auto Parts Warehouse Youth Football Night
7/27/2019
Vahlco Wheels MODIFIEDS
Feature (30 laps): 1. David VanHorn 2. Danny Bouc 3. Billy Pauch Jr. 4. Pat Wall 5. Mike Butler 6. Brian Papiez 7. John McClelland 8. Ryan Krachun 9. Brandon Grosso 10. JR Fulper 11. Davey Sammons 12. Rich Rutski 13. Blaine Bracelin 14. Cale Ross 15. PJ Oliver 16. TJ Lilly 17. Bob Rambone 18. Billy Osmun
Heat Winners: JR Fulper, PJ Oliver
Northeast Wingless SPRINTS (NEWS):
Feature (20 laps): 1. Rich Mellor 2. Brian Spencer 3. Heidi Hedin 4. Duane Nixon 5. John Brammell 6. Al Cheney 7. Ken Nealls 8. Brad Schaale 9. Eric Degler 10. Larry Drake 11. Chace Leahy
Heat Winner: Rich Mellor
Hammer SPORTSMAN
Feature (20 laps): 1. David Burns 2. Bob Lineman Jr. 3. Marty Resnick 4. JT Trstensky 5. Art Liedl 6. Steve Davis 7. Jim Housworth 8. Will Trstensky 9. Joseph Brown 10. Will Dupree 11. Joe Nappi 12. John Criscione 13. Ryan Heim 14. Jimmy Amato 15. Jake Roveda 16. Kevin Borden 17. Matt Luzi
DNS: Jim Hawkes
Heat Winners: JT Trstensky, David Burns
STREET STOCKS
Feature (15 laps): 1. Brian Spencer 2. Bill Liedtka 3. Todd Dige 4. Billy Wroble 5. Jim Avery 6. Joe Reid 7. Vern McLaughlin 8. Marty Derr 9. Dennis Seeley 10. Chris Felber 11. John Bromme 12. Sean Wall 13. Doug Debray