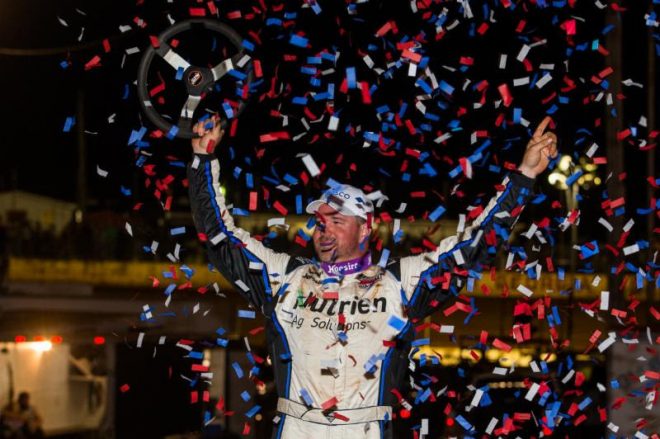 Davenport Rules North Georgia
Story By: Jeremy Shields/LOLMDS
Photo By: Heath Lawson/LOLMDS
CHATSWORTH, GA (April 6, 2019) – The Lucas Oil Late Model Dirt Series returned to North Georgia Speedway for the first time since 2009 on Saturday night. Jonathan Davenport conquered the red clay oval for his fourth victory of the season.
Davenport took control on lap 20 by darting under race leader David Payne. Davenport then led the rest of the way for a convincing victory in front of his home-state crowd. With the win, Davenport maintains his championship point lead.
Payne set the Miller Welders Overall Fast Time and went on to win the third heat, putting him on the front-row outside of Josh Richards for the 50-lap main event. Payne led the first 19 laps of the race until Davenport slid under him heading into turn three on lap 20. Payne then ran second to Davenport before he suffered a flat left rear tire on lap 25 forcing him to pit. Devin Moran picked up the chase for the lead and challenged Davenport several times before fading.
Tyler Erb; who entered the event second in points to Davenport; then moved into the runner-up position. Erb was attempting to track down Davenport but on lap 37 he hooked the cushion and spun to a stop, forcing a caution flag.
The final caution of the race came on lap 42. In the closing laps, Davenport pulled away from the Clint Bowyer teammates, Don O'Neal and Josh Richards to score the win. O'Neal had his best finish of the year by taking second with Richards finishing third. Moran and Earl Pearson Jr. completed the top five.
Davenport was jubilant in victory lane before an appreciative crowd. "I was kind of glad to see a few of those cautions. I was needing a water break," Davenport said jokingly. "I have never won a late model race here. This is so fun to come back to almost my hometown crowd and get this win. I grew up just an hour-and-a-half from here. My crew chief is Jason Durham, this is a big win for him as well. This is basically his home track."
"I didn't think we could get it done," Davenport added. It was cool to race with David [Payne]. I grew up racing against him and us battling for the lead was pretty great. He had a good car until he had that flat. I drove a line I had never really driven here before. I have seen so many guys passed coming off turn four here. I moved around enough to where I could get comfortable out there."
O'Neal, who moved into second on lap 39, was happy with his podium finish. "Man, we need a win bad. After last night it feels good to run up front like that. It was a good night for the Bowyer cars running second and third. The track slowed down after a while. Josh slid under me once and I got back around him. We needed to build some momentum heading into next weekend."
Richards started on the pole but fell back significantly as he nearly spun in turn four on the opening circuit. "I was trying to get the lead. I drove it into three and it nearly got away from me. Jonathan and Don did a great job. Like Don said, it was a good night for Clint Bowyer Racing."
The winner's Lance Landers Motorsports-owned Longhorn Chassis is powered by a Cornett Racing Engine and sponsored by: Nutrien Ag Solutions, ASC Warranty, Penske Racing Shocks, Valvoline, Mega Plumbing of the Carolinas, and Spartan Mowers.
Completing the top ten were Hudson O'Neal, Billy Moyer Jr., Tim McCreadie, Tyler Erb, and Will Roland.
Lucas Oil Late Model Dirt Series
Race Summary
Saturday, April 6, 2019
North Georgia Speedway – Chatsworth, Ga.
Miller Welders Time Trials
Fast Time Group A: Ross Bailes 12.260 seconds
Fast Time Group B: David Payne 12.236 seconds (overall)
Penske Race Shocks Heat Race #1 Finish (10 Laps, Top 4 Transfer): Josh Richards, Don O'Neal, Billy Moyer Jr, Michael Page, Andrew Littleton, Brandon Overton (DNF), Ross Bailes (DNF), Jason Jameson (DNF)
FK Rod Ends Heat Race #2 Finish (10 Laps, Top 4 Transfer): Dale McDowell, Devin Moran, Hudson O'Neal, Shanon Buckingham, Kyle Bronson (DNF), Dalton Polston (DNF), Arva Brooks (DNF), Lamar Haygood (DNF)
Simpson Race Products Heat Race #3 Finish (10 Laps, Top 4 Transfer): David Payne, Tim McCreadie, Jacob Hawkins, Aaron Ridley, Stormy Scott, Jimmy Owens, Kurt English, Justin Shipley
Lucas Oil Products Penetrating Oil Heat Race #4 Finish (10 Laps, Top 4 Transfer): Jonathan Davenport, Tyler Erb, Ryan King, Earl Pearson Jr, Cla Knight, Ahnna Parkhurst, Will Roland
Lucas Oil Products Red "N" Tacky Spray Grease B-Main #1 Finish (12 Laps, Top 3 Transfer): Jason Jameson, Andrew Littleton, Kyle Bronson, Brandon Overton (DNS), Dalton Polston (DNS), Ross Bailes (DNS), Arva Brooks (DNS), Lamar Haygood (DNS)
FAST Shafts B-Main #2 Finish (12 Laps, Top 3 Transfer): Stormy Scott, Cla Knight, Will Roland, Ahnna Parkhurst, Justin Shipley, Jimmy Owens (DNS), Kurt English (DNS)
Lucas Oil Feature Finish (50 Laps):
| | | | | | |
| --- | --- | --- | --- | --- | --- |
| FINISH | START | CAR # | DRIVER NAME | HOMETOWN | EARNINGS |
| 1 | 4 | 49 | Jonathan Davenport | Blairsville, GA | $13,100 |
| 2 | 5 | 5 | Don O'Neal | Martinsville, IN | $6,300 |
| 3 | 1 | 14 | Josh Richards | Shinnston, WV | $4,300 |
| 4 | 7 | 1M | Devin Moran ® | Dresden, OH | $3,550 |
| 5 | 16 | 1 | Earl Pearson, Jr. | Jacksonville, FL | $3,050 |
| 6 | 11 | 71 | Hudson O'Neal | Martinsville, IN | $2,500 |
| 7 | 9 | 21JR | Billy Moyer, Jr. | Batesville, AR | $2,200 |
| 8 | 6 | 39 | Tim McCreadie | Watertown, NY | $2,000 |
| 9 | 8 | 1T | Tyler Erb ® | New Waverly, TX | $1,900 |
| 10 | 22 | 22R | Will Roland | Jasper, GA | $1,100 |
| 11 | 21 | 40B | Kyle Bronson | Brandon, FL | $1,775 |
| 12 | 12 | 1Gk | Ryan King | Seymour, TN | $1,050 |
| 13 | 23 | 20 | Jimmy Owens | Newport, TN | $1,825 |
| 14 | 2 | 8P | David Payne | Murphy, NC | $1,000 |
| 15 | 10 | 8 | Jacob Hawkins | Fairmont, WV | $1,000 |
| 16 | 3 | 17m | Dale McDowell | Chickamauga, GA | $1,000 |
| 17 | 18 | 2s | Stormy Scott | Las Cruses, NM | $1,000 |
| 18 | 14 | 81R | Aaron Ridley | Chatsworth, GA | $1,000 |
| 19 | 19 | 87a | Andrew Littleton | Dalton, GA | $1,000 |
| 20 | 15 | 50 | Shanon Buckingham | Morristown, TN | $1,000 |
| 21 | 13 | 18x | Michael Page | Villa Rica, GA | $1,000 |
| 22 | 17 | 12J | Jason Jameson ® | Lawrenceburg, IN | $1,700 |
| 23 | 20 | 42 | Cla Knight | N. Augusta, SC | $1,000 |
| 24 | 24 | 00 | Dalton Polston | Lithia Springs, GA | $1,000 |
Race Statistics
Entrants: 31
Lap Leaders: David Payne (1-19); Jonathan Davenport (20-50)
Wrisco Feature Winner: Jonathan Davenport
Margin of Victory: 1.097 seconds
Cautions: Jason Jameson (Lap 6); Stormy Scott (Lap 17); Aaron Ridley (Lap 20); Ryan King (Lap 21); Jacob Hawkins (Lap25); David Payne, Jimmy Owens, Ryan King, Will Roland (Lap25); Tyler Erb (Lap 37); Jacob Hawkins (Lap 38); Kyle Bronson (Lap 39); Jimmy Owens (Lap 42)
Series Provisionals: Jimmy Owens
Miller WeldersFast Time Provisionals: Dalton Polston
Optima Batteries Hard Charger of the Race: Will Roland (Advanced 12 Positions)
Midwest Sheet Metal Spoiler Challenge Point Leader: Jonathan Davenport
Allstar Performance Power Move of the Race: Tyler Erb
Sunoco Race for Gas Highest Finisher: Don O'Neal
Eibach Springs Rookie of the Race: Devin Moran
COMP Cams Engine Builder of the Race: Cornett Racing Engine
Ohlins Shocks Chassis Builder of the Race: Longhorn Chassis
Outerwears Crew Chief of the Race: Jason Durham (Jonathan Davenport)
Dirty Girl Racewear Fastest Lap of the Race: David Payne (Lap #3 – 12.483 seconds)
Hot Rod Processing Tough Break of the Race: Shanon Buckingham
STEEL-IT Most Laps Led: Jonathan Davenport (30 Laps)
PFC Brakes Pole Award: Josh Richards
Time of Race: 47 minutes 34 seconds