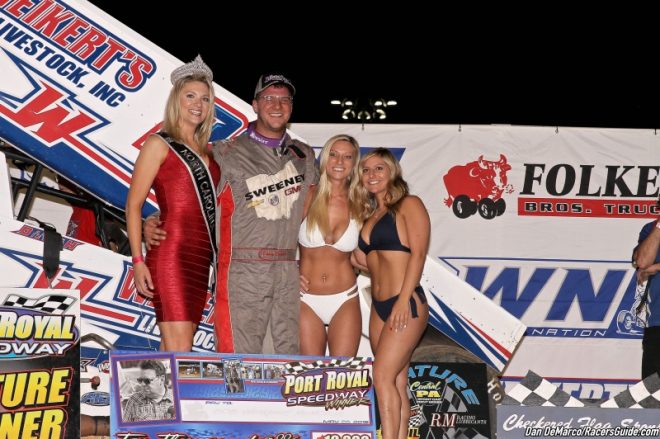 DANNY DIETRICH PARKS THE WEIKERT #29 IN VICTORY LANE DURING NIGHT 1 OF THE THE BOB WEIKERT MEMORIAL

Story By: Justin Snyder/Port Royal Speedway
Photos By: Dan DeMarco/RacersGuide.com
PORT ROYAL, Pa- On a weekend where honoring legendary car owner Bob Weikert was the main attraction at Port Royal Speedway, it was only fitting that a famed Red, White and Blue Weikert's Livestock #29 would be sitting in victory lane to close out the night.
"I think old Bob is probably up there smiling tonight," said Todd Weikert, son of the National Sprint Car Hall of Famer owner. "He lived for seeing that #29 in victory lane."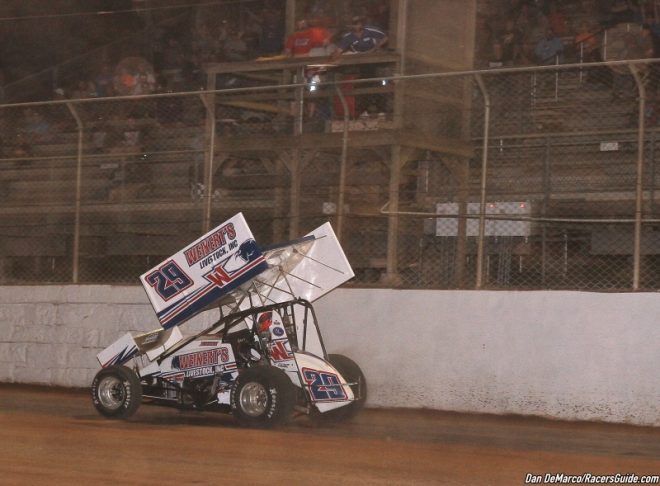 Danny Dietrich, driving a tribute Weikert paint scheme #29 different from his normal #48, fought off Logan Wagner in a fierce battle to claim 10 thousand dollars, plus $1,500 in bonus money in night one of the Memorial Day weekend tradition and the Steer Head trophy that comes with it.
"That trophy right there is what it's all about, " beamed Dietrich, of Gettysburg. "We been wanting to get one of those things for years and we finally pulled it off."
But it wasn't easy. Not only did he have to get by and hold off Wagner, but incoming rain showers were threatening to halt racing action.
Wagner and Dietrich led the field to the green flag after fast qualifier and high point man of the night Ryan Smith drew a 3 invert prior to the feature event.
Wagner, the Weikert's Livestock 410 Series defending point champion and current speedway points leader jumped out to the early lead with Dietrich in tow. Lucas Wolfe moved into 4th from his fifth starting position coming out of turn 2 on the opening circuit and briefly slid into third before settling into 4th at the flag stand.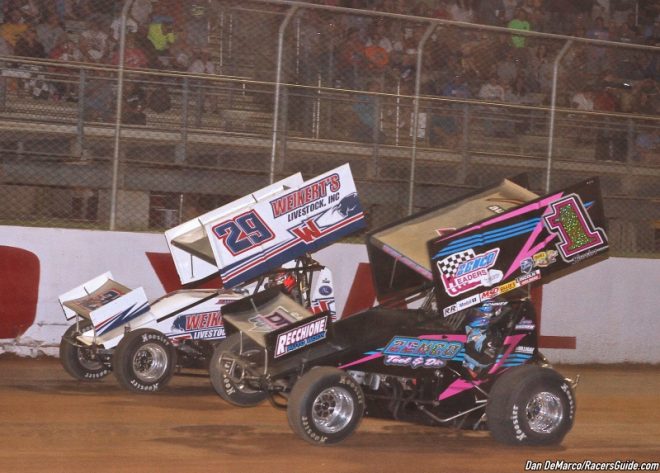 Within three laps, Wagner had built up a 1 second lead and was cruising around the top of the speedway. He would nearly double that distance over Dietrich before entering lap traffic on lap 7. This allowed Dietrich to cut the distance in half.
However, Wagner was slicing his way through lap traffic with ease and he continued to halt any momentum Dietrich could make by putting the lap cars between himself and Dietrich on the top of the speedway.
It appeared that it was smooth sailing for Wagner, but Tyler Bear came to a stop on the front stretch on lap 20, wiping out a 1.213 second advantage and bunching the front runners together to take their shots at claiming victory.
And you wouldn't know it from how fast he looked, but Wagner was having issues as well. A broken rear shock sustained early in the feature on his famed Zemco Sprint Car was giving him fits, making the car hard to hold onto at times.
On the restart, Dietrich slid through the middle of turns 1 and 2 to grab the early lead. But Wagner, with a head of steam, pulled alongside Dietrich entering turn 3 and attempted to slide back under him coming out of turn 4. The pair drag raced to the line with Wagner holding a narrow advantage at the flag on lap 21.
Once again, the pair exchanged the lead in turn 3 and 4 the following lap, with Dietrich pulling a slide job on Wagner. However, Wagner crossed back under Dietrich to once again claim the lead by the slightest of margins at the flag stand with 8 laps to go.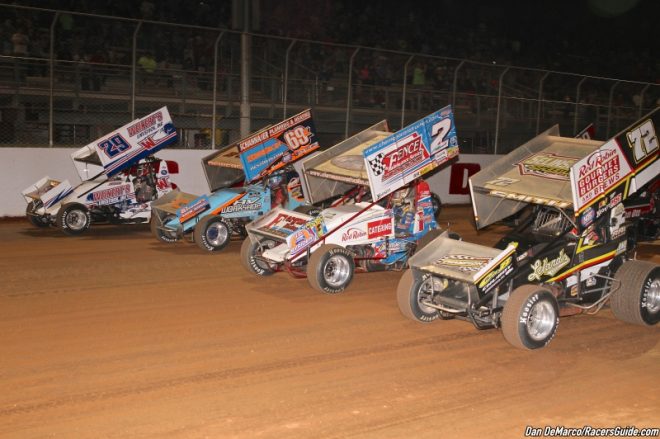 It looked as if fans were going to be treated to a 4-car battle as Ryan Smith and Lance Dewease had closed in on the pair with the 2 cars swapping the lead, however racing was once again stalled on lap 23 when Tyler Reeser blew a right rear tire on the front stretch and Dan Shetler also came to a stop.
Still feeling the conditions of the broken shock, Wagner attempted to move down the track as green flag action returned. He would once again jump out to the lead, but Dietrich capitalized a lap later and made the winning pass in turns 3 and 4, using the bottom to take momentum from Wagner and hold the lead.
That was all he needed. Over the remaining 6 laps, Dietrich would build up a 1.4 second lead at one point and would cross the finish line with a 1.382 second advantage over Wagner to claim the coveted trophy.
"We been running this place a little more this year and it was all to be able to win that Bull," said Dietrich in victory lane. "This is a dream come true and man is this just great!"
A dejected Wagner settled for second and set his sights on night 2 of the event.
"I broke a left rear shock, so I was cruising around there with three shocks and what was left there hanging on the frame," said Wagner. "We did all we could to hold him off for 20 laps and I hated to see those cautions."
"We'll get 4 shocks on it for tomorrow and we'll give it another go and see if we can't be sitting one spot higher tomorrow night."
Smith, Dewease and Wolfe completed the top 5 with Anthony Macri, Ryan Taylor, Tj Stutts, Jared Esh and Mike Wagner filling out the top 10.
Rain started to fall following the completion of the 410 Sprint Car feature event, forcing speedway officials to move the 5 thousand to win River Valley Builders Super Late Model featre event to the beginning of Sunday's finale.
Sprint Car Results- 1. Danny Dietrich 2. Logan Wagner 3. Ryan Smith 4. Lance Dewease 5. Lucas Wolfe 6. Anthony Macri 7. Ryan Taylor 8. TJ Stutts 9. Jared Esh 10. Mike Wagner 11. Blane Heimbach 12, AJ Flick 13. Dylan Cisney 14. Rick Lafferty 15. Tony Fiore 16. Joey Hershey 17. Trenton Sheaffer 18. Adrian Shaffer 19. Kody Lehman 20. Tyler Reeser 21. Dan Shetler 22. Freddie Rahmer 23. Steve Buckwalter 24. Tyler Bear