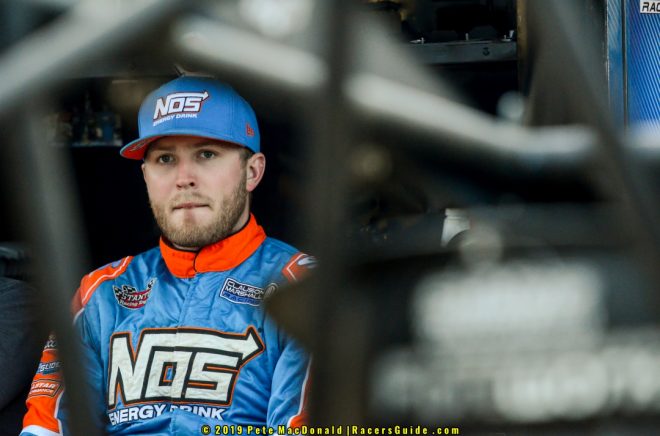 COURTNEY SETTING USAC RECORDS IN DREAM 2019 SEASON
Story By: Richie Murray – USAC Media
Photos By: Dan DeMarco & Pete MacDonald/RacersGuide.com
Speedway, Indiana (November 5, 2019)………Tyler Courtney's 2019 USAC season has been a memorable one on numerous fronts, not the least is the number of wins he's collected as the tour moves into November and the final month of the racing year.
Entering this week's Budweiser Oval Nationals presented by All Coast Construction at California's Perris Auto Speedway on Nov. 7-8-9, Courtney has already garnered 16 total USAC National feature victories – once in Silver Crown, seven times in the AMSOIL National Sprint Cars and eight instances in the seat of a NOS Energy Drink National Midget.
Courtney's total, thus far, has placed him in the upper echelon of USAC's greatest individual seasons. And, with that, 11 National events (6 Midget, 5 Sprint) over the next handful of weeks remain, providing him an opportunity to chase down J.J. Yeley's record of 23 National wins in 2003 if he catches figurative fire and blitzes through the month.
The Indianapolis, Ind. native's 16 wins ranks as the eighth most prolific season, in terms of victories, the series has ever seen, equaling the defending AMSOIL National Sprint Car champion with Rich Vogler's 11 Midget and 5 Sprint win campaign of 1978.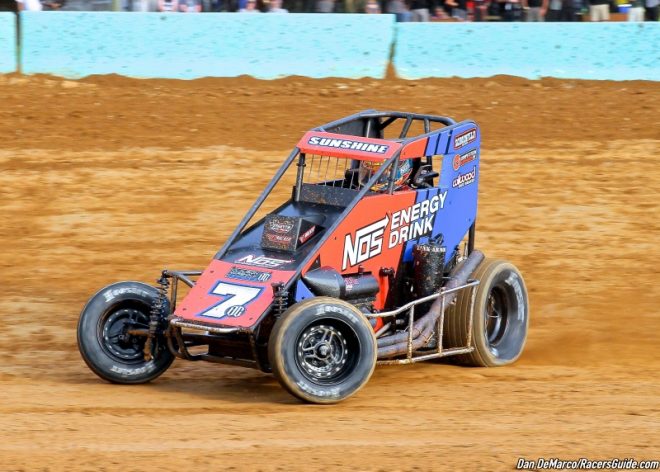 Additionally, Courtney became just the fifth driver to win at least 15 USAC National races and win in at least three National divisions in a single season, joining A.J. Foyt (1961-64), Parnelli Jones (1964), Jay Drake (2000) and Yeley (2003).
Courtney remains the lone driver to pick up wins in all three USAC National divisions in 2019 with an historic victory during May's Hoosier Hundred in Silver Crown competition, plus Midget wins twice in Ocala, Fla., and once each at Kokomo, Ind., Granite City, Ill., Bloomington, Ind., Fairbury, Neb., Ohio's Eldora Speedway and at Haubstadt, Ind. Plus, he tallied sprint scores thrice at Eldora, and singularly at Port Royal, Pa., Plymouth, Ind., Terre Haute, Ind. and Kokomo, Ind.
Up next for him to tackle are the Nov. 7-8-9 Oval Nationals at Perris with the Sprint Car, then doubling in both the midget and sprint for two-straight nights at Arizona Speedway in San Tan Valley for the 52nd Western World Championships presented by San Tan Ford on Nov. 15-16, which concludes the sprint season where he enters trailing point leader C.J. Leary by 47 points.
Following that, it's all about California sunshine and midget racing as the inaugural Elk Grove Ford Hangtown 100 commences on Nov. 19-20 at California's Placerville Speedway, followed by a stop at Bakersfield Speedway for the November Classic on Nov. 23 and the midget season closer, Nov. 28, for the 79th edition of the Turkey Night Grand Prix at Ventura Raceway.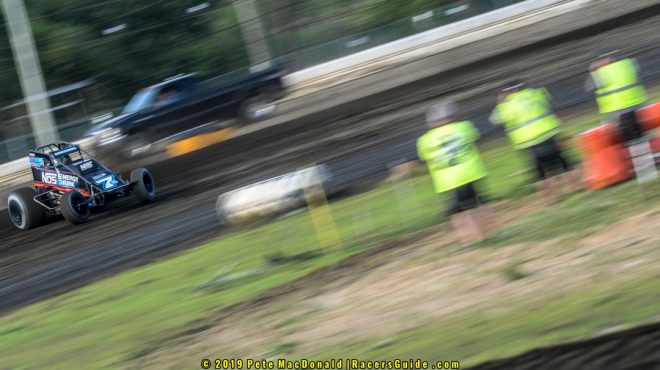 MOST USAC NATIONAL WINS IN A SINGLE SEASON:
2003: J.J. Yeley
(23 National / 24 Total)
4 Silver Crown, 13 National Sprint & 6 National Midget
1961: A.J. Foyt
(19 National / 19 Total)
4 Championship Car, 6 National Sprint & 9 National Midget
1964: A.J. Foyt
(18 National / 18 Total)
10 Championship Car, 5 National Sprint & 3 Stock
1964: Parnelli Jones
(18 National / 18 Total)
2 Championship Cars, 8 Stock, 1 National Sprint & 7 National Midget
2000: Jay Drake
(17 National / 19 Total)
1 Silver Crown, 10 National Sprint & 6 National Midget
1988: Rich Vogler
(17 National / 18 Total)
16 National Midget & 1 National Sprint
1967: Mel Kenyon
(17 National / 17 Total)
17 National Midget
1978: Rich Vogler
(16 National / 16 Total)
11 National Midget & 5 National Sprint
2019: Tyler Courtney
(16 National / 16 Total)
1 Silver Crown, 7 National Sprint & 8 National Midget