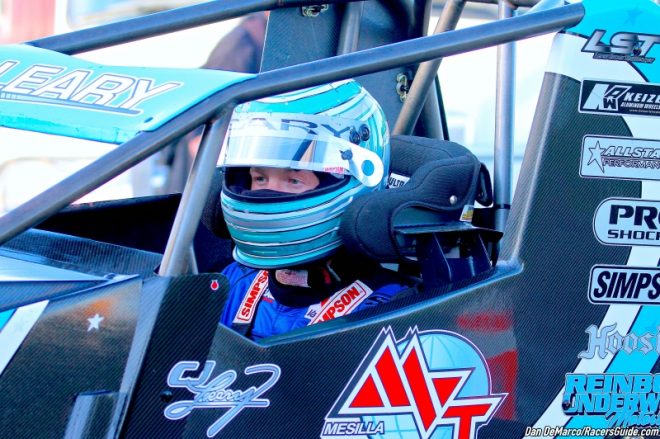 CHAMP LEARY TO RUN #1 FOR GILE ON 2020 USAC SPRINT TRAIL
Story By: Richie Murray – USAC Media
Photo By: Dan DeMarco/RacersGuide.com
Indianapolis, Indiana (December 12, 2019)………Recently crowned champion C.J. Leary is on the move to Gene Gile Racing where he will pilot car No. 1 on the full USAC AMSOIL National Sprint Car trail in 2020.
Leary makes the move to the Phoenix, Arizona-based GGR team following a single season at Reinbold/Underwood Motorsports in 2019, which resulted in a USAC AMSOIL National Sprint Car title following two victories and series best 32 top-ten finishes in 34 starts.
However, the GGR team, led by Gene and his son, USAC Sands Chevrolet Southwest Sprint Car driver Dennis Gile, have had an eye on putting a program in place for Leary of Greenfield, Ind.
"I'm looking forward to the opportunity to drive for these guys," Leary said. "Dennis has been trying to get me to run for him this whole past year. He had been hinting to me that he's been wanting to do something. Finally, everything came together."
Leary's exodus from Reinbold/Underwood came just days following their championship celebration at Arizona Speedway in mid-November. The team moved forward with other plans, leaving Leary with the opportunity to team up with Gile this next season.
"Andy (Reinbold) let me go at the end of the season," Leary explained. "He just said he couldn't make a commitment to me. He did everything he said he was going to. We set out to win a championship and that's what we did. There's no hard feelings there."
Along with Leary, his championship winning crew chief Davey Jones has made the migration to GGR as well. With two months remaining until the season opener, the combo now has a team to put together basically from scratch and they're up to the task.
"We've got a long two months ahead of us before Florida," Leary reiterates. "I'm really looking forward to getting started. I don't really like the offseason with the down time and what not. The biggest part is the waiting game. We ordered four new motors from 1-Way Technology, ordered six new DRC cars from Joe Devin and six new rear ends from DMI. This stuff just doesn't happen overnight. Until we get all the parts to assemble the cars, we're just going to sit around and wait. When we get everything, it'll only take a couple days to build the cars. We've got a truck and trailer and a new mule on order. It's an all new team and it's going to be top notch. We're going to come out of the gate swinging."
With the switch to No. 1 for 2020, Leary becomes the first reigning USAC AMSOIL National Sprint Car champion to sport the number since Robert Ballou in 2016, something of which the 23-year-old driver has yet to do in his career.
"I've never run the No. 1 before," Leary admitted. "I figured, after winning the biggest title I've ever won, it's probably the best time to do it. Being No. 1, you unload with some clout, you could say, and maybe a little pressure. Everybody knows you're the past champion. My dad thinks it might be cursed, but I think it's going to be a really good year."
The 2020 season openers for the USAC NOS Energy Drink Midget National Championship and the USAC AMSOIL Sprint Car National Championship begin in February at Bubba Raceway Park in Ocala, Fla. Midgets hit the track for practice on Feb. 6 with two full nights of racing to follow on Feb. 7-8. The sprints take their turn the following week with practice on Feb. 12 and three-straight nights of full racing programs on Feb. 13-14-15 where, along with Leary, his GGR teammate Dennis Gile will be competing in car No. 13.