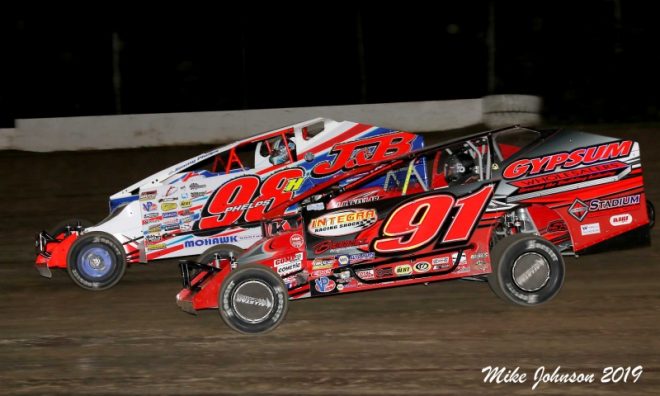 Brewerton Speedway To Host Caterpillar Operator Challenge and Night At The Races Friday, July 26
Story By: Dave Medler/Brewerton Speedway
Photos By: Mike Johnson/RacersGuide.com

BREWERTON, NY – Milton Cat, one of Brewerton Speedway's newest promotional partners, is now accepting entries for the 2019 Operator Challenge, which will be held Friday, July 26 at the track.
There are many great operators throughout the Milton CAT territory. We see them do amazing work every day. Milton CAT wants to give the "best of the best" a chance to compete at CAT's Global Operator Challenge to be held at ConExpo 2020 next March in Las Vegas.
A representative from the Northeast will be determined after being put to the test using CAT equipment. Are you or someone from your company up to the challenge?
Brewerton Speedway, Central Square, NY – July 26 12noon – 6pm To register, go to: www.miltoncatevents.com.
After the competition, grab a seat and relax for a night of exciting high speed, side-by-side dirt track racing on the 'D-Shaped Dirt Demon.
Hitting the speedway presented by Stirling Lubricants/Champion Racing Oil and Milton Cat will be the 800 horsepower, ground pounding Tracey Road Equipment DIRTcar Modifieds, DOT Foods DIRTcar Sportsman, United States Air Force Mod Lites and Fleet Repairs Truck & Trailer Repair 4-Cylinders.
Adult grandstand admission for the races is $12 with everyone 18 years old and younger admitted free. Pit admission is $27 Participant & $30 Non-Participant. Grandstands will open at 5:30 pm with racing at 7:30 pm.
Any questions you might have and for marketing opportunities please contact Cory Reed at (315) 668-6906 or cory@brewertonspeedway.com.
For all the latest new go to www.brewertonspeedway.com and like the speedway Facebook and Twitter pages.