Hearn Says He's Out To Win More Races And More Championships
Story By: JOHN SNYDER / BH RACING MEDIA
Photos By: DAVE DALESANDRO / RACERSGUIDE.COM
SUSSEX, NJ -March 26, 2017- With 894 career victories (889 feature races and 5 All-Star events) and 90 track and series point titles on his racing résumé, dirt track Modified champion Brett Hearn is gearing up for the 2017 Northeast racing season, his 43rd year of competition. And he's off to a rousing start, winning the 40-lap finale at the DIRTcar Nationals at Florida's Volusia Speedway Park. The victory, combined with a top-ten finish in the Florida series opening race netted Hearn a "Gator," the unique trophy awarded for scoring the most points in the annual February classic.
As he prepares for the upcoming Northeast "racing wars," Hearn says he's out to win more races and more championships. "Our goal every year is to be prepared to win every race we enter. But this year, there's the added incentive of reaching 900 victories," says Hearn from his Sussex, New Jersey race car shop.
"There is no magic formula for winning races and championships, other than hard work and dedication," says Hearn. "We strive to be among the top cars every week, and when we do have an off night—a wreck or mechanical failure—we work even harder the next week to overcome it."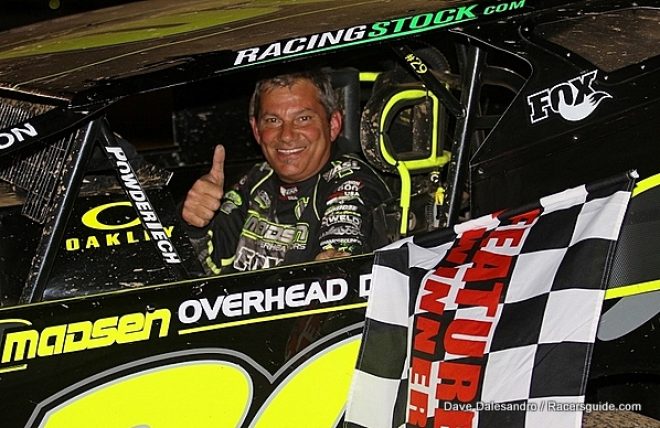 In 2017, Hearn looks to bolster his victory and championships total. He'll race weekly at two tracks in New York's Capital District. A seven-time champion at Albany-Saratoga Speedway, Hearn will return to the Malta, New York raceway on Friday evenings. On Saturday evenings, Hearn will race at Lebanon Valley Speedway where he owns 13 championships in two divisions. "We really enjoy racing at these two speedways," says Hearn. "The fans are great, the competition is tough; it's a challenge every week. But meeting challenges is what our Madsen Motorsports team is all about."
In addition to weekly competition, Hearn will race throughout the Northeast and neighboring Canada, following the Super DIRTcar Series for Modifieds (SDS) and selected other DIRTcar and independent race meets. The Northeast racing season extends from April into November.
Madsen Motorsports races with support from Madsen Overhead Doors, Cedar Peaks Enterprises, JMMB, 417 Bus Lines Ltd., Fox Hill Campground, Fox Shox, and numerous competition products.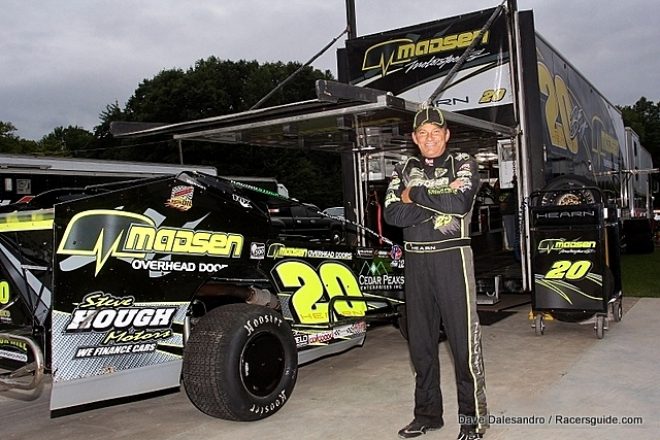 BRETT HEARN – CAREER CHAMPIONSHIPS
Mr. DIRT Modified Champion – 1990, 1993, 1996, 1997*, 2001, 2007, 2009, 2013
Mr. DIRTcar Big-Block Modified Division – 2012, 2013, 2014, 2015
Mr. DIRT 358 Modified Champion – 2006
Super DIRTcar Modified Series – 1986, 1987, 1989, 1990, 1991, 1993, 2001
Advance Auto Parts Super DIRT 358 Modified Series – 1998
Sunoco Racing Fuels DIRT Championship Trail 1990, 1992
DIRT-Asphalt Challenge Series – 1989, 1990
DIRT MotorSports 358 Modified Eastern Regional Champion – 2006
DIRTcar Northeast Modified Region Champion – 2007, 2008
Canadian-American Challenge Series – 1982, 1988
Tri-Track Series – 1982             Twin-Track Series – 1989
Lebanon Valley Speedway Modified Division – 1997, 2002, 2003, 2004, 2005, 2010, 2012, 2013, 2014, 2015, 2016
Lebanon Valley Speedway 358 Modified Division – 2004, 2010
Orange County Fair Speedway Modified Division
1979, 1980, 1983, 1984, 1986, 1987, 1989, 1990, 1991, 1992, 1993, 1994, 1995, 1999, 2006
Orange County Fair Speedway 358 Modified Division
1977, 1987, 1989, 1990, 1991, 1992, 1999, 2006
Albany-Saratoga Speedway Modified Champion – 2002, 2004, 2005, 2006, 2012, 2013, 2014
Fonda Speedway Go Green NMX Thunder Series Champion – 2008
Rolling Wheels Raceway Modified Division – 1991, 1998
Utica-Rome (New Venture) Speedway:  Modified Division – 1986, and 358 Modified Division – 1986
Accord Speedway Modified Division – 2011        Nazareth Raceway Sportsman Division – 1977
DIRT Florida Tour Champion – 1998, 2000, 2001, 2002, 2005**, 2006, 2008***, 2017
Winner, Wheels 300 – 1993, 1995               Winner, Miller Genuine Draft 300 – 1990, 1991
Winner, Schaefer 200 – 1985     Winner, VP SEF 200 – 2012
Winner of Forty 200-Lap Championship Races
1986 Eastern Motorsport Press Association Driver of the Year
2002, 2007, 2012 Eastern Motorsport Press Association Northeast Driver of the Year
1993 Champion Spark Plug DIRT Motorsports Driver of the Year
2013 Area Auto Racing News  "50 Years Greatest Driver"
*Co-Champion with Danny Johnson                             ***Co-Champion with Billy Pauch
                      **Co-Champion with Andy Bachetti