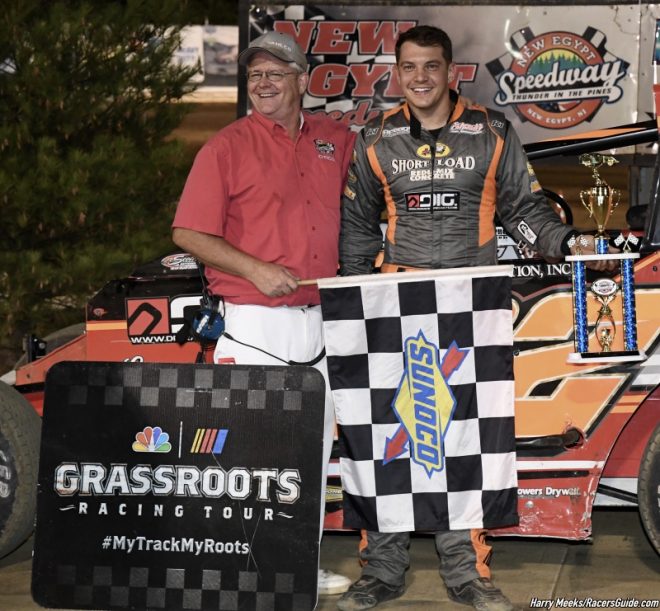 Danny Bouc Breaks Drought at New Egypt Speedway
Will Dupree Captures John Romano Memorial Sportsman 30 
Story By: Pete Wortman/New Egypt Speedway
Photos By: Harry Meeks/RacersGuide.com
New Egypt, NJ (Aug. 24, 2019):  Danny Bouc of Plumsteadville, PA broke his win drought Saturday night by taking his first Vahlco Wheels Modified feature event of the season at New Egypt Speedway. Bouc took command on a lap 4 restart and never looked back as he posted his 11th career win at NES.       
"It's been a tough season and it is good to finally breakthrough," exclaimed Bouc in victory lane, "I have a great crew and they changed a lot of things on this car and it was great tonight!"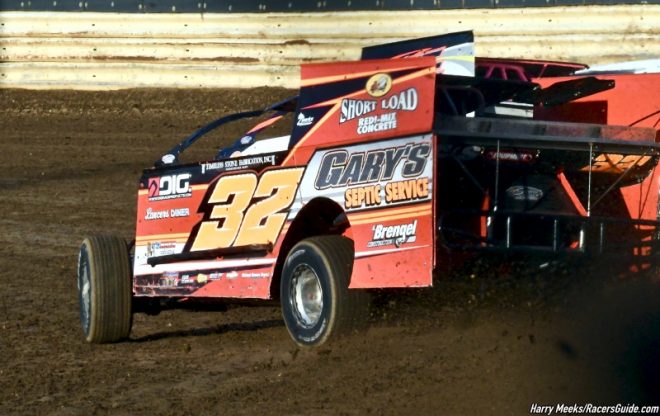 Pat Wall took command at the start of the 30 lap affair over PJ Oliver, Kevin Vaclavicek and Bouc. Wall was strong in the opening laps until the yellow came out on lap 4 for Jim Martin who got into the turn four fence. The restart was the turning point of the event as Bouc used the cushion to charge around the outside into second in turns 1-2, then flew by leader Wall in thurn 3 & 4 to be recorded the leader of lap 5. Bouc immediately opened up a half straightaway lead and as the race now stayed green he continued to set a fast pace as PJ Oliver gave chase. Just after halfway Bouc hit lapped traffic but he didn't let this slow him down as he masterfully sliced his way thru it maintaining his advantage. With 6 laps to go the caution appeared for only the second time as Vaclavicek slammed the first turn fence and came to a stop. Bouc didn't let this phase him as he powered away on the restart, and all eyes turned to point leader Billy Pauch Jr. who had only advanced to 7th before the caution. The 2017 champion grabbed fifth on the restart and then split the next two cars in close quarters in turn three to claim third. A lap later he was second and began to close in on Bouc who was more than half-straightaway in front. At the checkered Pauch got within 6 car lengths and settled for hard earned second, clinching his second NES Modified title a week early. Mike Butler turned in another solid performance for third, Oliver held on for fourth and Brandon Grosso fought back late to complete the top five.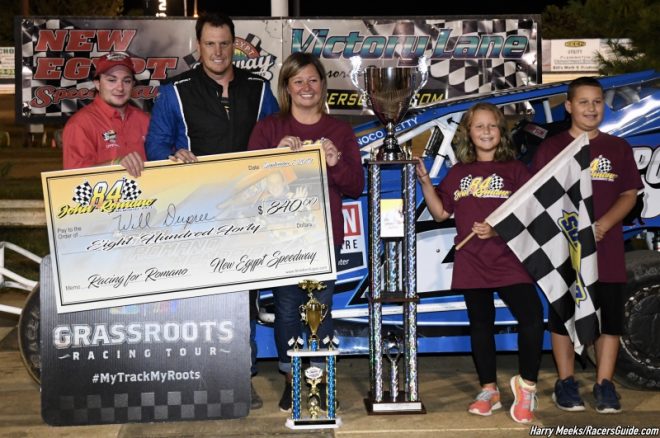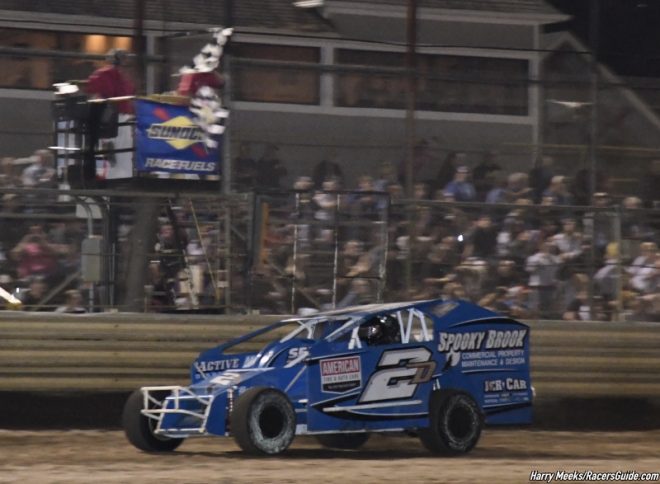 Will Dupree of Somerset, NJ held off challenges from 5 different drivers to win his third event of 2019 in the John Romano Memorial 30 for the Hammer Sportsman. Three-time champ Bob Lineman Jr. led the early going and appeared poised to make the race a laugher as he ran away and hid, until his car broke at about the halfway point coasting to a stop. He was pushed into the pits ending his night. Dupree inherited the lead and held off challenges from every top runner, sometimes 2 and three at once. But he was up to every challenge and went on to win a race very close to his heart, that honored his longtime friend and competitor John Romano Jr. Steve Davis took the point lead back by finishing second, John Criscione ran a smooth race coming home third, followed by Art Liedl and Ryan Heim.
The Crate Modifieds 20 lap feature was won by Johnny Bangs for the second time this season. Bangs took the led before halfway from early race leader Andy Walko and never looked back. Dan Fleming bounced back from the big wreck two weeks ago to finish second as Ryan Heim posted his second top five of the night in third. The other two drivers involved in that big crash two weeks ago, Jeremy Martino and Robby Dunn, also bounced back in a big way to round out the top five.
Billy Liedtka scored his sixth win and 32nd of his career in the 15 lap Street Stock victory. Liedtka held off a fast Brian Spencer for the popular victory. Todd Dige was third across the line coming back from an early race incident.
Next Saturday, Sept. 14th will be Flemington Car & Truck Country First Responders/Modified Championship Night. All first responders w/ID will receive FREE General admission & there will be a parade of Emergency response vehicles at Intermission. Pit Gates open at 3pm, Grandstand Main gates will open at 4pm, Hot laps on track at 5pm, and Racing begins at 6pm.
New Egypt Speedway Results
John Romano Memorial presented by
48Barriers.com, G&M Dill Trucking and Amwell Auto Body
9/7/2019
Vahlco Wheels MODIFIEDS
Feature (30 laps): 1. Danny Bouc 2. Billy Pauch Jr. 3. Mike Butler 4. PJ Oliver 5. Brandon Grosso 6. John McClelland 7. Billy Osmun 8. Pat Wall 9. Blaine Bracelin 10. Rich Rutski 11. Cale Ross 12. Bryan Kuhl 13. Kevin Vaclavicek 14. Dakota Kessler 15. Ryan Krachun 16. John Packenham 17. Bob Lillick 18. David VanHorn 19. Jim Martin DNS: Johnny Guarino, Chris Bennett
Heat Winners: Kevin Vaclavicek, Pat Wall
Hammer SPORTSMAN
John Romano Memorial Feature (30 laps): 1. Will Dupree 2. Steve Davis 3. John Criscione 4. Art Liedl 5. Ryan Heim 6. Jim Housworth 7. Ryan Simmons 8. Bill Liedtka 9. Jim Hawkes 10. Marty Resnick 11. Will Trstensky 12. Bobby Dmuchowski 13. Joe Nappi 14. Jimmy Amato 15. Bob Lineman Jr. 16. Joseph Brown 17. Drew Reinhold 18. David Burns 19. Mike Toth 20. JT Trstensky
Heat Winners: Bob Lineman Jr., JT Trstensky
CRATE MODIFIEDS
Feature (20 laps): 1. Johnny Bangs 2. Dan Fleming 3. Ryan Heim 4. Jeremy Martino 5. Robby Dunn 6. Joe Toth 7. Jon Meyer 8. Aaron Weaver 9. Howie Finch 10. Anthony Tramontana Jr. 11. Matt Miller 12. Vinny Troia 13. Andy Walko 14. DJ Hunt 15. Steve Hicks 16. Ryan Krushinski 17. Tom Princiotta 18. Zach Merola 19. Kevin Borden 20. Ryan Simmons 21. Jake Roveda 22. Bobby Holzwarth 23. Nick Van Wickle 24. Jarrod Burdge 25. Eric Palmer
Heat Winners: Robby Dunn, Tom Princiotta, Andy Walko
STREET STOCKS
Feature (15 laps): 1. Bill Liedtka 2. Brian Spencer 3. Todd Dige 4. Jim Avery 5. Joe Reid 6. Billy Wroble 7. Marty Derr 8. John Bromme 9. Chris Felber 10. Sean Wall 11. Dennis Seeley