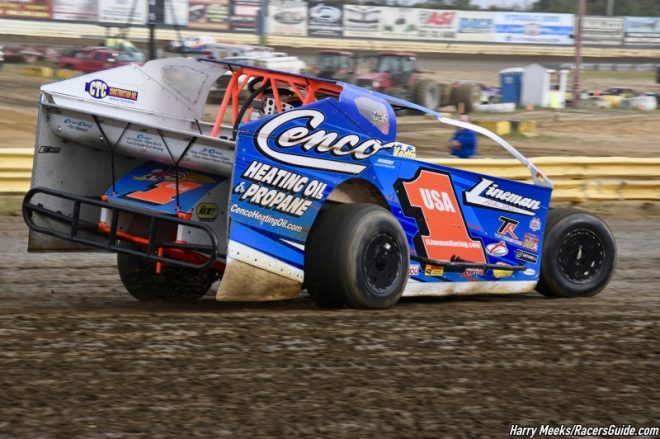 BOB LINEMAN JR. COLLECTS S&D BODYLINE'S 2019 PERFECT ATTENDANCE AWARD AT NEW EGYPT SPEEDWAY
Story By: Mike Wisniewski/New Egypt Speedway
Photos By: Harry Meeks/RacersGuide.com
Sicklerville, NJ (October 16, 2019) – Since 2016, S&D Bodyline has sponsored the Perfect Attendance Award at New Egypt Speedway for competitors in the Vahlco Wheels Modified, Hammer Sportsman and Crate Modified divisions. During intermission at the Legends of the Fall event, Bob Lineman Jr. was drawn as the winner for the 2019 season.
Lineman comes from a family that has been involved in racing for forty-five years. At New Egypt Speedway, he has amassed twenty-one feature wins and three Hammer Sportsman track championships. For being chosen as the winner of the Perfect Attendance Award, Lineman will receive a body kit which includes two doors, two quarter panels, A-pillars and B-pillars from S&D Bodyline. Lineman was elated to have won the award. "Winning the body will go a long way in helping my team to get ready for the 2020 season as we prepare to go for our fourth track championship at New Egypt Speedway. By winning the body, it will allow my team to focus our attention on updating some of the other components on the racecar," exclaimed Lineman. Previous Perfect Attendance Award winners include Cale Ross (2016), Danny Bouc (2017) and John McClelland (2018).
Don Biegley, the owner of S&D Bodyline, is the sponsor of The Perfect Attendance Award at New Egypt Speedway. Serving the racing community, S&D Bodyline provides complete bodies, fabrication work, parts, wheels, and everything in between. For additional information, interested parties may contact Don at (610) 393-9337 or visit his website at www.sdbodyline.com.
Wiz Motorsports Communications can deliver customized and professional solutions for racers and race tracks. To discuss your particular need, contact Wiz Motorsports Communications at mikewiz1962@yahoo.com.