Big Money on the Line This Weekend at Can-Am World Finals
Drivers second through fifth in points battling for huge swing in final paycheck
Story By: Jordan DeLucia/WoOLMs
Photos By: Pete MacDonald/RacersGuide.com
CONCORD, NC – Nov. 4, 2019 – What would you do for an additional $30,000 in your paycheck? Well, the World of Outlaws Morton Buildings Late Model Series racers currently second through fifth in the championship point standings will settle that question during this weekend's Can-Am World Finals at The Dirt Track at Charlotte Motor Speedway, Nov. 7-9.
While Brandon Sheppard already has the $100,000 championship check locked up, and Ricky Weiss will be the top rookie, there is quite a bit still to be determined in this final week of the season.
This storyline follows the drivers occupying spots two-through-five in the overall points standings. Second-place pays $60,000 and fifth-place is worth $30,000. Chase Junghans (2), Darrell Lanigan (3), Shane Clanton (4) and Ricky Weiss (5) are currently separated by just 32 points with two races remaining, staring at the whopping $30,000 points fund check difference, and none of these drivers have any plans to give an inch at two of the most high-profile races on the schedule.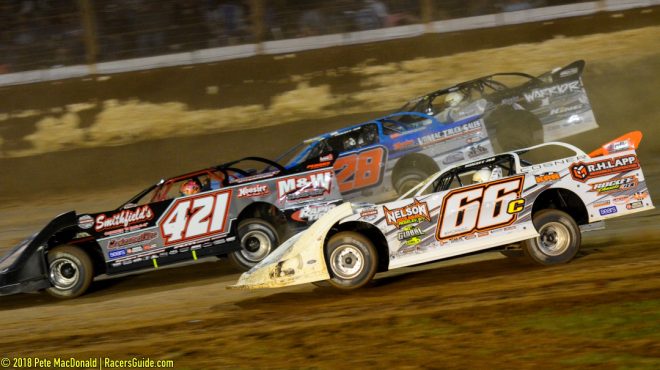 Shockingly, Weiss is the only driver in the top five without a victory this year, but he managed to lead the points standings from after Fairbury Speedway on July 27 through Stateline Speedway on September 19. He's also collected an impressive six runner-ups and six third-place finishes in 39 starts, the most of anyone in those categories not named Brandon Sheppard.
Weiss has the largest points gap to make up of anyone, largely due to his two DNFs at Outlaw Speedway in September and Lavonia Speedway last month. Should he rise above the always-stiff World Finals competition and make up the gap to finish either second or third, he'll become the highest-finishing Rookie in Series history. He makes his debut at The Dirt Track this weekend, but there's a good reason to believe he'll have success, and possibly even get that very elusive first World of Outlaws victory.
Weiss would rather forget the sour ending to what was shaping up to be his first Series win back in June at Lernerville Speedway. Taking the lead from Sheppard on lap 62, Weiss was just five circuits away from a $30,000 payday in the Firecracker 100 finale on cruise control, when he blew a tire, putting an end to his hopes for victory. But that was arguably his strongest performance of the season, as the competition he held off that night included big names the Outlaws will see again this weekend.
"The Manitoba Missile" also seemed to have the 4/10-mile of Lernerville very well figured out that weekend, especially once the surface became slick. Charlotte is another 4/10-mile with a good degree of banking throughout, which also tends to slick off and smooth out as the night moves forward. The Late Models will also be joined by the World of Outlaws NOS Energy Drink Sprint Car Series and Super DIRTcar Series Big-Block Modifieds, which will aid in the track conditioning process. With a tiny pinch of luck, all of this could play right into Weiss's hands, so long as he has his Sweet-Bloomquist Chassis underneath him through 50 laps.
Three-time Series Champion Darrell Lanigan led the 2019 points chase for most of the spring/summer months until a late-summer slump ascended over the #29 team, moving "The Bluegrass Bandit" back to fifth in the standings. But he was able to recover with his first win of the year at Selinsgrove in September and three top-five finishes in the previous seven races, and he now sits just eight points behind Junghans for second.
With two victories to his credit at The Dirt Track, expect the DLR crew to have their Club 29 Chassis up front this weekend. And what an accomplishment it would be for the Union, KY-native to finish runner-up in points in his first year back as a full-time Outlaw.
Chase Junghans is having his best season on record with the World of Outlaws, garnering 10 podiums, 16 top-fives and 30 top-tens in 39 starts. He currently sits on the hot seat as the runner-up in points, but if his recent history at The Dirt Track is any indication, he should have no problem getting to the front this weekend.
The Friday night Feature portion of last year's World Finals was run on Saturday afternoon, and Junghans took full advantage of the racy track surface and passed 18 cars to come all the way from 26th to finish 8th. Later that night, he backed it up with a fourth-place effort behind only winner Scott Bloomquist, Jonathan Davenport and Sheppard. Look for the Kansan to turn on the jets once again this time around.
Diving into World of Outlaws history at The Dirt Track, one name surprisingly not on the winners list is 2015 Series Champion, Shane Clanton. He's been strong all season long, posting 4 wins, 14 top-fives and 33 top-tens in 39 starts. He's also taken two weeks away from the track to recuperate before a battle with the best in Dirt Late Model racing this weekend, but the question still remains: can "The Georgia Bulldog" finally break through and get to World Finals Victory Lane?
Find out the answers to all these unknowns this weekend when the World of Outlaws Morton Buildings Late Model Series takes to The Dirt Track at Charlotte Motor Speedway for the Can-Am World Finals, this Thursday, Friday and Saturday!
And don't forget to check out PRN at the Track's World Finals Kickoff Party on Wednesday night from 6-10 p.m. at the ZMax Dragway Pavilion (across from the track) with food, drinks, driver appearances and live musical guest Dirty Grass Soul!
THIS WEEKEND AT A GLANCE
WHEN & WHERE
Thursday-Saturday, Nov. 7-9 at The Dirt Track at Charlotte Motor Speedway
THURSDAY
• Pit gate opens at 11 a.m.
• Spectator gate opens at 3:30 p.m.
• Hot Laps at 3:45 p.m.
FRIDAY
• Pit gate opens at 9 a.m.
• Spectator gate opens at 3 p.m.
• Racing at 7:30 p.m.
SATURDAY
• Pit gate opens at noon.
• Spectator gate opens at 3 p.m.
• Racing at 5 p.m.
ABOUT THE TRACK
The Dirt Track at Charlotte Motor Speedway is a 4/10-mile, semi-banked clay oval. The track record is 14.385 seconds, set by Mike Marlar on Nov. 2, 2017.
Online: http://charlottemotorspeedway.com
Phone: (704) 455-3200
TICKETS
Tickets for all tracks can be purchased at the gate on race day or online at www.charlottemotorspeedway.com.